Today, I am visiting Hipti. Remote and inaccessible, I am narrated enough tales from expert trekkers to know it is going to be a difficult climb.
Hipti does not find particular mention on any of the tourist maps that the Leh Bazaar sells in profusion. It even causes some Ladakhis to crinkle their brow in amazement when I ask for directions. Today, I am visiting Hipti.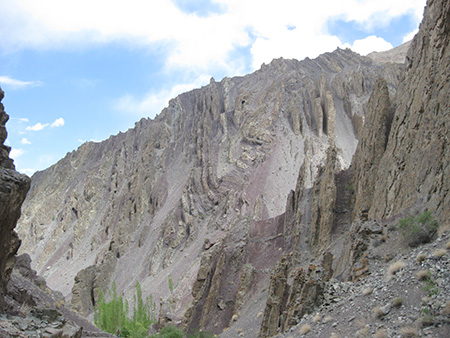 Lunar landscapes in Ladakh. Photograph by Chandni Singh.
It is summer, but there is a nip in the air. I am somewhere along the smooth, metalled evenness that is the Leh-Kargil road. On the left, the mighty Zanskar River is gushing forth, an angry brown. On the right, monolithic mountains shoot up, dwarfing everything else that the landscape has to offer. The sky is too blue to look directly into, the air is crisp and clean. This is my destination, or rather the closest point to my destination that can be accessed by a vehicle. Amidst the silence of the mountains, the river's turbulence assumes an incessant crescendo and for a moment I hesitate, humbled and awed. A rickety wooden bridge promises to take us to the other side and Nazir, my favourite Ladakhi, urges me on reassuringly.
On the bridge we meet a khacchar (mule) towing some willow branches and red-cheeked Tsering. He warns us of the steep climb, which I (foolishly) wave away with an over-optimistic flick of the hand, and hands out some almonds which we pocket gratefully. We begin walking, the road already inching into an impossible incline. Ahead, the mountains are bejewelled with stones of different colours, and I find myself breathless, the steep climb and lunar landscape contributing equally. As we climb one peak, we descend into a grove of willows and apricot trees. It is late summer and the trees are laden with orange fruit. Nazir and I pluck at the juicy apricots greedily, filling our pockets and our mouths. They are sweet and stain our tongues and we decide to sit on the velvet grass and munch on the bounty. Nazir cracks the kernels with his teeth and offers me some apricot almonds. "Sehat ke liye achha hota hai," he offers, as if I need any convincing. Fortified, we set off again, passing little springs and mossy groves.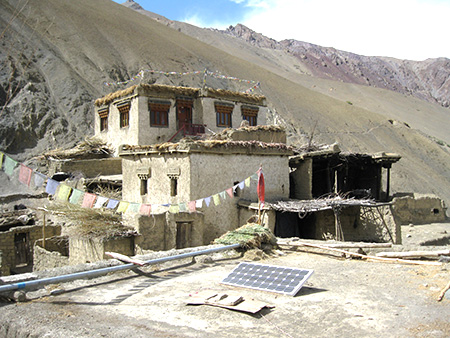 Hipti village. Photograph by Chandni Singh.
It has been four hours. We pass little girls carrying bundles of freshly cut grass: they will feed the cows and seal any cracks in the walls to keep the cold out with it. Ahead, a man is splitting logs; winter is approaching and it is predicted to be colder than usual this year. Breathless but refreshed by the clear mountain air, we slowly we see an outline of a village forming. One last climb and we reach in a tired heap.
Hipti is a small village. Seven households, one school, and one tiny gompa (monastery). The houses are low-roofed and made of mud and stones. We walk in and Tashi greets us. The house is dark inside, lined with soot from the fireplace that occupies a central place in the room. It is warm and we settle down on the floor, grateful for the fire. We are offered gur gur chai in little bowls. Salty and buttery, my palate has taken its time to get used to the tea. Dolkar, Tashi's rotund wife, quickly pulls me close and chatters in broken Hindi. She says she can't believe I managed to reach the village, "Koi nahin aata yahan, hum bhi kahin nahin jaata."
We are here to see if the Alternative Learning Hub (A.L.H.) is functioning properly. Operating after normal school hours, the A.L.H. is aimed at helping children learn through playing. A local is trained to use the toys to teach and given a nominal salary for their efforts. I am skeptical. The school was set up a year ago. The steep climb and geographical isolation discourages anyone from coming to Hipti to monitor. Islanded and forgotten, even people sent for election duty have to be paid extra to climb till Hipti. Where carrying the monthly rations to the house is a monumental task, education slips to second priority. After our tea and the handful of dried apricots Dolma insisted we eat, we trudge to the school. It is 3 p.m. and I open the door gingerly.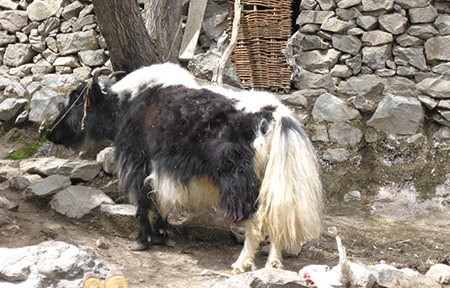 Black and white. Photograph by Chandni Singh.
The class is in a colourful mess. The board proudly displays the outcomes of an old craft class. I make out a yak and a river. Surprisingly, the yak is in stripes, a zebra-yak hybrid, only a child could have imagined. On the benches some children sit, too busy with their building blocks to be distracted by a stranger as insignificant as I. They are all red cheeks and chapped lips in the way most children in Ladakh are. I talk to the teacher, a young girl of 17 who brims with pride as she shows me the attendance register. She has worked through the winter, fuelling imaginations and teaching lessons.
I slip out, humbled. I reflect on having had the privilege of a sound education. Of not having to be restricted by my gender or geography. I think back at the excesses of my education and the ease of my lifestyle. A Big Babool chewing gum after school just meant running to the Gupta Store around the corner. I had more friends than I could count on my fingers—in Hipti there are a total of 13 children. All age groups. It takes the little hamlet of Hipti for me to comprehend and appreciate the opportunities I have had. Nazir comes up and says we must leave for it is getting dark. He sees my sombre face and mistaking it for apprehension adds, "Neeche toh daur ke chale jayenge, chinta mat karo aap." I smile, knowing I'd prefer a gentle rumble back.
'
Courting the Countryside
' is a column that peeps into Chandni's travels across the Indian countryside and the stories she has found there. Her experiences range from her work with
Pragya
, an N.G.O. working toward sustainable and inclusive development of mountain communities, and her annual trips to her ancestral village near Mathura.