If you liked Lounge Piranha's Going Nowhere, then there's a good chance you'll like this debut album by six-year-old indie/post-punk outfit Sky Rabbit. Quirky and talented, the artists formerly known as Medusa have regrouped as a fresh entry into the alternative scene in India. The Mumbai-based band consists of Raxit (vocals), Rahul (guitar), Siddharth (bass), and Harsh (drums).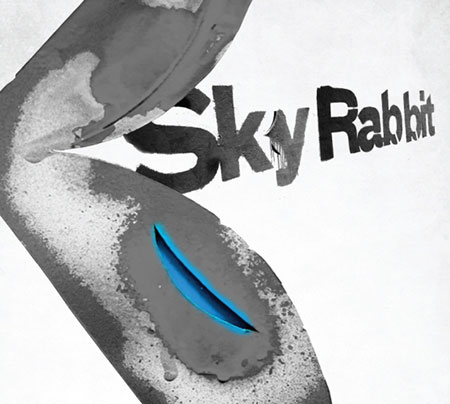 Sky Rabbit
album cover.
Album opener 'Anti-Coke Ganpati' (yes, that's what it's called) is like a lackadaisical Vampire Weekend—almost puerile in its melody but enjoyable nonetheless. 'March' is much the same: Raxit's deadpan vocals drone over terribly simple arrangements, almost as if Sky Rabbit was attempting to make the next 'Maxwell's Silver Hammer'. Raxit's vocals work best, however, when he substitutes the Cake-like nonchalance for vague melancholy, as on the aquatic 'Swimmer', which seems suited for epiphany-filled nighttime drives through a deserted city. The dark 'Try' also makes good use of his overcast vocals.
However, the best song on this album (and only real stand-out) is the potential radio hit 'I Become I'. Sky Rabbit's best Lounge Piranha impression provides the backdrop for vocals that mirror their lyrical content in the wonderful world-weariness. "West will be east, east will be west; setting sun will rise, rising sun will set; round and round we'll go; but I, I become I," sings Raxit, putting into beautiful words the humdrum sigh of a man much older than himself.
Unfortunately, it is only on 'I Become I' that Sky Rabbit sounds like a band in its own right. On the whole, their lyrics are forgettable and mumbled; the melancholy in Raxit's voice occasionally becomes forced. Throughout Sky Rabbit, there is a plethora of indie/alternative references: everything from Pavement (vaguely) to Belle and Sebastian (hazily), maybe even Broken Social Scene (indistinctly). But here is the band's problem. Their music often sounds like it's made up of only references: inorganically stitched together into a quilt of borrowed musical snatches that, given its fragments, sounds vaguely pleasant but on closer inspection clearly lacks any sort of originality or quintessence.
There's a lot of buzz around this young band, at least partially due to a miraculous transformation from their previous incarnation to their current status as an alternative act. Whatever may be the reason, in my soundest opinion, the hype around Sky Rabbit is largely unwarranted. Listen, but only to confirm this assessment for yourself.