Started by Michael Burns and Kaneez Surka, Tall Tales is a live storytelling initiative in Mumbai that aims to showcase first-person stories "from Mumbai and beyond".
An American documentary filmmaker and university instructor, Burns recently moved to Mumbai and works with the Y.M.C.A.'s Street Children Program as well as Reality Gives, an N.G.O. working in Dharavi. "Growing up, I listened to the radio more than I watched television and so hearing inspiring, funny, and heartwarming stories became invaluable to me," says Burns. "Coming to Mumbai two years ago, I still made it a part of my weekly routine to listen to stories online. I had an idea back then to start something like [Tall Tales], but the difficulty of just adjusting to life in Mumbai put that on the back-burner."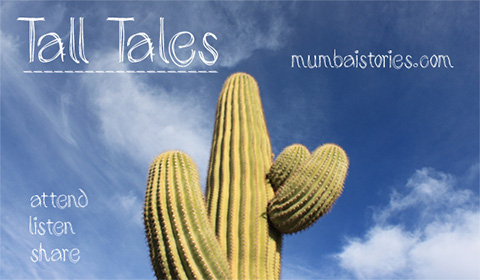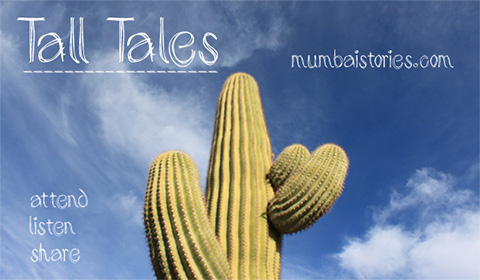 Tall Tales aims to showcase first-person, nonfiction stories from Mumbai and beyond.
A few months ago, he started working with the Improv Comedy Mumbai group, where he met comedic actress Kaneez Surka (Tall Tales co-director). The experience helped him to meet like-minded people and familiarise himself with the performance scene in the city.
"Exercising my performance muscles with [the group] gave me a renewed sense of energy and enthusiasm, and I met others who shared a passion for storytelling. The stars aligned when I was able to get Studio X to agree to host the events at their space in Fort. It's a gorgeous venue and we're very excited to be working with them.
"Our goal with Tall Tales is to curate a quasi-performance style show. That doesn't mean the storytellers have to be professional performers or anything, but rather that the stories should be rehearsed, polished, and presented with a deliberate delivery that maximises the experience for everyone involved. So it's not an open mic model but more of a slam poetry one."
Kaneez and Michael are looking for personal, real-life stories for the first live Tall Tales storytelling event on June 7 in Mumbai. Stories should be five to 15 minutes long. If you'd like to share your stories at the event, you can submit them to story@mumbaistories.com or call Michael at +91 97 69 725776 for details.
For the rest of you: you don't need to have a story to tell to attend the event.
Details:
Venue: Studio X, 4th Floor, Kitab Mahal, 192 D. N. Road, Fort, Mumbai, India
Date: Friday, June 7, 2013
Time: 7 p.m. onwards
Entry Fee: Rs. 150
Click here to read more about Tall Tales.