If you were at Juhu Beach early this morning, you might have seen an eclectic group of athletic individuals training hard at Juhu Beach. Punctuated by the sounds of aircrafts flying overhead and the soft, steady din of the people on the beach, the motley bunch, who call themselves the Mumbai Stormchasers, were hard at work. What were doing? Playing Ultimate Frisbee.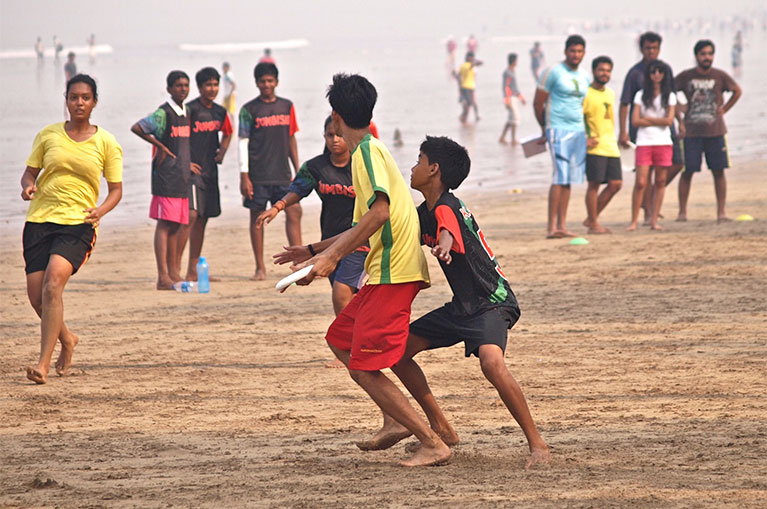 The Ultimate Frisbee scene in Mumbai began as recently as 2007.
Ultimate Frisbee is not the kind of sport that one usually associates with national and international tournaments. And unlike most professional sports, it encourages participation from both men and women. Each Ultimate Frisbee team has seven players—four men and three women. Running on the ideals of fair play and what the players call the 'spirit of the game', it promotes cooperation, communication, and team spirit. It is a sport that dictates no body contact and mostly does away with the presence and intervention of a single referee. Players are required to sort out their own differences within a span of 30 seconds, if there are any. And over the last few years, the sport has been picked up in cities all over India, with a total of eight national-level tournaments taking place already.
The Ultimate Frisbee scene in Mumbai began as recently as 2007, and the Mumbai Stormchasers, who represent the city, are a bunch of individuals who truly love the sport. Composed of players who are primarily freelancers that dabble in various professions, the team is captained by Ganesh Thakur, an employee with Tata Consultancy Services. He has a lot to say about the sport. "I have tried all kinds of sports in my life, but a sport like Ultimate is the only one where sportsmanship and fair play is encouraged. It is intense and fun at the same time," says Thakur. "Games are competitively fought but each of the players has a lot of fun, as winning is not the only objective. In this sport, you can be competitive without compromising on the spirit of the game. It teaches an individual to respect your colleagues and opponents, and resolve your own conflicts."
"Games are competitively fought but each of the players has a lot of fun, as winning is not the only objective."
The team regularly trains at Juhu Beach, about four times a week. "Over the past five to six months, training has become a lot more structured. Now, Thursdays and Sundays are mandatory practices for all team players," says Sharanya Ramesh, an assistant director of ad films, who's been on the Mumbai team for a year. "Tuesdays and Saturdays are less of pinpointed game play and more about different aspects of the game and working on more individual weaknesses. Training basically involves starting with warmups, then going to the drills, which are simulated gameplays where you understand certain aspects of offense or defense."
So what's the criteria for playing the sport and joining the team? "At the moment it's a developing sport so we try and encourage everyone to join in. We try to involve everyone irrespective of the fact that they aren't fit to play," Thakur elaborates. "Everyone learns at a different pace. It's been a learning curve for us as well. In the beginning, we unintentionally discouraged a lot of people. We thought that they may not be fit to play a running game. But now, any person who wants to play can join. We have A, B and C teams. We keep the roster open until a month before the tournament, for about three weeks. We see if the players want to come regularly. If they want to make it to the squad, they have to work hard to prove their fitness and their position in the team."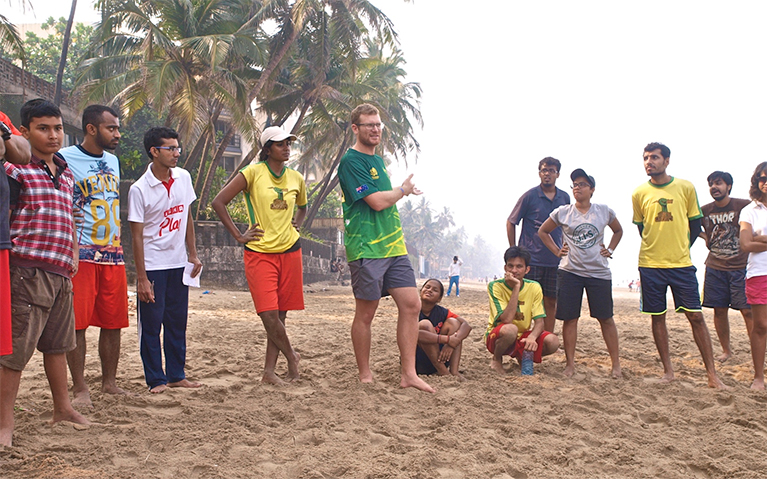 Mumbai's Ultimate Frisbee team regularly trains at Juhu Beach, about four times a week.
When Thakur and his friends started playing Ultimate Frisbee in Mumbai, they faced a number of challenges. "In a cricket-crazy nation, other sports barely get any exposure," says Thakur. "The first challenge is getting the space to play. If you count the number of grounds available in Mumbai to play, there are hardly any. When we started playing Ultimate Frisbee, we had access to an uneven field, and playing on that sort of surface can be injurious in the long run. So we decided to move to Juhu Beach, but even there, the scarce shore-area, garbage dumps, and high tides have played villain on most occasions."
The Ultimate Frisbee scene in Bangalore comprises of about five major teams, all of which sport some innovative names: Learning to Fly, Disco Deewane, Airbenders, Air Traffic Control, and Thatte Idlis, and there is also a separate team for children. Abhishek Srinivas, who plays for Learning to Fly, currently works in operations for a startup called Exotel. He echoes Thakur's sentiments on the difficulty of finding a space to play. "It's difficult to find a ground to play on. If we find one, it's usually secluded, on the outskirts of the city, and not a public ground. As a result, we aren't able to attract too many people to come in and play. We even have to host tournaments on the outskirts of the city because it's only possible to find a decent ground there."
Srinivas says that the biggest challenge is finding sponsors for the national teams that compete in international tournaments, citing the example of the Under-23 squad that is scheduled to compete in the London Championships in July 2015. "Right now the community is chipping in with these things," he concludes.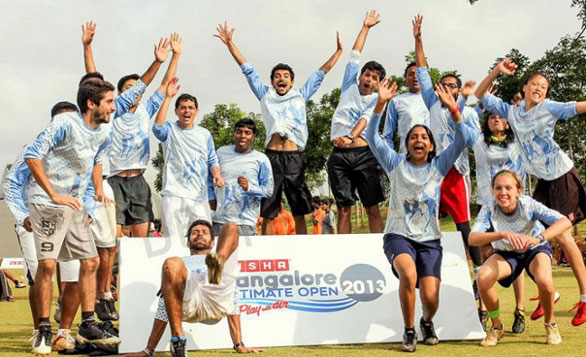 Learning to Fly at the Bangalore Ultimate Open 2013. Photograph courtesy of
Learning to Fly
.
Usha International is the official sponsor for all Ultimate Frisbee games in Mumbai and tournaments in India, but the chances of finding a sponsor for Team India remain slim, with no takers so far. According to Thakur, for an Ultimate Frisbee team, finding the right kind of sponsor is essential. "Usually, players fund the trips themselves. This includes accommodation and travelling to tournaments. With an official sponsor for a team, a lot of things can go wrong," says Thakur. "Ultimate is a community sport, and the focus is not just on winning. Getting a sponsor means a lot of new rules regarding how much one should practice, who should play in the team, etc. There would be a lot of things they would want us to do, since they're giving us their money and name. We're trying to not have sponsors who will push us to change the way we play."
Internationally, India seems to be doing well. The first time that India participated in the World Championships of Beach Ultimate (W.C.B.U.) in Dubai was four years ago. Team India participated again this year in March, sending three teams to compete in the Open, Mixed, and Masters categories. "The teams put up a tough fight and their performance was excellent," says Thakur. "The Open team went on to beat Germany and Japan, among other countries, and were finally ranked fourth in their pool. The Mixed and the Masters team also bagged a few wins. To top this, the Mixed team also went on to win the Most Spirited Team award, a factor which sets Ultimate apart from all other sports."
"We won four games out of the 11 that we played and we finished at a better place than when we started. We have jumped up eight spots in the world ranking with our performance in the Championships," adds Srinivas. "We need to improve, but we're on the right track."
"We have jumped up eight spots in the world ranking with our performance in the World Championships."
Not to be left behind, Chennai boasts of various Ultimate teams such as Airborne, Feisty Falcons, Blitzkrieg, and several others. Sangeetha Manoharan plays for a team called Chakraa and also juggles the role of chairperson of the women's committee of the Ultimate Players Association India (U.P.A.I.). "Chennai is a good place to be in right now if you want to play Ultimate," she says. "It arguably hosts the most number of Ultimate players and has many championship teams. Of the 52 players who have represented India (in tournaments), 27 have been from Chennai. It speaks of the interest that the sport is seeing in the city, more than anything else."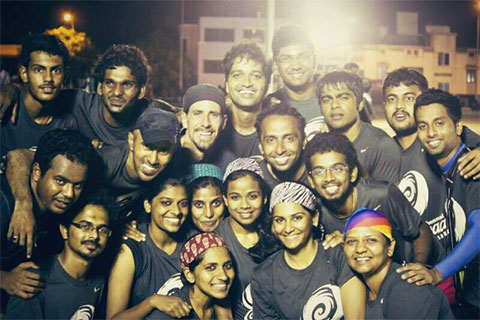 Chennai's own Chakraa at the Chennai Heat 2013 tournament. Photo courtesy of
Chennai Ultimate Frisbee
.
Ultimate Frisbee is well-known for including women players on the same team as men and offering opportunites for increased female participation. The ratio of men to women has evolved from 6:1 and 5:2 to the present ratio of 4:3. Manoharan states, "Our main aim is to cater to the needs of our female participants and make the sport more accessible. This will help them to overcome social, economic, and psychological barriers, and encourage each city to have more women-oriented games and tournaments to showcase and practise their skills."
When asked about female participation, Thakur explains, "There are women coming in and not continuing, and there are a number of reasons for this. Even though Ultimate is a mixed-gender game, there are a lot of occasions where the men won't involve them in the game and so it'll be the men playing among themselves. And the game requires a minimum fitness level, even if you're just playing for fun. It's like any other sport where you have to run a lot. I've seen women who have not been able to cope with the demand of the game in terms of fitness. Some also get injured. One of the reasons we have the 4:3 ratio is to ensure mandatory involvement of women in the game. We tried to have two teams for a recently concluded event in Mumbai, which saw a minimum of 12 female players. But we still fell short of three or four women for the tournament."
Ramesh looks at it a bit differently. "As much as I try really hard not to see it as 'men' and 'women' playing, ideally I would like for women to be seen as just players first. Essentially I'd just like for everyone to see everyone else as a player who is capable of pursuing this sport. It's nice to have women playing this sport because they're looking to have women-only tournaments in the future as well. But it's gendered and I'm unhappy about that."
However, Srinivas opines that that ratio should be reversed. "The 4:3 right now is four men and three women. But what I would like to see is four women and three men in each team."
"Not too many sports have men and women playing together, which actually makes it interesting, since you're dealing with people who belong to different genders, ethnicities, and classes," says Thakur. "It's a community thing, where you're coming together and socialising, as well as playing a competitive sport."
As Indians, we are constantly exposed to commercial sports like cricket and football, but with Ultimate Frisbee, one gets the chance to watch and participate in a sport that balances both work and fun. India is definitely developing a taste for Ultimate and looking at the impressive growth of the sport over the past year or so, it surely seems like it's whizzing in the right direction.