Well-known for its open mic nights, Culture Shoq has promoted and hosted over 400 live events since 2008—featuring music, stand-up comedy, poetry, even magic—in Mumbai, Bangalore, and Hyderabad. The collective recently even launched their own social network, called the Big Mic, in order to bring together performers and provide a platform for upcoming talent across the country.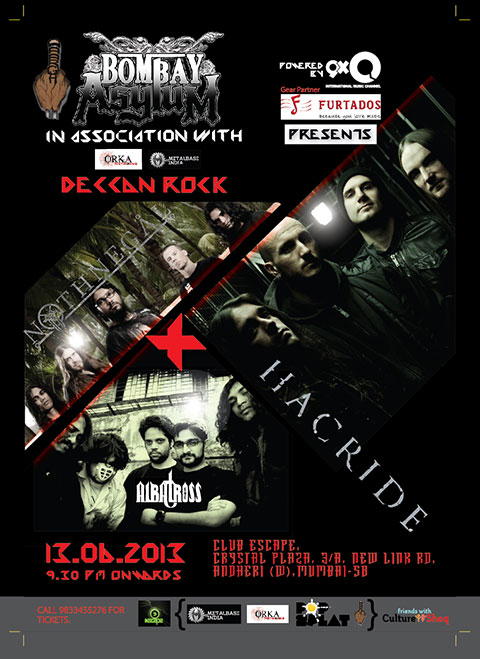 Bombay Asylum, presented by Aaargh and Orka Networks. Death metal outfit Reptilian Death, who were scheduled to perform at the event (as seen on the poster), will be replaced by Albatross, due to an injury to vocalist Vinay Venkatesh.
Tomorrow, Aaargh—Culture Shoq's new heavy music division—kicks off Bombay Asylum, a new series of fortnightly metal gigs in Mumbai. "The idea is to give the much-ignored metal community a periodic series of gigs to look forward to," says Sharin Bhatti, who is in charge of programming and promotions at Aaargh. "We also want to focus on giving upcoming and fresh metal bands a stage to whet their talent, as well as bring the stage to the more popular bands across the country."
For the first Bombay Asylum event on June 13 at Club Escape (Andheri), Aaargh has joined hands with Orka Networks' Deccan Rock property, and the gig will feature French metal act Hacride, Maldivian metal band Nothnegal, and local heavy metal outfit Albatross.
Details:
Venue: Club Escape, Crystal Plaza, 3/A, New Link Road, Andheri (West), Mumbai, India (Phone: +91 22 6702 1691)
Date: Thursday, June 13, 2013
Time: 9.30 p.m. onwards
Entry Fee: Rs. 500 ( Rs. 200 entry + Rs. 300 cover)
Click here to R.S.V.P. and read more about the event.