Adventures of Cheap Beer, a serialised podcast series, possesses a strange charm: it is a podcast that reminds you of all the conversations you might have had in college over cheap alcohol and chakna—and the friends that you had those conversations with. There's a familiarity to the ravings of Siddhant, Karan, and Suyash, a familiarity that everyone who's learned to drink with a large peg of Old Monk, in a bar older than their grandparents, will recognise and love.
The creators of the podcast are the aforementioned Karan Agarwal, Siddhant Mehta, and Suyash Barve, who describe it simply as "three drunk dudes yelling into a microphone about why the schezwan sauce at Bar A was better than the schezwan sauce at Bar B". It's a podcast that is ideal for Bombay's young and restless population. "We've been drinking and going to dive bars since we were in college. Suyash had a blog; he suggested we turn it into a podcast. We haven't missed a single Friday since," says Siddhant, about how the podcast was started in May 2015. A new episode of the podcast is uploaded nearly every fortnight, with new episodes being released on alternate Fridays.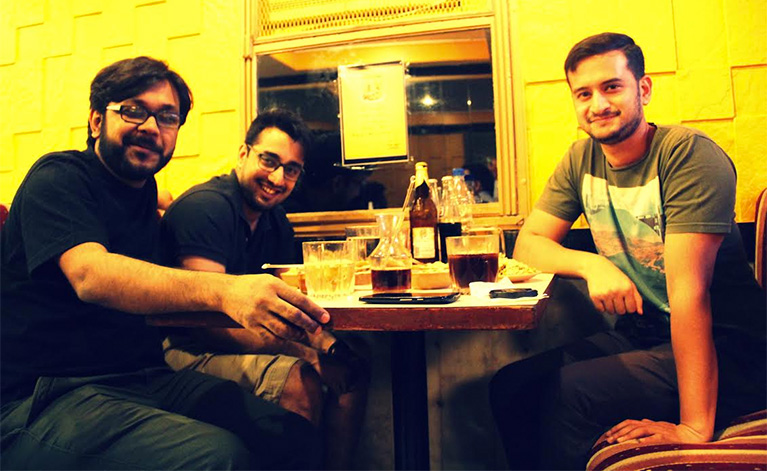 Karan Agarwal, Suyash Barve, and Siddhant Mehta started
Adventures of Cheap Beer
in May 2015. Photograph by Mohan Kumar.
All three of the podcast's creators have had some professional experience with various forms of media. "I used to be an advertising copywriter for about five years," says Suyash. "Now I work with a company where I create and sometimes host weird and ridiculous YouTube content." Siddhant is a writer as well. He works freelance and will soon be co-anchoring another podcast, X and Y, a show exploring sex, relationships, and sexual health. Karan is a writer and director in film and television, having previously been a producer on a popular celebrity reality show. This explains his love for Baba Sehgal, the one person he wants on a bucket list of potential guests for the podcast. Another guest they're eager to get on the podcast is Cyrus Broacha. "He's on the same network as we are, so hopefully it'll work out soon. We'd love to see him on our show," says Siddhant.
The podcast creators' stated goal—to get drunk with interesting people—produces some interesting, intelligent, and unconventional conversations. Scriptwriter Neeraj Udhwani, critic Mayank Shekhar, and R.J. Mae Thomas have joined the three regulars as guests on a nightly romp through some of Bombay's best (and worst) dive bars. One of their most recent episodes was set in Lotus Court Restaurant and Bar with Kiran Watwani and Monica Fatogun; one a T.V. producer and the other an animal behaviourist at the Sanjay Gandhi National Park. "It's just three guys who like to go out and have fun," says Siddhant. "The reviews [of the bars] are a part of the podcast, but the point is just that it's fun to hang out."
"We're always on the lookout for bars that are quirky, that do something different or weird or horrible," says Suyash, and the trio have found equal representations of each in their explorations. Whether it's the temple inside Kit Kat Bar, Café General & Stores' history, or Aparna Bar's refusal to serve alcohol to women, they have seen it all. Or a lot of it, anyway. "It's all very local, all word-of-mouth. We're discovering new places, and hopefully other people will too," adds Suyash.
"Bombay has long commute times, and if you listen to the radio, you may be listening to something you're not really interested in. Podcasts are a way to reclaim that time."
Every second Friday, off they go to a new bar to have a few (or a few too many) drinks with friends and guests, and then record the podcast. "We get to the bar, get drinking, and record immediately afterwards. We prop a Zoom H1 microphone on a tripod and just hit record. So that's one long night." says Suyash. "Post-production was a bit of a pain when we started. None of us knew how to use sound editing software. We downloaded a very basic app, and I kind of learned to edit over the course of these 24 episodes. I'm proud to say that I have gone from completely clueless to only somewhat incompetent."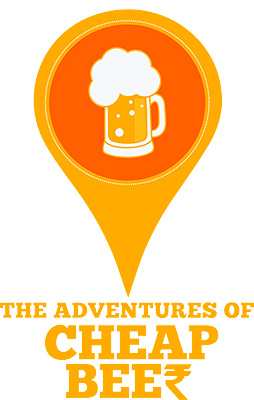 Why aren't there more podcasts like theirs coming out of India? "We've been encouraging people to start their own podcasts, so hopefully we'll be seeing a lot more soon." says Siddhant. If you're looking at starting your own podcast and need a bit of encouragement, they have some advice for you. "The process of creating a podcast is much simpler and cheaper than creating video content," says Karan. "You can do a lot more experimental stuff. You don't need too many people. Adventures of Cheap Beer was a project that just the three of us, along with Karan's brother Aman, who handles the music side of things, were able to put together." There's also the freedom of recording it in whatever language you're comfortable with. The trio agrees that being able to put out content in English is a huge advantage for them. It opens up new audiences that are not regulars to television, which is largely in Hindi. "Podcasts are a new medium that we've had to teach people how to use, but once you start listening to them, it becomes a habit." Karan adds, "Bombay has long commute times, and if you listen to the radio, you may be listening to something you're not really interested in. Podcasts are a way to reclaim that time. All you have to do is download some audio files over Wi-Fi, and listen to the episodes whenever you want. It's very convenient."
What are their goals for the future? "Goal number one is to get more people listening to podcasts," Suyash says. "We currently get a couple of hundred downloads for every episode. Every time we put out an episode, more people like our Facebook page and follow us on Twitter, so we're finding new audiences with every episode." It makes sense, then, that they choose each new place based on crowdsourced recommendations. "People are always coming up to us and telling us about their favourite bar and how we have to review it," they say. "It's pretty much the only reason people talk to us anymore." "It's become like a community," says Karan. "People want to show off the bars near their localities. They can recommend places and meet us there. And yeah, it doesn't have to be an all boys club." One of the things that the creators of Cheap Beer are focusing on is going to dive bars that are more inclusive of women, which they rate with a female-friendliness quotient. Suyash sums up their plans thus: "For us, the goal is to do live shows, record more episodes with amazing guests, and of course, stave off chronic alcoholism."
"For us, the goal is to do live shows, record more episodes with amazing guests, and of course, stave off chronic alcoholism."
I asked them what their favourite place to visit was. "Sid and I love Akshaya Bar in Parel. Insane food, a great looking bar, and a sweet guard dog who may or may not have bitten someone's hand off. We'd start living there if they let us," says Suyash. Karan spends an extra minute telling me about Vithal Bar, a bar that once used to be a chaat stall, and one where, he assures me, they continue to serve the chaat. "The alcohol is a little overpriced, but they compensate for that with all the free chakna." After a week of listening to them talk about chicken chilli, bars with temples in them, and German Shepherd guard dogs, I trust their opinion, and have duly added their recommendations to my own list of local bars to check out. "What about other cities?" I ask, somewhat optimistically. "It's hard enough for us to meet every ten days," Siddhant says, "and it's a lot of work putting the podcast together. But if it happens, and we're all together in another city? Definitely."
For those of you in Bombay looking for a great place to drink on the weekend (or on weekdays, we don't judge), or have an amazing dive bar near your house that you'd like to draw attention to, or if you simply want to listen to a hilarious and quite insightful podcast about life, alcohol, and everything in between, Adventures of Cheap Beer is for you.