Barring a few involuntary exceptions, it has been almost a year since I had my last meal at Kolkata U.P. Chats and Paratha Center. My failing health and a melancholic temperament had necessitated several frantic phone calls, an unannounced visit, and the decision that it would be in everyone's best interest if I ate in the campus mess. In hindsight, it was one of the wiser choices I have made.
This run down diner in Electronics City, Bangalore, has recently undergone a series of renovations that have granted it some semblance of respectability. When I was a frequent customer, not even a single rupee of mine was wasted on ambiance. And I loved that. Just like an alcoholic's tragic relationship with his seedy madhushala, my lonely nights had come to be punctuated by sub-standard meals at Kolkata U.P., with Mr. Rajesh Gupta, the proprietor, watching benevolently over his flock, hoping that his genuine concern would make up for quality, or the lack thereof.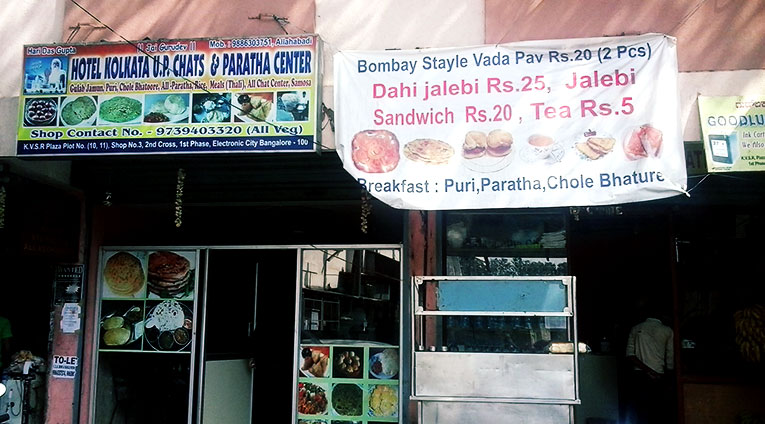 Kolkata U.P. Chats and Paratha Center. Photograph by Siddhartha Lal.
It is the shadiest of all establishments that line the narrow street that leads up to the Electronics City Police Station and Post Office. And definitely not meant for the faint-hearted. I have personally witnessed rats the size of small puppies scurrying into the sacrosanct space that would, in most restaurants, be regarded as the kitchen. Cowed into a corner by its well-heeled brethren, Domino's, Amma's Biryani, Café Fresh, and Yellow Fields, to name a few, it always seems to be conscious of its appearance. Perhaps, even rightly so. But when a few walls were unceremoniously brought down as part of the aforementioned renovations to engulf a neighbouring business, and the combined space was decked up in cheerful lights, I couldn't help but romanticise about Kolkata U.P.'s past.
Even though the staple North Indian thali forms the majority of Guptaji's income, Kolkata U.P. is most famous for its chaat and paani puris. Girls can't seem to get enough of the tangy, tamarind-water. Guptaji, amply proud of his gastronomic concoction, keeps indulging the ladies till they are ready to burst, while they giggle nervously and share gossip over mouthfuls of gol gappas. He once told me that the 'Kolkata' in the name is his way to paying homage to the place where he first learnt how to prepare chaat. The honesty in his face was almost religious. So I chose to I believe him.
Abundantly detached from this jovial picture of girls going berserk over paani puris, I preferred to eat in silence and solitude. This desire had often translated into choosing odd hours for having my meals under the patronising gaze of Guptaji. In the scant light provided by the naked bulb and the lone tube light, an underage minion, dressed in filthy rags, would proceed to take my order, while another indulged himself in the futile effort of trying to clean the table. On most evenings, they looked rather dull and disinterested, but that's probably because they seldom had enough sleep. Meals were almost always unforgivably bland, but served well the purpose of satiating my ravenous hunger. Eating only twice daily can have its own set of advantages.
* * *
The beginnings of my relationship with the Chaatwalla hark back to a conversation I had with a friend a few years back. It had failed to make any impression on me at the time, but I have realised over time how potent, and suspiciously selective, a force our subconscious mind is. The precise details escape me now but the premise of our debate had been the quibbles of a privileged man who wants to talk to a chaiwalla—to try and understand something about his life and its circumstances—but finds himself unable to do so. Inured by years of social conditioning, prejudice, and a privileged life, he finds an indiscernible force holding him back. Was a meaningful discussion even possible?
My conversations with the Chaatwalla, safely ensconced in the apparent comfort of an empty diner, were a conscious attempt on my part to overcome those subliminal mental barriers. To try and relate to something I would never have the chance of experiencing myself. The banality of our banter and my self-consciousness imbued the first of such encounters with a distinct Chekhovian quality.
"So Guptaji, where are you from?"
"Allahabad. Everyone here is from Allahadbad."
"Arey, I know where Allahabad is. I am from Lucknow! What a coincidence."
"Yahan bahut log hain U.P se (There are several people from U.P here). Lunch hours are extremely busy because of that. Hardly any place to stand. They provide good business," he informed me.
"Allahabad mein kahan se? (Where in Allahabad are you from?)"
"Naya Katra."
"Guptaji, kya baat hai! My mother used to live in Naya Katra. Her family hails from that place."
Having thus forged an unalienable bond in a strange land with the brotherhood of Kolkata U.P., I gradually became more garrulous and forthcoming with its numerous denizens. I learnt that most of the boys working there had dropped out of school because they were bored of studying. Guptaji was just literate enough to make the weekly grocery list and manage accounts. Babban did not even know how to count and blindly trusted Guptaji with his finances. Jhalla was deemed to be somewhat crazy and unstable by the rest of the workers, who kept away from his sullen moods and bad temper. Durgesh was quiet, "high school pass", and disciplined. We talked a lot and it was in the midst of one of these conversations that the septuagenarian Cigarettewalla had accosted me with his strange request for information about a 70-inch T.V. And while these Electronics City Irregulars kept shuttling back and forth between Bangalore and Allahabad, some of them even choosing not to return, Guptaji's reassuring presence was a steady anchor in the ever meandering scheme of things.
Imagine my surprise when one day I noticed Guptaji missing from his customary post at the cash counter. His throne had been usurped by a somewhat chubby fellow who bore the rather ominous name of Gyaan. He had assumed a somewhat artificial posture and was being exceedingly polite to the customers. Not knowing how to deal with such courtesy, on conclusion of their dinners or lunches, they had merely shuffled out of the shop, looking quite disgruntled. As I struggled with the watery dal and the lack of any vegetables in the slightly inappropriately named subzi, we got talking.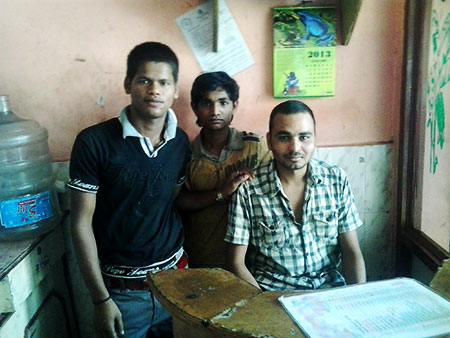 The minions were not happy that only Guptaji was soaking up all the publicity. Photograph by Siddhartha Lal.
"Guptaji kahan chale gaye? (Where has Guptaji gone?)" I ventured forth into unknown territory.
"Allahabad. You know he is married, no? Some ceremony at the wife's place he had to take care of."
"Achha, achha. I knew he was married from the several urgent phone calls he used to get at night," I tried to recruit Gyaan into sharing a common secret. But he wasn't very interested.
"Hmm."
I noticed that he had been reading a newspaper for the better part of the last one hour.
"What are you reading?"
"I am checking the results of my exam. I'd enrolled in a course for teaching Braille to blind people."
"There is a course for that?"
"There is a course for everything," he replied curtly to shut me up.
I obliged. Wisdom, even if unintended, can come from all sorts of places.
Rich and privileged people like me often make the mistake of bestowing shades of holiness upon poverty. We paint it in shades of warmth and carefree abandon. I have often found myself committing to the pitfalls of remarks like: "They have nothing, and yet they look so happy." Similar sentimental clichés, nourished by the short-sightedness of an affluent person, often tend to gloss over the hardships which are part and parcel of such a life. Given a choice, I doubt if Babban or Jhalla would miss a heartbeat before exchanging positions with me. The social ladder, if not stagnated, knows movement in only one direction, and that is upwards. But when you are stuck in the boondocks and hope is such a scarce commodity, you never know what will cause you to slip up and come sliding right down.
A few months later, having unburdened himself of his filial obligations, Guptaji was back to preside over his kingdom. He had lost a lot of weight and the irony of the situation wasn't lost on him.
"Guptaji, you seem several sizes too small. Ghar pe khana nahin khilaya kya? (Did they not feed you at home?) I see the opposite of what was expected," I joked.
He merely smiled and conveyed his ineptitude in the matter.
"I don't see Jhalla. What happened to him? Has he gone to Allahabad again?"
"Not really. He got into a drunken brawl on a Sunday and got several of his ribs broken. I think they took him to a hospital. That is why I don't let these fellows leave the shop," he replied indifferently.
I knew he was friendly, but I could read the signs. So I changed the subject.
"Who was it that took your place here?"
"Gyaan. He is my brother-in law."
"Is he coming back anytime soon? I kind of liked him."
"Oh, he isn't coming back. He got a government job in a school in Bihar. That little idiot is going to teach other people how to read. Imagine that! Blind people! Good for him. Good riddance."
I finished the rest of my meal in silence. If the Chaatwalla's story didn't seem like an Indian incarnate of some long forgotten Chekhovian yarn earlier, it had certainly started sounding like one now.
(Inspired in several ways by this heart-warming post by the Jabberwock.)