Away from the hustle-bustle, the golden sun shines in this clandestine town, leaving behind the dun for a liberated, colourful town that is bursting with life. Sauntering through the narrow lanes, you pause and wonder if you have seen these hues before. Hues of cheer, freedom, emancipation and innovation.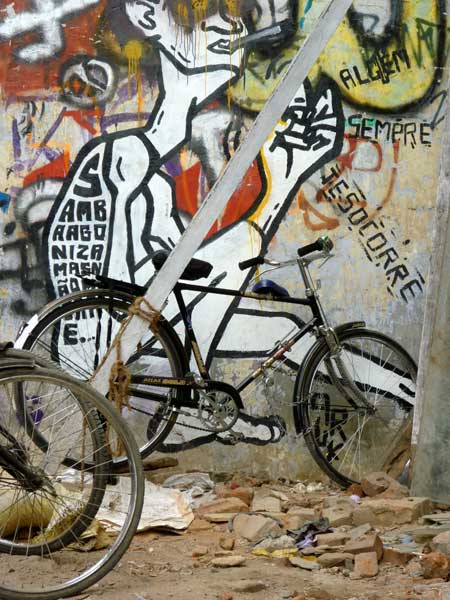 You pause and wonder if you have seen these hues before. Photograph by Richa Hingorani.
An alluring boulevard whispers into your ear whilst tenderly inviting you. Comparison with the outside world becomes inevitable when a lady with fluttering eyelashes graces the wall, behind a dusty scooter. She, too, is glancing in the direction of the unfolding path, the unfolding experience. Moving deeper, the makeshift garage sales, the grand antique door, the cryptic luminous yellow walls, the enigmatic red flickering bulb progress to add dimensions to the unearthing tale of this town. A lone dwarf mirror greets you at the end of a lane as if to convince you of your vicinity.
Adjacent to this honest mirror is a series of shops selling the truth of antiquarian books and timeworn sketches. Appreciation fills the silence of this shop as you begin to spend time with many of these intricate sketches. Inaccessible economically, you walk out having felt a li'l enriched. Veering off to the unexplored, climbing down to see a waiting lake, the graffiti on the walls captivates your attention. Feelings of déjà vu as the hues seem to be conversing with you. The writing on the wall has you smiling to yourself, hoping you could have silently watched in awe when these walls became someone else's canvas—or better still, make it your own.
Miles from the gibberish 'Love you Jaanu'-s and 'Rahul loves Sonia'-s, is a refreshing refuge for those who dare to make their dreams come true, sell their own thoughts and ideas, and not necessarily for monetary benefits. Where else do you find travel cafés with the liberty of paying what you like, or one that promises you a 'gay day' or the yellow-turned film posters of yesteryears, or a rooftop restaurant serving you a breathtaking view of the surroundings along with mouthwatering dishes?
Against the backdrop of history exists a town dripping with experimentation and modernity. Except this is not a town. This is Hauz Khas Village. Away from the hustle-bustle exists the confluence of manumitting minds.
Gallery