Quirkiness is a strange platform for creativity. Just a little push towards the ostentatious can turn it into a carnival of kitsch; a little nudge towards the humourless can make it self-important and inaccessible.
If there's a pair in the Indian music scene who thoroughly understands this unsaid rule, it is the oddball duo of singer/actress Suman Sridhar and 52-year-old spoken word artist/author Jeet Thayil. On their long-awaited debut album S.T.D., this Mumbai band proves that they still reign over the ways of the whim.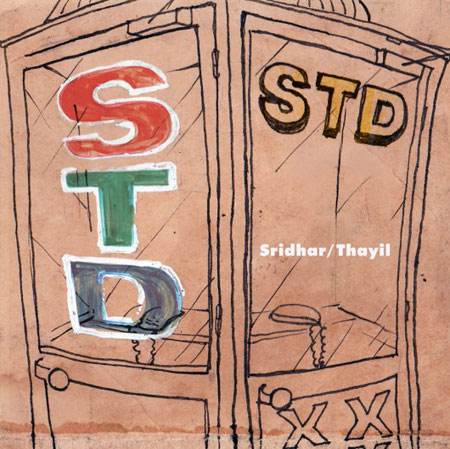 S.T.D.
album cover.
Right off the bat, it's clear that the showcasing on the album leans more towards Bombay-born, New Jersey-raised, Indian-classical-trained jazz artist Suman Sridhar, who has recently found mainstream fame as the singer behind two vastly popular songs from the Bollywood blockbuster Shaitan. Album opener 'Here in the Morning' features sickly-sweet Norah Jones-like vocals that just barely cover up an undercurrent of feminine rage; Sridhar lets the seething background music compensate for her hidden emotions. On 'The Drowning Song', featured earlier on ennui.BOMB's Stupid Stupid Stupid, Sridhar's lusty vocals layer over hypnotic tabla beats and Jeet Thayil's theatric whispers of ghosts and sailors on marooned ships: and when she moans that she's drowning, you actually do imagine her sinking into the quicksand of a chaotic love affair.
The ghatam strikes like a raindrop on a glassy lake on 'Bring Me Rain', as Sridhar languidly waits for her lover, who will supposedly return with the monsoon. Her woozy, damaged-goods voice takes on a Nicki Minaj-like veneer on 'Her Hymn', where her operatic trills suddenly erupt into the demonic laughter of a possessed child; the next few lines of lyrics, sung in the same voice, promise to be the creepiest few seconds of your day. Again on pseudo-gospel home-breaker hymn 'Single & Preying', she oscillates creepily towards an eerie three-year-old's voice: the word "unhinged" comes to mind repeatedly.
But Sridhar's moment of glory comes on "Punk Bhajan", which, undoubtedly, is an instant classic of the Indian indie scene. Sridhar's melange of quirkiness and talent reach an unearthly balance on this song, especially three minutes in, where she leads you into a masterful aalap layered over equally masterful jazz-house accompaniment. "Punk Bhajan, one more time," she says in the middle of the song, tongue-in-cheek: because that's exactly what you're going to do.
This is not to say that the "Thayil" segment of the band doesn't make enough of a mark on S.T.D. On 'Time is a Bomb', Thayil's spoken-word artistry tells almost a nursery rhyme-like tale about the scars of time; Sridhar vocalises in the background almost as if she were warming up for another song. The two of them come together on the song only to expound that "Time is a bomb ticking in my side / Mean motherfucker along for the ride". On 'This Be the Beat', over appropriately sinister bass lines, Thayil's raspy voice paints a picture of a recent ex-convict's choicest substances: and if you've never been fond of spoken-word poetry, this is the song that will change your mind. "Got a half of Jack, got a half of Monk, put the two together, got me half a drunk," enunciates Jeet Thayil, making a ditty out of a truth we all know too well. And it is this song that really exposes their elastic mystique: her silky-smooth vocals syncing perfectly with his gravelly menace, the angel and the devil, polar opposites that fit perfectly together.
On each song, the band has created a peculiar atmosphere: half-whimsy, half-cleverness, fully original. However, some songs on the album are missing a certain electric element: take the strange 'Presents', or the uneventful 'Rumours of Light'. It appears that, on these songs, the band has taken a risk with their vision that hasn't quite paid off. For most of the album, though, it has paid off: despite a few duds, Sridhar/Thayil are still one of the most eccentric, experimental, and unique bands in the Indian scene. As Sridhar says on 'City of Sisters', "Nothing ventured, nothing gained"—and this certainly rings true for the band.