When you first come across a young girl begging for money in an underground station and contemplating suicide, your mind might travel at lightning speed to judge her as a junkie or a pregnant crack whore. Not much is thought about what else might lead a young girl—horribly young, if I may add—to leave comfort and embrace hardship.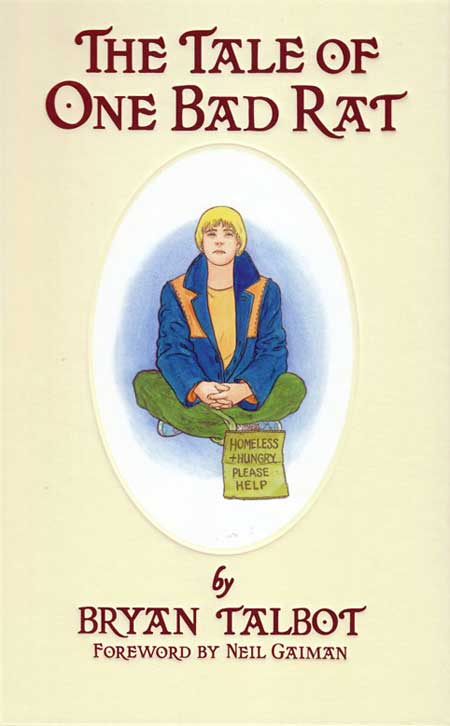 Bryan Talbot's
The Tale of One Bad Rat
.
Her low self-esteem and reluctance to be touched by anyone else adds to the 'teenage whore' image. Her inability to trust people or to open up, again, points fingers at all she has done wrong in her life. And again, not a thought is spared about what else could have gone wrong to push a visibly intelligent young girl, with the markings of someone potentially awesome, out of a home, where she had it all.
The strangest bit is that as you progress, you realise that she is a victim. Not of her hedonistic self or the inane desire to indulge in underage sexual activity, but of abuse. And recovering from incest is one tough ride, you realise. Bryan Talbot's The Tale of One Bad Rat (click here to purchase) is not just a random shot heard in the dark. It has been researched thoroughly, to give rise to a girl who is painstakingly genuine.
The story of Helen Potter is the story of a young mind—scarred, yet hopeful. With merely books, her pet white mouse, and her vivid imagination for company, she runs away from home, through a world full of people she cannot connect to and towards redemption. More empathetic towards animals, inspired by a world of Beatrix Potter she is more real than most people you see in graphic novels. And yet, she is not borne out of autobiographical thought. The bridge that links Beatrix to Helen Potter is defined by the vivid imagery and breathtaking artwork seen in the book. Colours vivid and characters worth remembering, all Peter Rabbit aficionados will find traces of Beatrix Potter's thoughts strewn about, liberally, throughout the read.
What however does seem a little forced is Helen's acceptance of responsibility for what has happened and her promise to herself to recover from it. But the wallowing in self-doubt and guilt, the confrontation with her abuser, and her triumph over the thoughts that plague her and render her helpless, will make you want to applaud Talbot's brilliant storytelling skills.
Neither dismal nor explicit, the story Talbot has to tell is simple and one everyone should hear of. After all, "It's been estimated that one in three girls will be molested before they're eighteen. Approximately 90 percent of that abuse is committed, not by the stereotypical stranger in the raincoat, haunter of the schoolgates, but by a close, male relative."
Strictly speaking from my perspective, I believe this book should be forced on to everyone with half a working mind and half a decent heart. I assure you, it will arm you to help victims who desperately search for closure, especially those who believe that they are incapable of establishing human connections.
Click here to purchase The Tale of One Bad Rat by Bryan Talbot.
'
Sol's Graphic Vein
' is a whirlwind, torrid introduction to exactly what your mother would not want to catch you reading. Not for the weak-hearted. Not for the judgemental. Not for moralistic hypocrites. Definitely meant for those who appreciate art. Fun, coloured, and sexed out.