Stories sometimes come to us in pieces, right? Without a beginning and an end, and suspended frustratingly in limbo between idea and realisation. Perhaps the reality is that only segments of stories are ours to tell, that the gaps must be filled by others. Even a complete novel is just a fraction of time.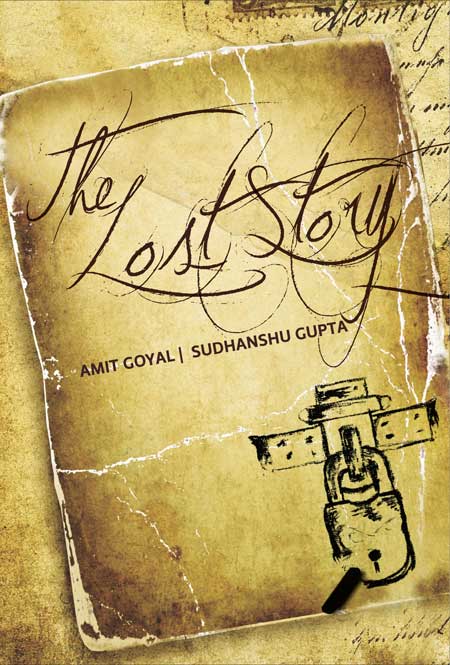 The Lost Story
book cover.
So when fabled writer Saleem Afzal finds that he cannot complete the projects he starts anymore following a near fatal accident, he gives it up. But one day, several years later, a solution presents itself to him in the form of an email from a fan, who has sent him his manuscript for an opinion. He senses the talent the boy has and invites him to his apartment for a chat. Soon Saleem and Sandy are collaborating on a project. Saleem will write one half of the story and Sandy will complete it. And they will never discuss the story before they've both written their sections.
Staying true to the structure of the story, The Lost Story (click here to purchase) has been written by Amit Goyal and Sudhanshu Gupta in halves and similarly, discussion of the story wasn't allowed until its completion. The Lost Story is a book of short stories embedded in a novel and the stories within a story seem to draw out their authors in mysterious ways. In the interludes between the storytelling, Saleem and Sandy's lives play out in conjunction with each other as they begin to slowly alter each other's existence.
Saleem's past is cloudy and he doesn't Sandy any information about himself. But it's clear to the latter that everything isn't right with his idol and he begins to dig deeper into his life. One of the reasons Saleem embarks on this project is because he know his strength is failing and wants to publish one last book before he dies. But the book isn't the only thing that must be solved before that—there is the question of Saleem's transformation after his accident. Following the accident he cut everyone close to him out of his life and receded into himself.
Sandy is piecing together the story that even Saleem can't remember. He puts together the information he gains from the people in Saleem's past and goes in pursuit of a lost manuscript. Saleem had been writing a book at the time of the accident that was never published, which has since been locked in a room that is never opened.
The book is Murakami-esque in the way that it bends reality and the manner in which the characters slip in and out of our understanding. It's certainly fresh and innovative in a way that India's indie publishing industry needs. The 99-rupee book has paved the way for a lot of undeserving publications, but this book is a departure from the norm. It is not brilliantly written, although the book is based on a sound and original idea. Any flaws in articulation are made up for with a number of surprises in the story.
[Grapevine; ISBN 9789381841020]
———
Click here to purchase The Lost Story online.