There is a point during 'Confession', the seventh song on Sulk Station's debut album Till You Appear, just before Rahul Giri's dark flurry of beastly beats kick up in a seething drone, where Tanvi Rao's tantalising voice stretches for the most ethereal of extra half-seconds.
At this magical, magnetic point, which seems suspended for an eternity, an electric shiver runs through your entire body, your eyes roll back in almost breathless dizziness, and you know, right then, that you're listening to something truly great.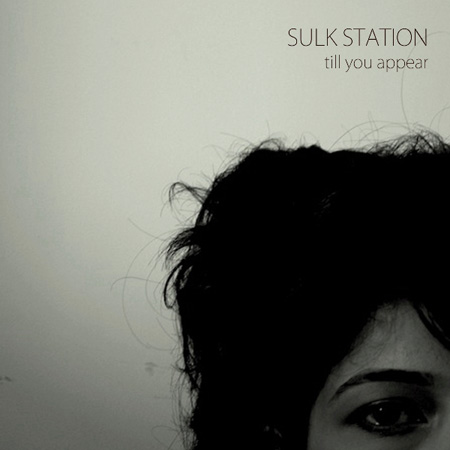 Till You Appear
album cover.
Till You Appear is full of moments like this: moments of such soul-crushing, awe-inspiring and subtle intensity that you think, for a millisecond, that you've seen God. Sulk Station adeptly splits these moments between the urgent, human melancholia of Giri's electronica, Rao's broken-princess inflections of neurosis, and (this is when it's really unearthly) a mixture of those two. Writhing with a feverish fluidity barely contained within the invincible, invisible tension of tautness (like a raindrop stuck mid-air, as Rao simmers on 'Wait'), Sulk Station's hypnotic trip hop quivers with the underbelly of human emotions: madness, lust, and most importantly, obsession.
Obsession, true obsession, the kind that only madmen and artists experience—that is the overbearing, all-encompassing element on the album, varying in intensity between the almost pleasant affection on 'Bindya' to the Ecstasy-induced lust-wails on 'Wait'. All the while, Giri builds around Rao an electronic cocoon that lets her voice resound and reverberate: maddeningly, masterfully, and manically.
"Sometimes I see an open window, makes me fear / If you're not around, I might disappear," breathes Rao on 'Downlift', the shards of her debilitating obsession covered up hastily (and intriguingly) by an upswing of Giri's brooding, Burial-esque synths. He pays clear homage to Massive Attack (and James Blake) on the mystifying, R&B-tinged 'Take Me Home', as Rao whispers, in a heartbreakingly heartbroken voice, "I cry out for you to take me home." And on 'Contentment', as she speaks of sweet sounds in her head, the maniacal illness becoming all too evident, Giri borrows powerful minimalism and restrained frenzy from Portishead, and maybe even the xx. Over the 55 troubled minutes of this cloudy album, that is how the two of them spar; pulling each other up, bringing each other down: two damaged souls, each beyond repair in their own way.
But if Till You Appear were just an amalgamation of trip hop past and Bjork-Dido vocal fracture, it wouldn't gain the monumental praise that it has been garnering everywhere: no, they're not that simple. 'Bindya' opens like sunrise in rural India, so pure and clean and bright and Indian that you suddenly feel a pang of patriotism that all the Republic Days and Independence Days in your life won't give you. It helps, too, that Rao sings in hymn-like Hindi here, like a charming morning prayer; and it helps, too, that Giri respectfully takes a step back, shining the spotlight on Rao. In fact, she's at her most alluring when she sings in Hindi; her voice takes on an unexpected purity and dexterity, seeming to shrug off, albeit momentarily, her internal melancholy. The effect, essentially, is that India now has a truly Indian trip hop band. Did you think you'd live to see the day?
On 'Pause', the opening track, Rahul Giri's beatbox-like synth slaps heavily on the morbid beats, while Tanvi Rao's glossolalia lulls you into an altered state, like a hypnotist's swinging watch vacillating viscously through the space-time continuum in front of your eyes. For the next 55 minutes, you're their property. This is not so much an album as an experience, meant to be obsessed over, meant to be engulfed by, meant to be entrenched into every brain cell. In that way, the opening track is perfectly named, for Till You Appear is a pause from your life. It's a pause in which you enter the demented world inhabited by these two individuals, a pause from which you emerge, as the last of Rao's moans melt away on 'Wait', mentally exhausted, as if you have personally made it through a mad fever of psychotic obsession.
You're wrong, though, because your obsession with Sulk Station is just beginning.