Electronic act Gods Robots is a collaboration between singer/songwriter Shridevi Keshavan (a.k.a. Taamara) and DJ/producer Janaka Atugoda (a.k.a. Janaka Selekta).
Being from two opposite sides of the world—Taamara from Mumbai and Janaka from San Francisco—their music is a cross-cultural blend of Indian classical vocals and instruments with western vocals and reggae, drum 'n' bass, dubstep, and electronica. With the release of their debut E.P. Stormy Weather on Bit Torrent, Gods Robots is one of about ten artists/bands to be chosen by the file sharing company for their artist spotlight program.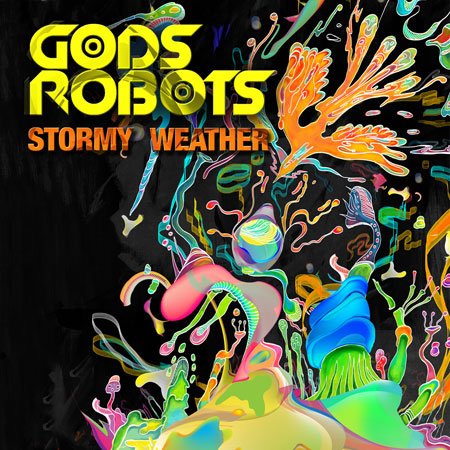 Stormy Weather
C.D. cover.
The opening track 'Falling', featuring sarod player Alam Khan, evokes a Thievery Corporation-like feel with Taamara's vocals reminding you closely of Emiliana Torrini off 'Until the Morning'. The song is definitely catchy and you'll most likely find yourself playing it on loop, bobbing your head, and mumbling the chorus under your breath. Apart from the chorus of 'Break the Spell', which grabs your attention for a few seconds, you tend to lose interest after the first minute or so. The rest of the song is monotonous, making it seem a lot longer than its three-and-a-half minutes. Listen for the subtle mingling of the tabla with electronic beats on it.
'It's a strange old song / Keeps coming on / Coming on strong' sings Taamara on the following track. 'Strange Old Song' is an accurate summary of the duo's music with a melding of western and classical Indian vocals, the flute and sitar in equal measure. The intermittent dubstep wobbles, however, are plain distracting and overshadow the entire song. The E.P. ends on an upbeat note with the title track, featuring Mike Pipes. Contrary to what the name suggests, 'Stormy Weather' is a happy, skippy tune with a melody that's easy to sing along to, with the flute throwing in just a hint of melancholy.
Although the mingling of east and west occasionally misses the mark, all in all, Gods Robots is well worth a listen.