Get rid of your old television sets, the Internet is where it's at. The P-Man Show, produced by Babble Fish Productions, is one of India's first made-for-Internet reality shows. Now in its second season, the show has gathered a considerable online following over the past year or so. We caught up with Samira Kanwar and Rohit 'P-Man' Pereira, creators of The P-Man Show, for an exclusive interview about the show, the music scene in India, and what the future might hold for online video publishing.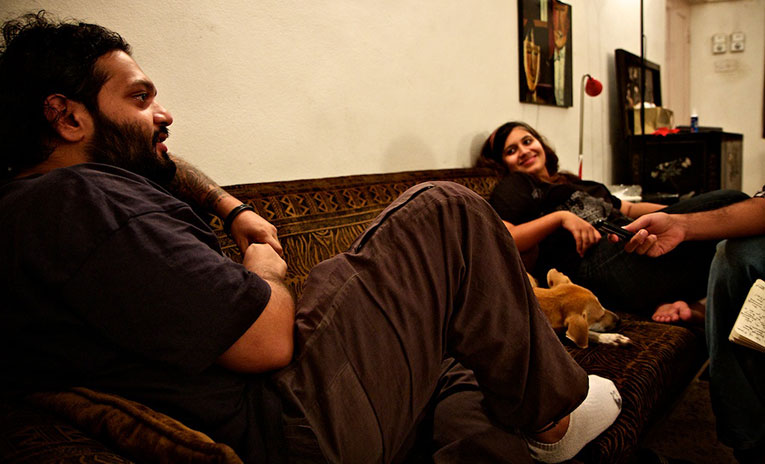 Candid camera. Photograph by Aashim Tyagi.
What the fuck were you thinking when you came up with The P-Man Show?
Samira: When I started Babble Fish, I wanted to do something related to the Indian music scene. In fact, when I was working for Channel [V] just before that, I had done a show with Rohit, which was at Mosh Mania (concert). I didn't know him at the time, but he just stood out as a host. He was very comfortable in front of the camera, he managed to say the right things, and he was able to properly convey everything that I wanted him to talk about. Later, we started talking about The P-Man Show, and we came up with a lot of ideas, but nothing really transpired until the MySpace opportunity came across.
MySpace was looking for original video content during its launch in India. I thought The P-Man Show fit perfectly with the sort of vibe that they were going for. We put in a lot of effort into scripting the show, coming up with the various segments, etc. Unfortunately, after the first episode, the MySpace thing didn't really work out, but the show at its core had already been established. Both of us got very excited about it, because we had the show, and we could see people's reactions to it. In spite of it not being a commercial opportunity, we decided to just start doing it on our own. It became way more low-budget.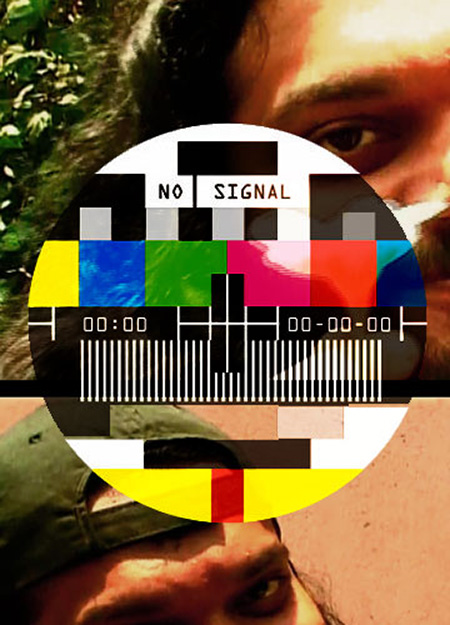 The New Tube Order. Image by Aashim Tyagi.
The show follows an open format—the duration of episodes is anywhere from three minutes to nine minutes. Do you think being a web-only show gives you the freedom to sort of play around with it?
Samira: 100 per cent, yes. Television has very fixed timeframes. With the Internet, we have more freedom to do whatever we want. So for one episode, if we only have video content that's three-minutes long, there's nobody to tell me that I can't do that, you know? It's absolutely fine. The Internet gives us a lot more freedom that television, and in more ways than just that. The kind of subjects you can talk about, the kind of language you can use, everything—there's a lot more freedom online.
How has the show been received by people in India? Have you received any unexpected feedback about the show?
P-Man: Unexpected—hmm, there's actually this guy from Uganda, who watches the show for some reason. Once, I received this Facebook friend suggestion from him for some African guy. When I asked him why, he told me, "Oh, that's my physics professor. I made him watch one episode of The P-Man Show, and he finds you absolutely revolting and disgusting and a bad influence on the youth." So, just to piss him off, I sent him a friend request. Other than that, people like it. They keep asking me when the next show is coming out, blah blah.
Do you guys try to maintain a fixed duration between each show?
Samira: The first season was very dependent on gigs, so we could only do shows around gigs. Also, it's not a profit-making venture. When there's other work that comes in, it does go on hold. We always come back to it, though (smiles). When we're working on The P-Man Show, we don't even feel like we're working. It's just that much fun, you know?
P-Man: It's like, 'how to make our friend Rohit more famous'.
Samira: That's what it is to him (laughs).
P-Man: My mom pays them money. "Let's find him a bride."
Samira: (Laughs) That ain't going to happen because of this show.
P-Man: I already convinced a chick to go topless on the show.
Samira: She must have been drunk and said yes, just like that. It's not going to happen. Dream on.
P-Man: (Gives her a meaningful look) Teri kasam.
Samira: Liar. (Laughs) Okay, I don't want to know. This is all behind-the-scenes stuff that I don't know about.
So far, have you faced any challenges due to lack of content? As you said, a majority of the episodes were centered around concerts.
Samira: The show grew very organically—we didn't plan anything. The first season was very loose in that sense. There was no specific timeframe, like every two weeks, or every week, or anything like that. We could just do it when we felt like it. Lack of content was never the issue. With the second season, we're getting a little more structured. This time around, it might be more lifestyle-based, or more script-based—we're bringing back 'The Fabulous Lives of Desi Rockstars'. We're trying to make it a lot more cohesive as a show, and not just some show that covers events now and then.
There are a lot of lines that stand out from the show, which people seem to enjoy (like "I'm losing my virginity all over again—on my elbow!").
P-Man: Yeah. Actually, I have a new one that I've started promoting a lot. It says—"I am P-Man. I have no genre." That's going to be my new tagline.

He is P-Man. He has no genre. Photographs by Aashim Tyagi.
What are your favourite moments from the first season?
P-Man: Hosting the Open Mind Night at Zenzi. I did something like that for the first time. It took a lot of courage—I was sweating, but I didn't show it, being the professional that I am. The first episode was superb as well, which was also a new experience for me. Shooting with my mom was awesome—she had no idea what she was being filmed for, and she was like, "What is this antichrist thing that you're making me do? What will people think?" Too late, you're on it.
Samira: I really enjoyed a road trip where we all went to Khopoli. Why? Because no one goes to Khopoli. I mean, what the fuck is in Khopoli? Then there was the first episode, especially the music video bit, where we did the spoof ('I Got It from McDonald's!'). Also, we've shot an entire short film, which we haven't released yet. We might possibly put it out—
P-Man: Are you mad?
Samira: Why?
What's it about?
P-Man: It's, um, soft porn. It's basically my sex tape with a woman we can't identify at this time.
Samira: (Laughs) It's not that bad, stop it!
P-Man: We'll wait till October, she's going to be 18 then.
Samira: You're making me sound like a porn director right now—
P-Man: That's a good thing!
Samira: (Laughs)
P-Man: 'Samira Nights'!
What can people expect from season two of The P-Man Show?
P-Man: At some point, I want to try having a threesome. I'm hoping, this time around, to shoot a lot of episodes outside of Bombay. I'd definitely love to go to the northeast, because there's some crazy music fans over there. Film the food in Delhi, film camels in Rajasthan. Go to Pondicherry and watch paint dry. Stuff like that, you know? (Smiles) Go to different places, spread the P-Man seed.
Samira: (Trying not to laugh) Do you want me to answer that seriously?
P-Man: Oh, wait. Did you ask me what people can expect, or what I expect?
(Laughs) What people can expect.
P-Man: Oh. Um… fun, frolic, and romance. Yeah. Like, get ready, it's the season to fall in love. P-Man Show, season two. Coming to a P.C. near you, if you're not cheap enough to have an Internet connection. Or cheap enough not to have an Internet… or—wait, whatever. Matlab aap samajh gaye!
The two of you have been around in the Indian music scene for a while now. According to you, how has the indie scene changed in the past five years?
P-Man: Back then we had a lot more long-haired metalheads. Now, we have the whole emo thing going on. Apart from that, well, more gigs. And more bands, definitely. More venues, more opportunities. Each college has a rock show in their college festival now. I don't see it becoming mainstream, but it's there, and it's making lots of noise. And you can't fuck with it.
Do you think there is a cohesive 'scene' in the country?
P-Man: See, Delhi has their own scene. Bombay, Pune, Hyderabad. And nobody knows what the fuck happens in Chennai. Nobody knows any bands from Chennai, other than err… Junkyard Groove. And who knows where they play!
Samira: They played in Bombay recently.
P-Man: Exactly! Who knows anything about them? (Laughs) So, it's quite fragmented, definitely. Cohesive? On Facebook, and the Internet. And now, The P-Man Show.
Samira: That's one of the things that I think we lack, because we don't have money—we don't really get to travel across the country and represent other areas and bands over there. That is something that we would love to do.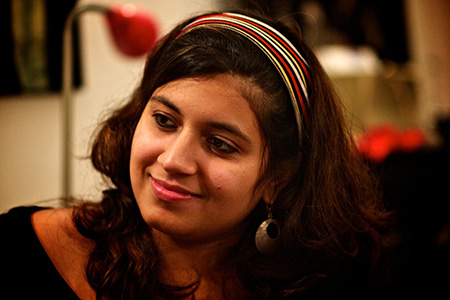 Samira in repose. Photograph by Aashim Tyagi.
Samira, in addition to The P-Man Show, you have produced a lot of music videos for Indian bands as well. Are there any more shows in the pipeline that are based on the indie music scene in the country?
Samira: Yeah, we are currently doing a show with Pentagram. It's called Penta TV, and it revolves around the band and the launch of their upcoming album, called Bloodywood. It's a series of video podcasts that will feature everything from their recording sessions to their music videos, touring around the country, etc. They've been closed as a band for a really long time, so Penta TV is about opening them up to their fans, and making them more accessible. The Internet is the space that, as a company, we want to establish ourselves in, as well as the music space. Whatever we do in the future will definitely be centered around music and the Internet.
The P-Man Show did not start as a profit-making venture. Now that it's growing more and more popular, are you looking at making any money from this?
Samira: Yeah, sure.
P-Man: Why not? I'd love to be doing this for the rest of my life and get paid for it.
Do you see that happening on the Internet? Or are you looking at television as well?
P-Man: Actually, we got a couple of offers from T.V. channels, but there was a stupid casting couch scene—too many people wanted to sleep with me, so I declined. I told Sam that I'm not taking that one for the team. (Laughs)
Samira: I think the market is opening up to the Internet. Certain things about the show will have to improve, lots of things need to be added, but I think this is the right time to be doing it, and it's just a question of time before we start generating revenue. We just have to stick to it, and not give up.
Rohit, what is your new band Khiladi up to? Is there an album coming out soon?
P-Man: Yeah, we're currently recording a five-song E.P., which will most probably be released for free on the Internet. That should be out soon. Khiladi was formed because I was getting bored, and wanted to play fast-and-furious punk rock slash classic rock, and do it in my style. I couldn't find a proper vocalist, so I decided to sing myself. I've gotten less stones and tomatoes thrown on stage, and nowadays there are more bras and panties being thrown on stage, so I guess I'm doing a good job. There will be a music video out as well. The band members have shot a lot of stuff, and we're hoping Babble Fish will edit it for us.
Samira: Sure, we will—if they pay us.
P-Man: Of course. We've got lots of money. After all, we are a rock band, yaar!
Samira: (Laughs)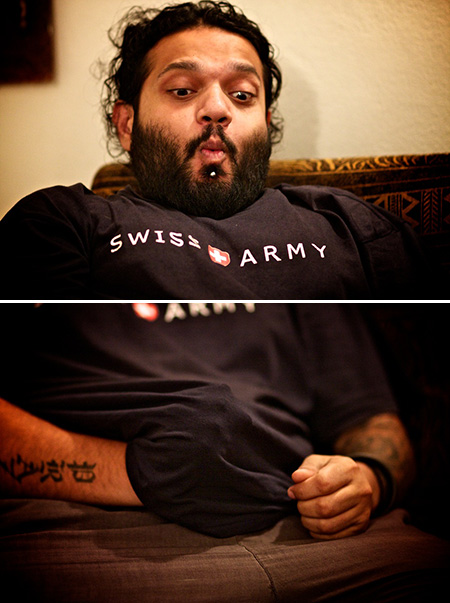 The Passion of P-Man. Photograph by Aashim Tyagi.
Tell us about a typical day in the life of P-Man.
P-Man: Wake up at 7 a.m. I go to the door, pick up the Mumbai Mirror. I shit, till about 7.15. Then it's Mafia Wars till about 7.25, and checking my Facebook friend requests.
Samira: Or surfing porn.
P-Man: No, not in the morning. That happens at night. I make myself green tea, and then find clothes that don't smell that I can wear to work. Catch a bus, go to Andheri station, sit in the train, go to work. I eat something there, and play some more Mafia Wars on Facebook. I get a little work done, before it's lunch time. For lunch, I eat a little food from everyone's dabba. I play football a little later. I come back home. If I'm not meeting friends or smoking pot, I'm probably watching Entourage or playing Mafia Wars. I take a shower, and I have some 'me' time.
Samira: (Laughs)
P-Man: The day mostly ends, I don't know, watching Travel & Living. I think a lot about music, and the scene, and world peace. I think a lot about Sam also. (Laughs)
What is the one thing about P-Man that no one knows?
P-Man: I was abducted by aliens. They looked like women, but they had three tits, which was fine for me because I could use my hands and my mouth. This happened sometime last week. I have postcards. Another thing people don't know about me is, um, nothing—everyone knows everything about me. (Thinks) Er… I want to have sex with Katrina Kaif.
Samira: I thought she was very '90s. Now it's Sonam Kapoor, right?
P-Man: Yeah, Sonam Kapoor is the one I jack off to. I'd have sex with anyone—I'd have sex with Rekha also.
— — —
Exclusive for Helter Skelter readers! Click here to download the theme song from The P-Man Show (0.4 MB; MP3 format).