2012 marks the 25th anniversary of 'Manfest', I.I.M. Lucknow's annual international business conclave. This year, to headline the entertainment arm of the conclave, the institute features none other than the prominent Los Angeles-based indie rock band Goldspot.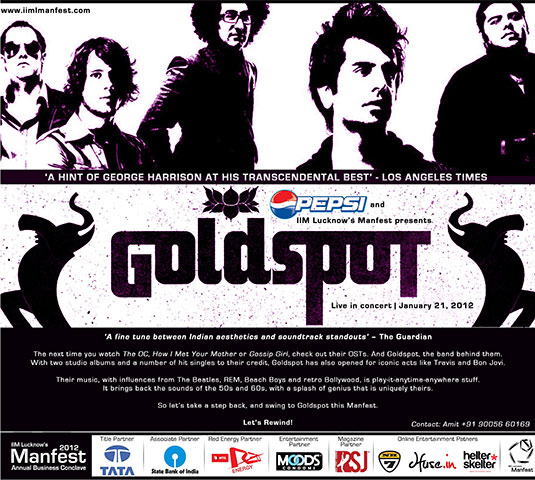 Goldspot live at I.I.M. Lucknow's Manfest 2012.
With singer-songwriter Siddhartha Khosla at the helm, Goldspot has steadily gathered a large international following over the years. The band has two studio albums under its belt—their critically and popularly acclaimed debut album Tally of the Yes Men featured the hit single 'Friday'—and their songs have been featured in a number of popular television shows (The O.C., How I Met Your Mother) and commercials (Apple iPad, Chevrolet).
Goldspot performs at I.I.M. Lucknow's Manfest 2012 on January 21. For free passes and other details, visit the official Manfest web site at this location.