When speaking of duos, I'm often reminded of a delightfully intense article on the partnership shared by John Lennon and Paul McCartney. Published as 'The Power of Two' in The Atlantic, the piece by Joshua Wolf Shenk decodes the friendly competition that existed between the writing and composing partners; a competition that thrived in their creative brilliance despite the increasing tension that came their way with success. While Lennon and McCartney were creative soulmates whose dynamic one can never truly understand, some partnerships extend the cursory artistic spirit and dive much deeper.
Musicians and siblings Shamik and Vivek Shraya know a thing or two about such an immersive, transcendental partnership.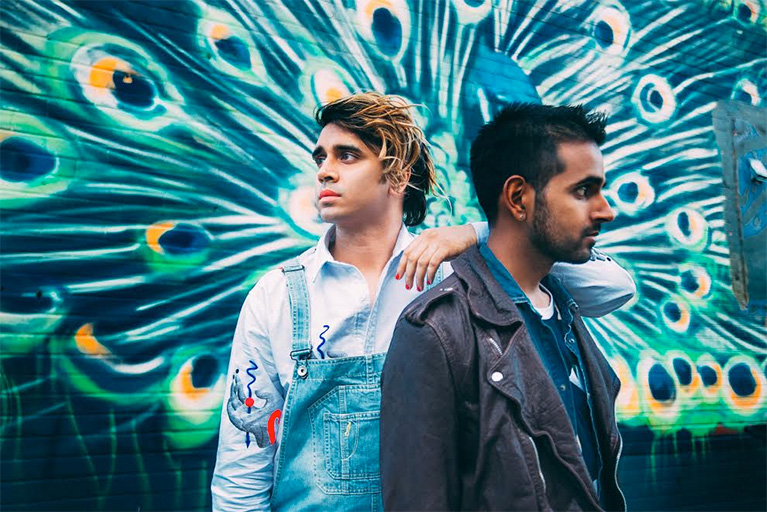 Siblings Vivek and Shamik Shraya have come together to form Too Attached. Photograph by Alejandro Santiago.
As an artist, Vivek Shraya dons many hats. A musician, a soulful R&B vocalist, an author, and a filmmaker, she is an evolving member of the Canadian artistic space. Her younger brother, Shamik—a photographer, a producer, and a successful beatboxer—has firmly placed himself at the epicentre of Canada's beat movement. Despite their intrinsic and diverging interests, the siblings had begun their collaborations at a very young age, in lieu of being musicians from the same family. "Growing up in the same home has meant that we were initially surrounded by the same music—my dad's old records and Hindu bhajans. This common bond has been foundational for our music together," explains Vivek.
The siblings may have now come together to create the formidable Canadian act Too Attached, but the euphemism has followed through their life and work. Their early life fits the first-generation narrative—children to Indian immigrant parents in Canada, trying to balance their naturally inherited Indian heritage with the culture they grew up in. They waded through music gained from their parents—plenty of Lata Mangeshkar, Asha Bhosle, and Jagjit Singh—before finding recourse in hip-hop, electronica and R&B. Their intimacy as children didn't follow them through their teens; a fact most siblings will attest too. Vivek credits this to their growing sense of independence. "We were very close as children and as early teens. In our late teens and twenties, we were not as close, even distant at times, and from my perspective, I think this was largely about my brother asserting his independence and his own identity. Much as I am attached to the idea that it is harder to be an older sibling, the older I get, the more I am able to see the ways being an older sibling can take up a certain kind of space in a family environment."
Their individual trajectories began to take shape in fulfilling ways. Based in Vancouver, Shamik went on to tour with powerhouse acts such as Bassnectar, Method Man and Redman, Thievery Corporation, Skream, Flo Rida, as beatboxer and opening act. As a producer, he has been running his own digital label, Sensing Waves, and has released a great deal of independent work. Across the state in Toronto, Vivek Shraya has written award-winning novels, produced pathbreaking movies and has worked on several albums. Together, the siblings have found their way to each other in the past, with Shamik scoring Vivek's first short film and Vivek lending her vocals to Shamik's productions, but Too Attached sees the siblings make formal a working musical relationship, one that seems to have been a long time coming.
"Due to delving into themes relating to sexuality and gender, and the autobiographical nature of my work, I seldom feel comfortable sharing my art with my parents. Being able to share my art with Shamik and have his support is invaluable, as he is the only person in my family I can share all of myself with."
Shamik agrees, "We have been both pretty fortunate with our careers and all of our lessons and experiences have helped us with our goal settings for this project. It really did come naturally. We often planned to take our time but our chemistry speeds things up when we are feeling each other's ideas. There was a time when we weren't as in touch as we are now, and I feel we are more supportive of each other's solo work than ever. It helps to have our momentum individually, because we challenge ourselves artistically within this collaboration." The duo released their first album under the project last year. Titled Bronze, the album is a heady mix of carefully curated vinyl samples and R&B beats with some evocative vocals. With the siblings living in two opposite parts of Canada, it was the Internet that facilitated its creation. As Shamik would send across rough beats and samples, Vivek would integrate them with melodies, hooks, and vocal samples. It was an experimental to-and-fro assimilated by the siblings' chemistry. "Ultimately there were no rules and our ideas would roam freely until we were certain of how to structure each song," explains Shamik. "For 'Unhappy' most of the beat was programmed before Vivek sang, and for 'Filthy', Vivek wrote more parts lyrically, which led to me adding sections for them to live in. The concept of Bronze took shape once we knew which songs were going to make it on the project."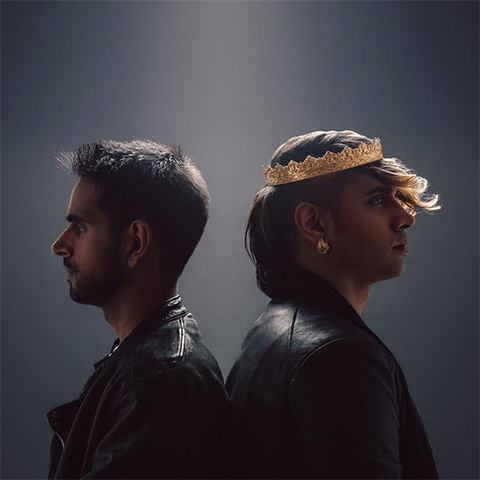 Bronze
is the duo's debut album (
Listen
)
Bronze also pays tribute to some eclectic legendary samples. From featuring Missy Elliot's 'The Rain' on 'Filthy' to Ilaiyaraaja's 'Uyire Uyirin' on the track 'Monsoon', to 'Echoes' by The Rascals on 'Unhappy', the siblings have delved deep into their inspirations. For Shamik, who worked on an entire synth-based album inspired by old Tamil Records (Channeling India), this was familiar territory. "Most of my influences and records I look for are soulful or have a world element to them. We eventually narrowed things down to five songs and are proud of how they balance the project out," says Shamik.
With Too Attached firmly on the table—they recently released a new bonus track for Bronze titled 'Get A Life'—the siblings continue their individual artistic journeys with their umbilical cord attached. With Shraya producing work that expands the narrative of what it means to be queer, she believes her brother has been her most honest supporter. "Due to delving into themes relating to sexuality and gender, and the autobiographical nature of my work, I seldom feel comfortable sharing my art with my parents. Being able to share my art with Shamik and have his support is invaluable, as he is the only person in my family I can share all of myself with," she explains. Shamik, on the other hand, firmly looks up to Vivek as a constant vocal inspiration on all the work he wishes to produce henceforth. "I thought I needed to work with more vocalists to spread the word about my new growth as an artist, but now I mostly only want to work with Vivek. Collaborations take a lot of trust and we both really trust each other with our art. Vivek works harder than anyone I know and it's refreshing to be one half of a project with someone so motivated to break down barriers and push things forward."
Too Attached brings to fore the most candid moments of the siblings' shared memories—a strong Indian connection, Vivek's lyrical profundity to Shamik's synth-work, and a certain seamless energy. Trust writer Vivek to explain it best: "Too Attached feels like the best of both of us."