A few days ago, I discovered Laxmi Bomb, a Mumbai-based electro-pop band with a new EP out titled Mah'Bharat. Usually, when I come across a new band, I like to close the curtains in my room, switch off all the fans and lights, and sit in the dark listening to their songs on my headphones. However, when I listened to Laxmi Bomb's music for the first time, something very curious happened. I started to imagine this girl—a middle-class Bombay girl, who speaks English fluently, and whose guilty pleasure, so to speak, is grooving to desi beats; a quintessential Bambaiya who loves to let her hair down, loves parties, and lives to dance.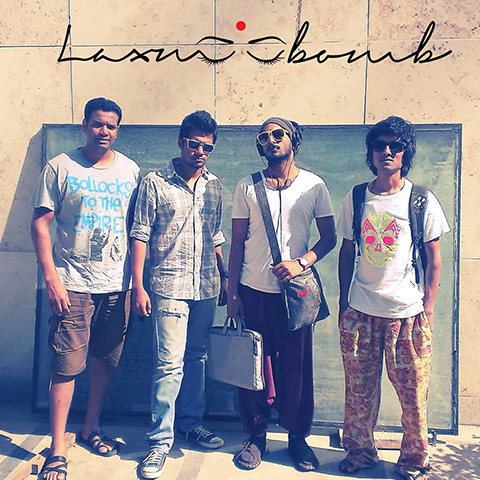 Laxmi Bomb, a four-piece electro-pop band from Mumbai.
When I mentioned this to Joaquim Fernandes, the band's keyboardist, it made him laugh. "Yes, Laxmi is a middle-class Bombay girl. But what I perceive is that she is present in everyone. The sophisticated self we try and portray is actually just a social requirement that grows on us as we age, but we always have that side of us which is at the core, kicking hard and wanting to come out. That part is the true self," he says. "It's Laxmi that gets the true Indian out of you. She is the one that makes you groove to those desi beats. She is the one who lets you have fun, and then, as you keep her on repeat, she grows on you and never leaves."
The band's frontman Keegan Pereira adds, "We treat Lady Laxmi like we treat our music: with respect, a speck of originality, and above all, honesty."
Even before Laxmi Bomb was formed, the members of the band were fairly well-known in the music circles of Mumbai, having been involved with different bands in the past. Two of them—drummer Levin Mendes and bassist Ruell Barretto—are currently also part of the popular hip-hop/drum 'n' bass outfit Bombay Bassment. However, when Laxmi Bomb was formed in September 2013, their particular brand of music was relatively alien to audiences in the city. After a string of strong live performances, the band released their first EP titled Hॐ earlier this year, and now, exactly a year later, they are stoked about releasing their second EP, Mah'Bharat.
"We treat Lady Laxmi like we treat our music: with respect, a speck of originality, and above all, honesty."
When asked about the new EP, Keegan says, "Mah'Bharat, to put it simply, is 'home away from Hॐ'. While Hॐ was primarily city-centric in terms of its focus, Mah'Bharat sees a shift towards a larger canvas. This has been achieved through more live instruments being utilised, and the EP represents a definite evolution for us. Both of our EPs have a familiar 'Laxmi Bomb' flavour to them, but Mah'Bharat has opened the gates for us to push the envelope further."
For Joaquim, Mah'Bharat is the true sound of the band. "Hॐ was the brain child of Levin and Keegan," he says, "while Mah'Bharat had inputs from all the four members."
The band has also recently released their second music video, for 'Andaman Eve'. The idyllic Goa/Pondi setting just makes the viewer, especially if he or she is currently in a big, noisy city like Mumbai or Delhi, curse their existence and yearn for a simpler life. Says Keegan, "The concept of the video was merely a reflection of the theme of the song. If you listen to the lyrics of 'Andaman Eve' and imagine the tune as a visual, the notions of child-like innocence and charm come to mind. The idea was to bring forth these simple joys of life. In a modern world, where our lives are predominantly surrounded by technological tools, we felt it was important to revisit the times where the love of nature and the 'outside world' were the sole triggers of our happiness. And what better than the idyllic landscape of our motherland, captured via the beauty of the islands?"
You can watch the video for 'Andaman Eve' here and listen to Mah'Bharat here.
Since I started listening to their music last week, I've been wondering about the name of the band. Of course, like most people who have grown up in India, I know that a Laxmi bomb is a type of firecracker that goes off with an unexpectedly loud and satisfying bang. But why did the band choose that name for themselves?
"Laxmi is a true representative," says Keegan. "She is a representative of us and of all the things living in our neighbourhood. She is India in more ways than one. As for the Bomb, well, that's just her wicked-wild-west side. And when she goes off," he adds with a grin, "you will see the light."