In a constantly evolving independent scene, Raxit Tewari is somewhat of an indie veteran, though his young age will have you believe otherwise. From metal band Medusa that later metamorphosed into alternative indie act Sky Rabbit, to his solo electronica project Your Chin, he has skirted through genres with the self-assuredness of a seasoned player. Peeping Till It's Noise is Raxit's latest album as Your Chin, a four-track E.P. that fully utilises his musical prowess and songwriting skills.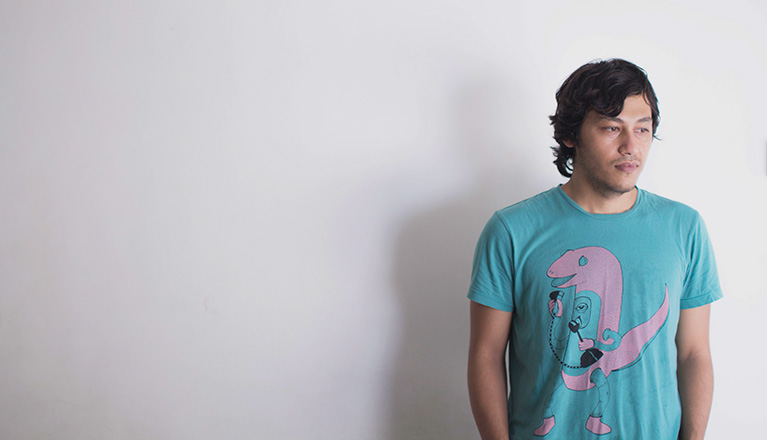 In a constantly evolving independent scene, Raxit Tewari is somewhat of an indie veteran. Photograph by Noor Sethi.
Over the last few years, Sky Rabbit has earned itself the reputation for being one of the most exciting bands in alternative electronica in India. Their sound, at its experimental and catchy best, represents Raxit's transition to his independent musical project Your Chin, which, like the band, is genre-bending in more ways than one. He explains, "Musically, I like to travel around and try as many things as I can. I primarily write songs so there's always that cohesion. Your Chin came out of the desire to turn loops and such small phrases of music I'd been writing for as long as I can remember into something a little longer; better fleshed-out versions, so to speak."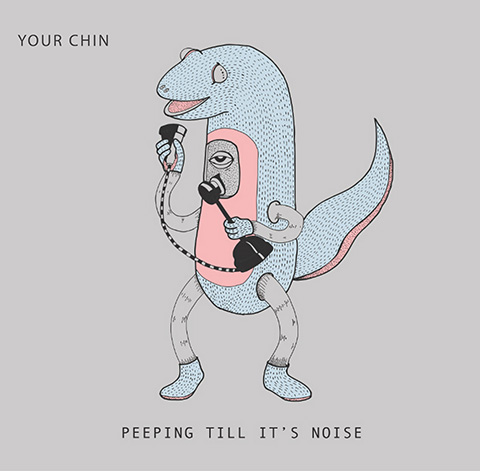 Peeping Till It's Noise.
The intention speaks louder and truer with Peeping Till It's Noise. Where his last album Scatter Nature was described as a musical manifestation of taking a solitary walk through a chaotic city much like Mumbai, he relates Peeping Till It's Noise as "a little about two people sitting in a café, two people who've known each other, having a polite, quiet chat about things, sometime in the near future". The result is an album that sounds a lot fuller and is a lot more cohesive than his earlier work. While the opening track 'Fighting the Sumo' is an electro-funk piece, 'Hawk' employs a more futuristic framework juxtaposed with nubile lyrical work. 'Shine', the strongest song off the album, is a delicious, downtempo composition, whereas 'Skit' evokes listless notes of the night by concluding the album with a sense of finality.
"All the songs were written and produced through the course of last year at my home studio. Most of them started out like little loops or even a verse written on a guitar. By the end of the year, I had some tracks which were more or less fleshed out. I then went into mixing with Miti Adhikari at his studio in Calcutta for week in March and finalised them. That's where they really came together. So, I guess it took a little more than a year," explains Raxit. There are two standout qualities to Raxit's work as a musician, in addition to his compositions. His songwriting, always engaging and atypically interesting, is a lot more elaborate on Peeping, and his lyrical process has evolved considerably. "I guess with time it gets easier to portray ideas," he says. "During the passage, you also open up doors to more and more places you can travel to." The other is Raxit's near-flat vocals, which when superimposed with his music creates a near-perfect paradox. On being asked about how he views himself as a singer, he says, "I treat it a little like a line of played instrument and then add several other lines of sounds and music around it till the picture seems complete."

'Fighting the Sumo' by Your Chin.
Peeping Till It's Noise also sees Raxit collaborating with filmmaker Misha Ghose once again. Their last video together for 'Who Would Have Thought' from Scatter Nature was easily one of the coolest audio-visual projects in the scene when it came out. This time on, their video for 'Fighting The Sumo' is making similar waves for having been made entirely using Microsoft PowerPoint, like a radical D.I.Y. project, if you will. Raxit explains this artistic alchemy profoundly well. "The sounds in the song usually have a personality," he says. "You can sometimes feel it in colours, sometimes in stories. I guess you start there and then figure things as you go along. Then these things also cost money or a life's worth of favours and man-hours. Once you figure out the house you occupy, you bring in the furniture."
India is perhaps going through a progressive phase with its independent music scene, with musicians eager to invent, innovate, collaborate, and break through. In that space, Raxit Tewari occupies a distinct place, only enhanced by the breadth of his work. And he knows it fully well. "It's an exciting place to be in. There's so many different sounds sprouting out. I'm trying to hear as much as I can and probably in the near future, even compile or be a part of things that really excite me. I'd like to interact with it as much as possible."
———
Click here to purchase Peeping Till It's Noise.