Little did Michael Sanguinetti know that he would father a series of nation-transcending protests when he opined, in Toronto, that "women should avoid dressing like sluts in order not to be victimised". Being a police officer and addressing a forum on crime prevention, his comments neither could have been ignored nor overlooked.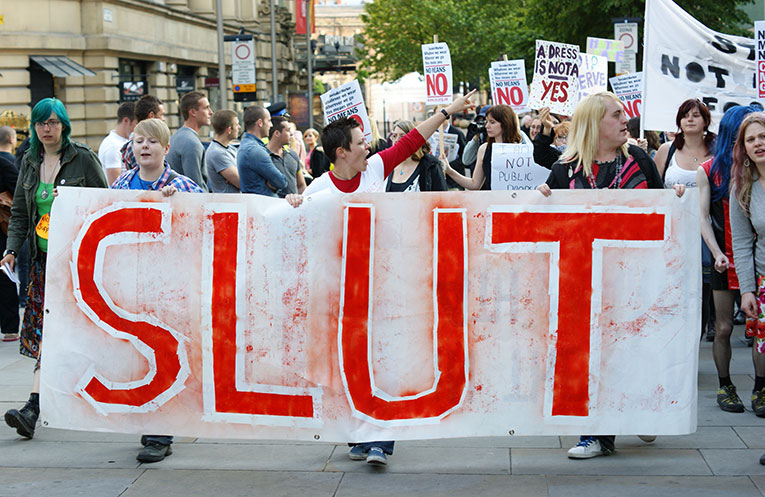 Protesters at the Slutwalk in Manchester, England, in June 2011. Photograph by
Man Alive!
Slutwalk protest marches began in Toronto soon after, to redeem the word 'slut' of its negative connotations and jaw-dropping reactions. Slutwalks did not really have to wait till 2011 to come into being; they could have been procreated when Shiv Sena in their mouthpiece, Saamna, reacted to the Marine Drive rape case by saying that "women should not wear skimpy clothes", or in 2008, when Sheila Dikshit asked women not to be too "adventurous" following journalist Soumya Vishwanathan's unsolved murder. Yes, Slutwalks should have been native to India, because it is India which is fourth on a list of unsafe countries for women. Does Canada even feature on that list? Shouldn't the West's intolerance be something we should emulate, be it in the case of sheer vehement disapproval of terror or crime against women?
Shedding some light on how rapes are perceived, the organisers were unified in their desire to bring to the forefront not what they wear or do but what is done to them. Democracy makes tall claims about the supreme power of decision-making being vested in the people. Some half of them are robbed of sartorial decisions! When important public figures see rape as a 'come-hither' attempt by skimpily dressed women, then what would ordinary citizens be thinking? Rape can stand as a definition for heinous. It is a crime where one always falls short of words when attempting to describe its brutality.
With a rape every 29 minutes, Delhi, a.k.a. the rape capital of India, shall host the Slutwalk under a new name: 'SlutWalk 2011 arthat Besharmi Morcha' (date undecided). The organisers have Indian-ised the protest march to garner more support. Raised eyebrows and a furore were the obvious fate of this protest march carrying a profanity in its title. The word 'slut' is as common as your common cold but using this so-called expletive in a public sphere had to strike up a controversy. Hearing 'SlutWalk' tacitly lures intrigue and curiosity. All about leading the horse to water, right? Drinking is its choice. Participating is your choice.
The root cause of this entire hullabaloo lies in perceptions. The victim cannot first be accused of luring victimisation and later of crying foul! Rape should be perceived in only one way, in which it is seen as a forceful act of having sexual intercourse. Slutwalk targets those wealth of perceptions and calls for a sea change where women, let alone be put on an equal footing with men, are at least given the right to dress according to their whims and fancies.
We're heading countries, scripting the end of a 34-year-long reign, and scaling the heights of Mt. Everest, but apparently we still can't decide what to wear.