The kitchen is a wonderful, impenetrable place for many of us, a place where breakfast, lunch, dinner, and other good things are made. It's an unassuming place with lots of cupboards possessing mysterious jars which contain mysterious herbs and spices like ajwain, hing, elaichi, and pudina.
For the uncomplicated eater, the kitchen is the place where one can make a cup of coffee in five minutes, perhaps mash rice in curd for an 11 p.m. dinner, and for the more talented among us, a place to churn out gravies, pulav, and what not.
Yet when you are stuck at home during vacations with nothing much to do, and more importantly, nothing much to eat, you feel the urge to enter those unchartered territories. One can't eat Tiger biscuits and instant noodles forever, so the motivation to actually cook something sets in—something exotic, unheard of, something sure to go down the annals of culinary history.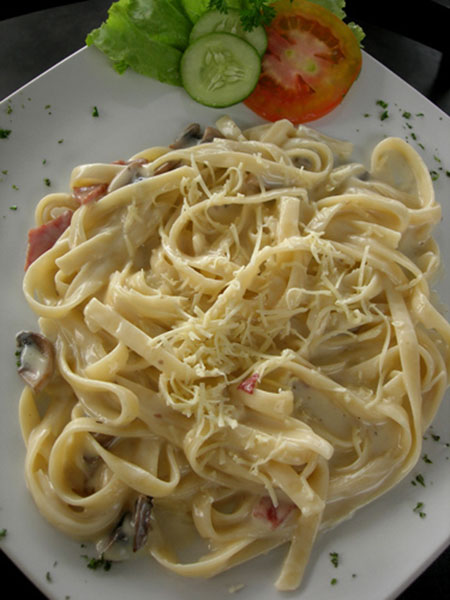 It's all about using the Right Cutlery under the Right Lighting.
Of course, there are always the friends one looks up to for inspiration, whose stories of gastronomical bravery never cease to inspire. The friend who tried pizza with almost everything—curd, khichdi, chutney, chocolate sauce—and finally settled on sambar is the first one you'd remember, followed by the one who was so sick of living alone and insipid restaurant food that in a moment of true homesickness, added paruppu podi to noodles and swears by it to this day. And, of course, there are the true blue Tam-Brahm friends who claim that they can eat anything in the world—purely vegetarian, of course—but still crave for that bowl of thayir saadham before the day ends. These, and the friends who can dish out any sweet in the world—brownies, chocolate cake, gajar ka halwa—with the ease it would take you to move up to level two on FarmVille, would provide all the motivation that you need to get started.
You furiously flip through pages of cookbooks and scores of websites for recipes. There is always the hope that the six tomatoes, four carrots, and one stick of ginger in the refrigerator will lend themselves to dishes of culinary supremacy, the kind which when photographed, look like they're straight out of a Tarla Dalal book, beaming and utterly unrealistic.
You always looks out for the toughest, most ingenuous recipe. After all, one doesn't haul one's ass to the kitchen to make carrot juice. No, the dish must be of legendary, Barney-like proportions, the one you see on Travel and Living, the one that would send Sanjeev Kapoor into fits of ecstasy.
But then you realise very soon that you could cut, squeeze, grind, blend, grill, and skewer tomatoes and they'd still remain tomatoes and not magically turn into an exotic fettuccine alfredo with sun dried tomatoes—not without Tofutti vegan cream cheese, soy margarine, and soy milk at least. And since one can't really be expected to walk down to the nearest supermarket in the scorching sun, all for a plate of squiggly semolina, you'd always try to convince yourself that Those Ingredients Are Merely Superfluous and The Alfredo Will Taste Great No Matter What.
So you set the pasta to boil, cut and fry the onions, ginger, and green chilies. Everything seems alright so far and the pasta is in the semi-final stage.
Now this is the moment that one leans against the kitchen wall and commences on a round of Culinary Fantasies. That pasta boiling away merrily is going to turn out so well, that on eating it, you will go weak in your knees; you'll proudly flaunt it amidst friends and relatives who, upon eating it, go weak in their respective knees, begging you for 'One more bite, please, just one more!'. You might receive phone calls, Facebook posts, and text messages saying, 'It's been a long time… can we taste your Pasta Alfredo again?' And sooner or later, Little Italy is bound to call you up and say, 'We're ready to pay you any amount, name your price—no no, here's a blank cheque, just give us the recipe of your Pasta Alfredo, now!'
But while your mind is revelling in pleasant daydreams, your ever sharp nose detects that the aroma of the merrily boiling pasta doesn't quite fill the kitchen, let alone the house.
You panic almost immediately, wondering if something could have gone wrong. You think that there isn't enough masala, perhaps, so you empty a packet of Maggi Noodles masala—all for the flavouring, you know. You stir and stir in vain, and in moments of creativity add turmeric, chilli powder, and green peas, remembering what you had learnt in English class about copiousness leading to mirth.
Slowly the hesitating liquid in front of you begins emitting delicious vapours and all's well with the world again. There is something incredibly satisfying about the smell of tomatoes cooked in Maggi Noodles masala, something which immediately gets your eyes glazing and your mouth watering. Maggi Noodles masala is probably the best invention in the world since sliced bread, though they'd probably taste awful together. It is, thus, pure injustice that the masala is never sold separately, as if you're expected to use the masala to cook noodles alone, and not for instance, to make pani puri or paneer butter masala—not to mention, some Pasta Alfredo. It is as if your magnum opus bubbling in front of you is fraudulent, the mere thought of which makes you shudder.
Twenty minutes and twenty-five hasty stirs later, you can't help but notice that the pasta looks confused and when photographed, would vaguely remind you of dal tadka poured over semiya upma. But you quickly assure yourself that it's all about using the Right Cutlery under the Right Lighting.
…
Two hours later, you emerge out of the kitchen, sweaty, grimy, and very un-Nigella-Lawson-like. Yet, you look victorious, for in your hand is a plate of your very own Italian-inspired creation, topped liberally with tomato ketchup. You make your way to your room, pick up Sons and Lovers and proceed to put your feet up. You take a bite, you close your eyes, and sigh, as your masterpiece makes its way down to your stomach. Maybe you're not that bad a cook after all!