If you're apprehensive about giving the new Arctic Monkeys album a listen for fear that it may turn out to be a rehashing of 2009's Humbug, let me break it to you: Suck It and See is brilliant.
In fact, the Sheffield four-piece's fourth studio album proves to be both an emphatic justification of the iffy Humbug, and an equally emphatic return to form. Overall, Suck It and See establishes itself to be a quintessential pop-rock album, albeit with a tempered rock 'n' roll edge.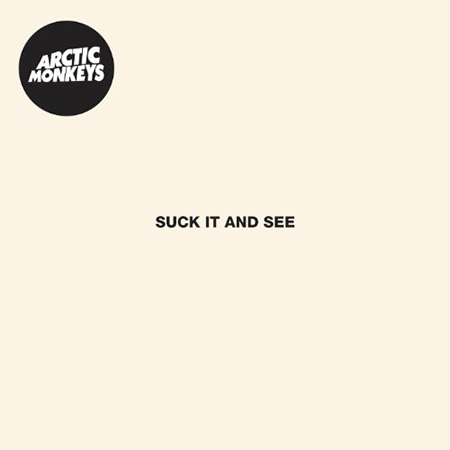 Suck It and See
album cover.
Right to it, then. The boys's fourth album kicks off with 'She's Thunderstorms', which begins with the mysterious murkiness that swallowed Humbug, but eventually turns into a Turner love song about a tempestuous temptress that gives Alex an "acrobatic blood concertina". Another lyrical stand-out is bass-driven 'The Hellcat Spangled Shalalala', in which Alex ambiguously details a woman with formidable acidic prowess ("She flicks a red-hot revelation off the tip of her tongue") that he still somehow keeps coming back to.
The puzzling but highly engaging 'Black Treacle' seems to be, on multiple listens, vaguely autobiographical of the band's Humbug-era transformation (Humbug's murky, dark sound could, in a way, be described as 'black treacle'). "I feel like the Sundance Kid behind the synthesizer," says Alex, alluding perhaps to the feeling of being outsiders to a sound that they were desperately trying to adopt.
This album also features a full-band version of Alex's 'Piledriver Waltz' from his soundtrack for the movie Submarine. Thankfully, its melancholic tale of a dying relationship is as heartrending as the wry, resigned sadness of the original. Alex really hits his songwriting pinnacle, though, on the mellow 'Reckless Serenade'. The song, as the title suggests, serenades a girl who's so beautiful that "topless models doing semaphore wave their flags as she walks by and get ignored" and whose laughter makes "the heavens hum a stun-gun lullaby". Meanwhile, Nick O'Malley occasionally steals the scene with a bass-line that would make Krist Novoselic proud. The title track, too, has some splendid, almost Beatles-esque lines about unabashedly being in love with a girl who's "rarer than a can of dandelion and burdock".
Don't get me wrong, though: the Monkeys have indeed upped their love-song craftwork, but that's not to say that they can no longer produce their brand of fantastic indie-rock. In fact, they now imbue their 'heavier' material with a distinct rock 'n' roll edge, no doubt a vestige of their psychedelic sojourn into the desert.
Take, for instance, the album teaser 'Brick by Brick', which tastefully turns the clock back to 1988 and the volume up to 11. 'Library Pictures' would do just as well on Favourite Worst Nightmare, with a 'Brianstorm'-like adrenaline rush in Helders's drumming. The dizzying bass line, agile guitar work, and overwhelming confidence establish once and for all that the Arctic Monkeys still fucking rule indie rock, thank you very much.
The best song on the album, perhaps, is the first single 'Don't Sit Down 'Cause I've Moved Your Chair'. With a rock star nonchalance that rivals the best of Julian Casablancas, Alex warns his lover not to trust him; and, unlike on Humbug, the dangerous energy in his voice is perfectly believable. It is on this song that we see how far the Monkeys have come: they can now perfectly blend their psychedelic rock edge with lyrics that shine with intelligence.
Still, the question persists: is this album better than their debut? Harder still, is it better than Favourite Worst Nightmare? Is 'She's Thunderstorms' a better opener than 'Brianstorm'? Does 'That's Where You're Wrong' match 'A Certain Romance' as a closer? Well… No. There's no denying the fact that the Monkeys as 2006 knew them are irretrievably gone. However, with Suck It and See, the band embraces their best parts while growing phenomenally as musicians.
The main thing that sets the Monkeys apart from the slew of their fellow N.M.E. darlings is Alex Turner's songwriting. But since its unforgettable beginning as the biggest musical craze to hit Britain since maybe the Beatles themselves, the band has been steadily adding weapons to its already formidable fusillade. Jamie Cook's brilliant riffs install themselves within the grey folds of your brain. Nick O'Malley has spectacularly appropriated the verve and skill (and looks, actually) of Jack White. And Matt Helders is, of course, one of the greatest drummers of our generation.
In many ways, Suck It and See is as important in the Monkeys's discography as their debut was: while Whatever People Say I Am… gained the band its famously astronomical following, Suck It and See gives them the respectful aura of a band that is here to stay.