Whenever history is reconstructed in fiction, its authenticity is invariably questionable. Author Tabish Khair, being aware of that, clarifies his stance in the very beginning by stating that "any story worth retelling is a true story". This being established, the reader can put all doubts to rest and get ready to become embroiled in this labyrinthine "ghost of a true story".
Set in an eerily familiar Victorian London, The Thing About Thugs topsy-turvies our notion of the city in that era, formed by Dickens, Austen, Conrad, or Collins. Khair's London, besides having its fair share of mansions and ghettos, secretly harbours opium dens, rookeries, and an underground parallel city, where the lost tribe of "mole people" is rumoured to live. This London is not just throbbing but also bleeding and there's real blood on the streets, as proof.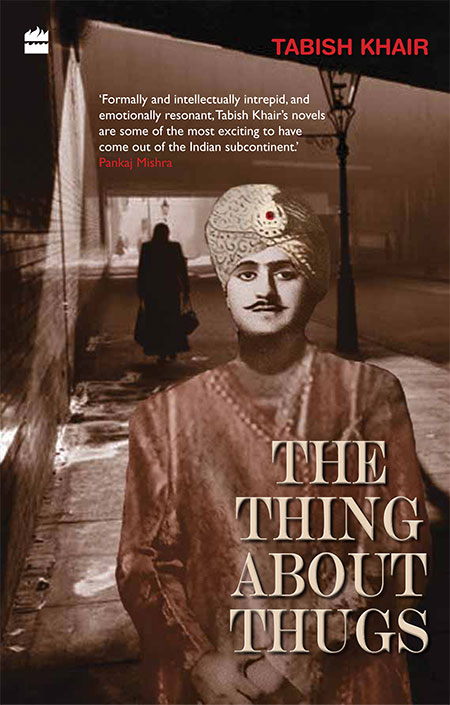 The Thing About Thugs
book cover; courtesy of HarperCollins Publishers India.
The story, though with multiple narratives, is mainly told by a boy sitting in the library of his grandfather's house in Phansa, Bihar. He envisions the entire tale by putting together the jumbled pieces of information he procures from reading Captain William T. Meadows's book called Notes on a Thug: Character and Circumstances, a bunch of letters written in Farsi by Amir Ali addressed to his "Jaanam", and a London newspaper clipping.
What he gathers is this: Amir Ali, a thug from Bihar, was taken by Meadows to London, in order to divulge details about the oriental cult of Thugee, in which killings were done both in the name of Allah and Goddess Bhowanee. He spent a year there and narrated his life story to the English officer but it greatly contradicts with the one he wrote down for his love Jenny to read someday. Whether Amir was a thug or a commoner is one looming question. The other is the disappearance of a scholar of phrenological science, Lord Batterstone, who was on a ship—the SS Good Hope—set out for Africa.
Juxtaposed with Thugee is phrenology. Juxtaposed with Lords, Captains, and Majors are illegal immigrants, lascars ("jahaajbhais") and gypsies. Juxtaposed with false truths are true lies. When a series of murders begins, in which the body is always found beheaded, the "Head Cannibal" is, without the blinking of an eye, presumed to be either Asian or African. The Englishmen responsible for solving this case jump to conclusions, believing darkness of skin to be in direct proportion to darkness of mind, the prime suspect being the thug Amir Ali.
A lot is borrowed from Victorian Literature and quite deftly woven together. The book Notes on a Thug is actually a spin-off of Philip Meadows Taylor's Confessions of a Thug. Amir Ali's name, too, is derived from the latter's protagonist Ameer Ali. Another character, who seems to be fashioned after someone else's, is that of Qui Hy's. Qui Hy, though sounds Chinese, is actually a distortion of 'Koi Hai'. This Punjabi woman, who runs a dhaba and sorts out everyone's problems while sitting in one corner stitching, is highly reminiscent of Madame Defarge in Charles Dickens's A Tale of Two Cities. Then there are of course shades of Joseph Conrad's Heart of Darkness throughout the novel. The cumulative result, though, is highly original and inventive.
It's an absolute delight to read Tabish Khair's lyrical prose. His being a poet is conspicuous. There is something so beautifully haunting about this story that by the time you reach this line—"It is a myth of the lazy storyteller that ghosts primarily inhabit desolate houses and crumbling castles"—I'm sure you'll find yourself nodding in agreement. Definitely worth a read.
[HarperCollins Publishers India; ISBN 978-81-722-3978-7]