Dualist Inquiry is the solo project of producer and guitarist Sahej Bakshi. A graduate of Thornton Music School at U.S.C. in Los Angeles, CA, the 24-year-old plays his own brand of rock-infused electronica, combining his education in music production, audio engineering, and composition with his knowledge of the guitar, which he has been playing since the age of nine.
Having returned to Delhi in 2010, he has since played live sets at various clubs and festivals across the country, including Bacardi NH7 Weekender at Pune. He was ranked number one nationally in the Burn Sasha Tour Remix Competition (2010) and was selected to perform at Berlin Music Week in September of the same year.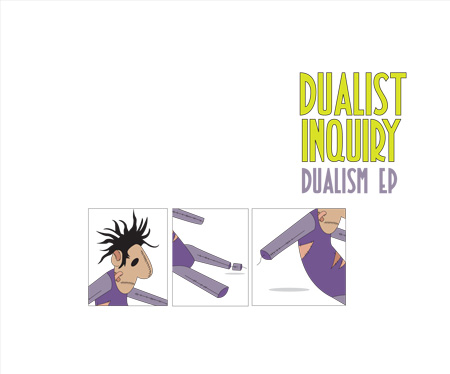 Dualism
E.P. cover.
Dualism is Bakshi's first E.P., a concise one consisting of four tracks in total and lasting just under half an hour. The opening track, 'Orbital', has an ambient beginning with a prominent beat steadily keeping time throughout, while a looping keyboard kicks in a little after. As the name suggests, the tracks conjures up images of traversing through galaxies and vast expanses of outer space in your head. The following 'Qualia' appears to be mellow and dream-like, and yet is energetic at the same time.
'Qualia' makes way for the slightly more uptempo 'Gravitat', which faintly reminds you of Digitalism's 'Zdarlight'. It is perhaps the best example of Bakshi's genre of guitar-infused electronica with electronic beats comfortably combined with guitar riffs, especially towards the latter half of the track, past the two-and-a-half-minute mark. The E.P. ends with a second version of 'Qualia' featuring spoken verses by Monica Dogra of Shaa'ir and Func describing the meaning of the word, which in Latin is used to describe the subjectivity of various experiences such as the taste of wine or the pain of a headache.
Through its four tracks, Dualism has managed to briefly demonstrate precisely what Bakshi does and what can be expected of his live sets. If the E.P. is anything to go by, a future album promises to be an engaging experience with a variety of moods to match.