If you're looking for a riveting storyline replete with carefully laid out plot embellishments and postmodern gimmicks, uh, look elsewhere. The Sunset Club doesn't even have the semblance of a plot. And no, it does not bring you one step closer to unlocking the mysteries of life and other such wonders.
Neither does it say anything that the 96-year-old Khushwant Singh hasn't already said before. Then again, who expects novelty these days? Having said that, it would be a little unfair to shove aside the veteran columnist-writer's latest offering to the literary world just like that, for the book has its charms.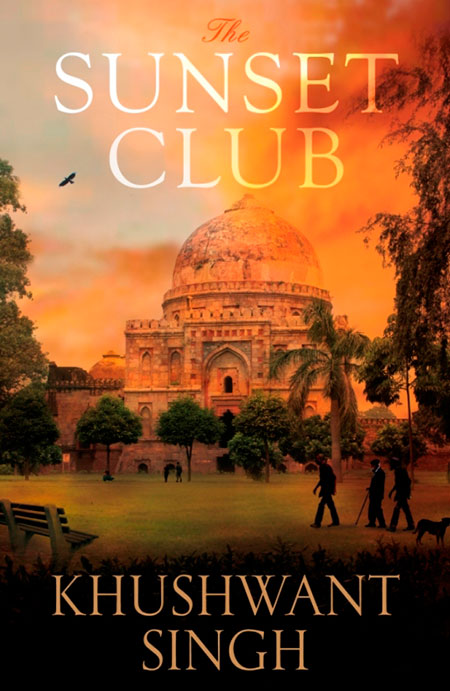 The Sunset Club
book cover.
The Sunset Club follows a year in the not-so-eventful lives of three old men—all part of Delhi's scotch-swigging elite, and through them, a year in the always-eventful life of our country. The three members of the Sunset Club—the Brahmin supremacist Pandit Preetam Sharma, the mild-mannered, courtesan-wooing Nawab Barkatullah Baig, and the abuse-hurling, Ghalib-spouting, pseudo-agnostic Sardar Boota Singh, meet faithfully every evening during the sunset hours (obviously) in front of a tomb (which, according to the author, resembles a "young woman's bosom") at Lodhi Gardens to hash over the many affairs of our nation. As is apparent from their names, each of them belongs to a different religion; and therefore quite understandably, they allow squabbles over matters of faith to creep now and then into their colourful conversations, while maintaining their staunch friendship. From time to time, they pause their more weighty discussions on political scandals and religious debates to talk about their own sex lives and fantasies, often in great detail.
The most captivating part of the book is the third thread, which follows a year in the life of Delhi Weather. The book is divided into 13 chapters, the first 12 pertaining to months of the year. Singh chronicles the subtlest of weather changes and the effects they have on the flora with remarkable grace, always careful not to weigh us down with florid descriptions.
As far as the style is concerned, Singh seesaws between lyrical and crass. On one hand, he dwells for an uncomfortably long time on the poor, constipated Boota's bowel movements and on the other, depicts the changing of Delhi's seasons with the finesse of a poet. Khushwant Singh's fictionalised memoir is unafraid, uninhibited, and unapologetic, but it fails to capture the poignancy of old age, which I feel should have somehow been the focus of this slender book. Read it if you're a Khushwant Singh fan, but if you're new to his writing, I suggest you start with something else instead.
[Penguin Books India; ISBN 9780670085194]