What a week it has been! Motherswear, the festival division of Only Much Louder, followed up the hugely successful three-day Bacardi NH7 Weekender festival with one of the biggest, loudest, and most explosive concerts India has ever seen. Yes I'm talking about the Eristoff Invasion Festival, headlined by British electronica giants The Prodigy, one of the most influential dance acts of all time.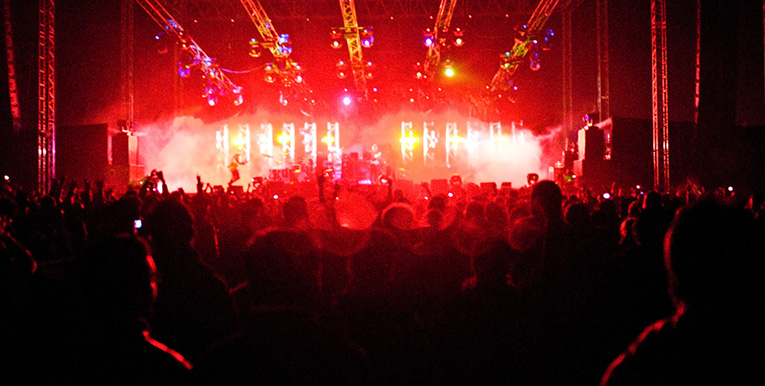 The Prodigy: Live in Gurgaon. Photograph by Kunal Kakodkar.
Facebook and Twitter were flooded with posts about the impending Invasion as early as a couple of weeks before the show, as the buzz built up to incredible levels. For those of us in Mumbai, the super-weekend started early with an Invasion pre-party at the Blue Frog, featuring local boys Bay Beat Collective and a DJ set by Paul Harding of the Australian drum-and-bass band Pendulum.
I reached Blue Frog on January 12 to find the club surprisingly empty. I guess everyone was either already on the way to Bangalore or was busy packing for an early morning flight. Bay Beat Collective started off the night with drum and bass and some sick dubstep tuneage that got my adrenalin pumping, though it didn't do much for the audience. B.B.C. has been getting better every time I see them and they have the potential to go a long way. The dance floor filled up as the B.B.C. boys made way for Pendulum DJ Paul Harding, who started off with the track 'Blood Sugar', which claims to be a sonic representation of the end of the world.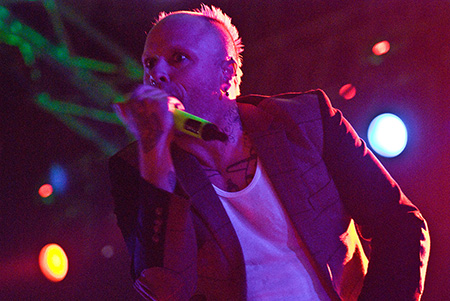 The Prodigy's Keith Flint. Photograph by Kunal Kakodkar.
With bass that made the ground shake, and an unrelenting, merciless wall of sound, the audience didn't stand a chance as they jumped, danced, and spazzed out through the set that lasted a little over an hour. Mixing crowd favourites such as 'Tarantula', and their remix of the Prodigy's 'Voodoo People', with some real bangers from their three albums, this was as exciting a start to the weekend as possible. Notable tracks include a mix of Metallica's 'Master of Puppets' with 'Slam', and a new version of their track 'Different', with a dubstep switch.
With the excitement at a fever pitch, I reached the venue of the Eristoff Invasion Festival in Gurgaon on January 15, to find that there had been a change in the lineup and DJ Heavy G was already on stage. He did not impress many people when he opened for the Prodigy in Bangalore, but the growing Delhi audience was quite appreciative of the mashups that included 'Triple Trouble' by the Beastie Boys and 'Jump' by Kris Kross. Electronica act Jalebee Cartel surprised the audience by steering clear of their regular house/techno material and playing a set full of old school breakbeat. The new set fit in much better with the other acts in the lineup and the mix went down quite well with the crowd.
By now, it had started to get really cold and there was a long line to get drinks coupons for the bar. There was an even longer line for the port-a-potties, thus forcing me to miss part of the Midival Punditz set. The band had an impressive array of guest musicians on stage, including Monica Dogra from Shaa'ir and Func, guitarist Viraj Mohan from Another Vertigo Rush, and drummer Lindsay D'Mello, apart from regular collaborator Karsh Kale. They played a tight set, with Viraj being especially impressive on guitars in a set that tilted heavily towards edgy electronic rock. Highlights of the set included 'Bhangra Fever', 'Atomizer', as well as two special S+F–Punditz mashups with Monica on vocals.
Bombay-based electro-rockers Pentagram were up next. The band is heavily influenced by the Prodigy, and was obviously very excited to be sharing the stage with their idols. They opened their set with an Invasion-only version of 'Drive', but had to end the song midway due to a technical problem. The band recovered well, and played six new songs from their upcoming album Bloodywood in an eight-song set. 'Mental Zero', 'Electric', and 'In My Head' got the Delhi crowd warmed up, aided by the massive light setup which was finally fully operational. 92 strobe lights are not to be scoffed at. DJ Paul Harding from Pendulum played the second-last set of the night as the crowd surged forward in anticipation of the Prodigy. Unfortunately, his levels were low and his short, but fantastic set was largely ignored by the Delhi crowd which was busy trying to stay warm and secure a spot in the front row.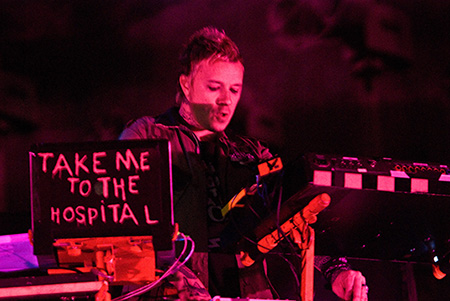 Liam Howlett, live and loud. Photograph by Kunal Kakodkar.
After a slight delay, it was time for the band we had all been waiting for. Liam Howlett, Keith Flint and Maxim Reality were greeted on stage by 7,000 roaring fans and the band immediately launched into the explosive 'World's On Fire', from their latest album Invaders Must Die. Maxim and Keith got a great rapport going with the crowd, and the band sounded massive! With bass that hit you with an almost physical force, and a light setup that could induce epileptic fits, this was not a show for the faint of heart. The Prodigy played a career spanning set that was heavy on tracks from Invaders Must Die. The Delhi crowd wasn't as responsive as I imagined, but that was probably due to the cold weather. It would be almost impossible to choose favourites from the setlist, but tracks such as 'Omen', 'Firestarter' and 'Voodoo People' got a great response from the crowd. The band played a high-octane set that ended with the fan favourite 'Smack My Bitch Up', before turning it up a notch for the encore. 'Take Me To The Hospital' and 'Their Law' inspired massive moshes, and the rave classic 'Out Of Space' wrapped up one of the best shows I have witnessed in my life.
As I staggered out of the venue, numb, shattered, and exhausted, I promised myself that I will watch the Prodigy again at least once more before I die. This, my friends, was a once in a lifetime experience. Those of you who were there, either in Delhi or Bangalore, are probably still reliving that night over and over in your heads. Those of you who missed it, start saving up for the next Prodigy tour. Kyunki agar zindagi mein Prodigy nahin dekha to kya dekha?