I remember stumbling across Brian Transeau's Movement In Still Life when I was just getting over my irrational condescension towards electronic music; something that a lot of rock music fans of a certain age are prone to. The album opened me up to diverse styles of music with its dense fusion of breakbeat, house, trance, rock, and hip-hop, serving as one of the best introductions to electronic music that I can think of.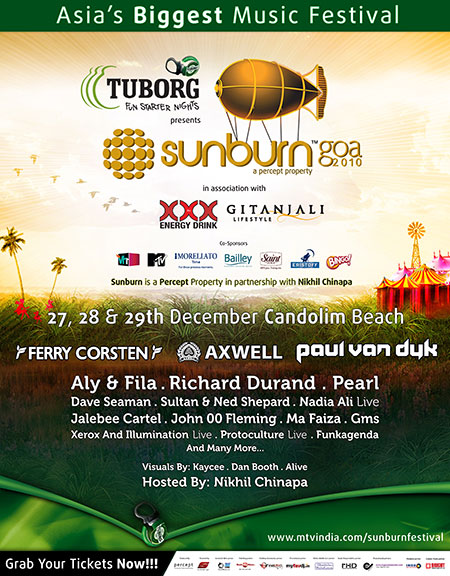 Sunburn 2010. Coming to Goa this December.
So when I found out that B. T. was playing at Blue Frog in Mumbai, I jumped at the chance to cover the show and see one of my favourite musicians and producers play live. The event was the launch of the Sunburn Anthem Tour, where the much anticipated results of the Sunburn Anthem and Video contest were announced. The contest winners get the chance to show off their talent and rub shoulders with the world's best artists at the Sunburn Festival in Goa this December.
DJs Nikhil Chinappa and Pearl took over the deck before B. T. blew everyone away with a brilliant set that was dominated by some great house and a selection of tracks from his latest album These Hopeful Machines. Old fans may have been disappointed due to the lack of material from his earlier albums, but that is a complaint for another day. Before he started his set, B. T. sat down and chatted with some members of the press. Here are excerpts from that conversation—
Have you heard music by Indian composers such as A. R. Rahman? How do you like it?
I'm aware of Indian classical music, but what has been really cool is discovering modern Indian music with its fusion of Western arrangements and Indian melodies. In fact, I just went instrument shopping today and bought some Indian instruments like the sitar and the electronic tabla. I also had a meeting with Salim-Sulaiman and it was great. They invited me to their studio and it was incredible to hear them explain how my music had influenced some of theirs. We also talked about doing some collaborations, like some electronic music but with Hindi singing.
This is your first visit to India. What do you like best about the country?
I've wanted to come to India for four years but it never materialised until now. What I love the most about the country is the food—by a narrow margin. I really love Indian food. You know that airplane food is generally very bland and boring, but on the flight here they served some Saag Paneer and it was amazing. I told the stewardess, I said this is the best Saag Paneer I have ever had and she just stared at me. So, yeah, the food. I also like the culture and the architecture is amazing. I love the hustle and bustle of Mumbai.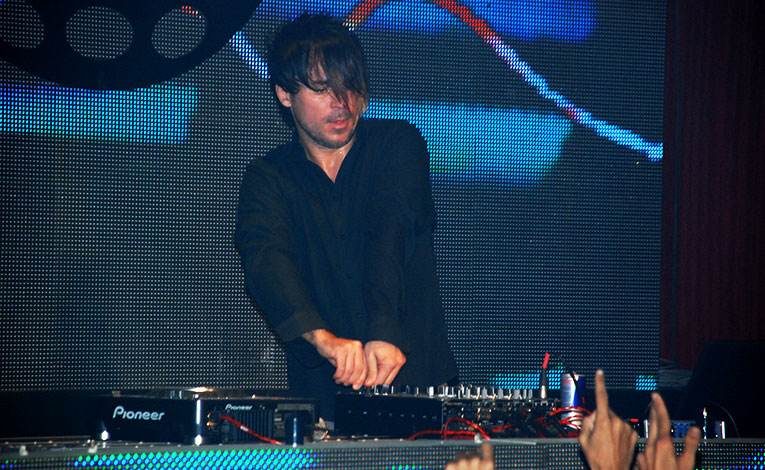 Brian Transeau, a.k.a. B. T., at the first Sunburn Anthem Tour Party in Mumbai.
You've just been nominated for a Grammy for your latest album These Hopeful Machines. How does that feel?
Oh, yeah. It happened just a few days ago and this is literally the first time I'll be talking about it without losing the plot emotionally. So, I was on my way here and the journey's pretty long. After the first leg of our flight, we had a stopover in England. I switch on my phone to see almost 700 text messages, congratulating me on my Grammy nomination. Till then, I'd no idea about it. Almost immediately, I burst into tears and the airline staff actually had to take me outside to see if I was okay. I was THAT overwhelmed. It was as if someone had died in my family. I told the crew, "I've been nominated for a Grammy" and they all applauded for me.
This is the greatest professional honour I've ever had. It feels absolutely wonderful to be recognised by my peers for the work that I do. It's an honour just to be nominated, really; I don't care if I win or not.
What did you do differently on the album?
This album took a long time to make. I had some difficulties in my personal life and that obviously informed the music. A lot of the content, especially the lyrical themes that emerged were directly influenced by that. And I think people respond to the honesty of it.
"Music is basically applied math. Rhythm, harmony, frequencies are all mathematics. All musicians are inherently mathematicians, whether it's intuitive or deliberate."
You also just announced that your company Sonik Architects has been acquired by audio technology company Izotope and that you are going to be partnering with them and release some products you designed. Could you tell us more?
Yeah, absolutely. These are mostly products I designed for my own work. Software like BreakTweaker and Stutter Edit is stuff that was built out of necessity. Break Tweaker, which took a year and a half and 1.2 million lines of code, was made specifically for my album This Binary Universe, because I couldn't achieve what I wanted through existing software applications. Now that we have these prototypes, we plan on putting them out as tools for other musicians. Similarly, my iPhone-based software Sonifi, allows you to do live techniques like filter sweeping and stutter edits using the touch-screen interface of the iPhone. I once played a gig in front of 15,000 people using only my phone and this software. You can also sync them up with someone else who has the same software.
Math is an important part of music and you've expressed a serious interest in mathematics. You even have a song based on 1.618, the golden ratio. How much of a role does math play in your approach to music?
Music is basically applied math. Rhythm, harmony, frequencies are all mathematics. All musicians are inherently mathematicians, whether it's intuitive or deliberate. I'm a geek, so I overtly love math and it deeply informs my music. I love doing things like throwing stones and watching the interference patterns and I try to emulate that sort of behavior with my music.