On their fifth studio album, Brooklyn-based, Ohio-born indie rock quintet the National have proven that they're not just a one-trick pony (or a two-trick one, at that). High Violet, a mélange of meditative lyrics and melancholic undertones, is a suitable and fitting part three in their series of masterpieces, following Boxer and Alligator. What sets this album above and beyond their previous offerings is the decidedly grown-up sentiment that is attached to all the songs.

The National: Afraid of everyone?
The National is led by the monotonic baritone of lead singer Matt Berninger, ably aided by two pairs of brothers, Aaron and Bryce Dessner, and Scott and Bryan Devendorf. They've always been a critic's band: Appreciated more by the pen-wielding intellectuals in New York or London than the average indie hipster. Perhaps it's their conspicuous lack of pretentiousness, or their acceptance that life indeed does move beyond the idealism and excitement of unbridled youth into the conventionality of middle age. They write and sing from the heart; lyrics that resound just as strongly with a lumberjack from the Midwest as they would with a teenager from suburbia. These lyrics, poignant and eloquent, serve as the SparkNotes to their own music, succinctly articulating the moods and colors.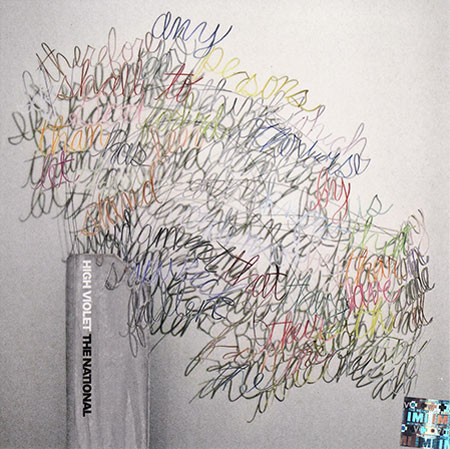 High Violet
CD artwork.
What strikes you first in the record is, undeniably, the rich, deep voice of Matt Berninger. Somehow, the self-importance in his voice imbues the words with an unusual level of weight and meaning. Bryan Devendorf's drumming steals the show repeatedly from Berninger's voice, setting a contrasting pace to the heaviness of the rest of the music. But it is only after the third or fourth listen that the album really opens up beyond the vocals or the drumming. Effusive, poetic piano notes coalesce gently with restrained choir sections and reflective guitars. The National sounds like grown up indie kids. They address the debilitating facts and realities of growing up; that there are not many surprises, fantasies, changes. They capture the essence of adulthood, with lyrics that often speak of choosing the consistently good over the occasionally great, of giving up unrealistic dreams, of putting family before oneself. They speak the stark truths of reality, and that's why, unlike most indie bands, come across as people you can relate to, and trust.
The album starts off with 'Terrible Love', a slowly-unfolding piece about sadly watching someone you love self-destructing, and knowing that you're on the verge of it yourself. It captures the sense of powerlessness that comes with the small, continuous disappointments that plague everyday life. 'Afraid of Everyone' also speaks about the feeling of being on the edge of destruction. With tenderness that's reminiscent of Kurt Cobain, Berninger speaks of the plight of a father and husband protecting his family against the world. However, there is a slight hint of paranoia and mental illness, especially when he evocatively speaks of not having the drugs to "sort out" his problems.
'Sorrow' opens with the most poignant lines on the album: "Sorrow found me when I was young /
 Sorrow waited, sorrow won". There is almost a shoegazer's take on the feeling of sadness in this song: Berninger's lyrics speak about being in love with the feeling of melancholy itself. 'Little Faith' continues this train of thought. It speaks of people who are so used to a perpetual state of despondency that they continue to cling to the feeling of being sad and alone ("All our lonely kicks are getting harder to find / We'll play nuns versus priests until somebody cries").
What sets the National apart is their ability to write moving, engaging tales about an average individual with average problems, nursing a drink in an average bar somewhere in America.
The National is truly the Springsteen of indie rock. There isn't an indie band out there today that can sing this evocatively of the troubles of the modern day working-class hero. 'Bloodbuzz Ohio', High Violet's first single, layers the emphatic and masterful drumming of Bryan Devendorf over Berninger's wistful lyrics about financial troubles, holding on to your identity in a world of adult troubles, and the psychological homelessness of the middle-class intellectual. 'Lemonworld' subtly details a story about a changed, ruined war veteran who is trying to drink himself out of his memories with alcohol he can hardly afford; yet he cannot forget the sour core of the seemingly bright "lemon" of the world. This is what sets the National apart: Their ability to write moving, engaging tales about an average individual with average problems, nursing a drink in an average bar somewhere in America.
'Conversation 16' and 'England' are perhaps the best songs on the album. In the former, almost irrelevantly-paced drums provide a strangely fitting backbone to a song about the anxieties of losing one's uniqueness, passions and (ultimately) mind as one grows into mediocrity; Berninger brings this out beautifully and wittily with numerous zombie references. 'England', a song about dealing with old friends living far away, features alluring, delicate piano melodies, and different layers that stretch out and unfold like clockwork.
'Runaway', with its gorgeous guitars, sketches out an unhappy and joyless relationship between two people, who stick it out despite the discomfort, because of the greater fear of being alone. The album closes with 'Vanderlyle Crybaby Geeks': Majestic, orchestral music segues into almost Killers-esque melodrama in Berninger's voice. It serves as a summary to the main themes of the album: Moving out, growing up, change. And as it closes with the haunting melodic sway of Berninger's voice, you know in your heart that this album is a keeper.
High Violet is sad music for people who like feeling sad. It is music for a middle-class family man, who must put aside the adventures and experiences of youth for a static life that no longer revolves around his whims and fancies. It is music that reminds you of yourself in a way that is at once understated, surprising, but invariably scenic. Haunting, deep, and thoughtful, it is the kind of album that grows on you upon repeated listening. High Violet is that rare phenomenon of an album-for-the-common-man released by an indie band. Recommended for rainy days, autumn, and drinking yourself to sleep.