"Murder is a messy, horrible thing," says Eddie Campbell, "it's not a game." He grimaces, and downs the glass of cognac he is holding. Campbell is discussing the movie based on From Hell, the graphic novel he drew and Alan Moore wrote. He is unimpressed. "From Hell is a much better, more intelligent work than the movie version," he says.
Why have there been so many bad adaptions of comics into films? "I think the problem is [that] the best comics have become so good, so intelligent that in order to make a movie, they have to dumb it down. I think that's a terrible state of affairs when you have to dumb down a comic to turn it into something else," he laughs. "What's gone wrong with the world?"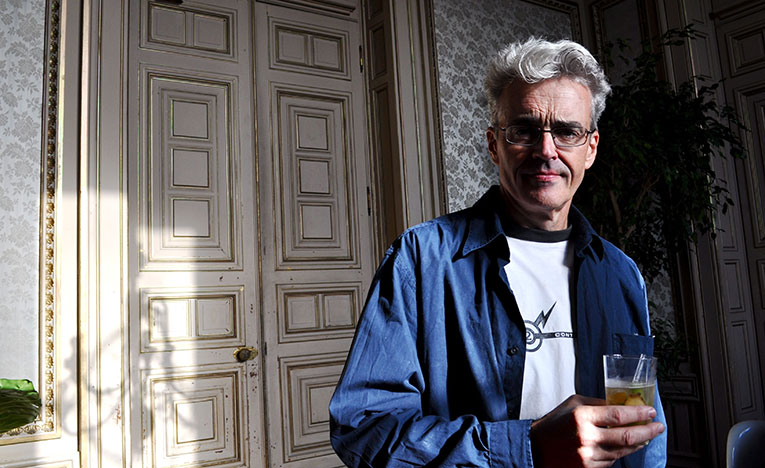 In conversation with Eddie Campbell.
We are in Angouleme, the south of France. The medieval town is in the grip of an annual comic book festival fever. The cognac is from Cognac, which is a few dozen miles to the west. The bartender has made something interesting out of it, making it glitter. A man takes one look and exclaims, "In America we don't do anything to cognac except drink it." I ask Eddie about working with Alan Moore, famous for the extraordinary detail he packs into his scripts, and he replies: "Alan writes far too much. He writes, he gives you more information than you could possibly get into one little picture." In one celebrated example, Moore took seven pages just to describe one panel.
"I used to always say that I could write my own script in half the time it takes [me] to read Alan's. And it's true." Campbell explains, "I was writing and drawing Bacchus at the same time, it worked out more economical. I could write and draw a page in the same time it took me to draw a page of From Hell. I could make better headway, make more money by writing my own, because it didn't take as long."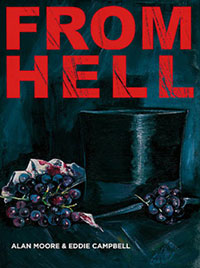 From Hell
by Alan Moore and Eddie Campbell (
Purchase
)
Campbell goes on about Moore's scripts, "You've got to set time aside, you've got to read it, you've got to make marginal notes so that you could find your way back around inside it."
We are in a salon adjoining the ballroom in the Hotel de Ville. The hotel was built in the 19th century over the ruins of the chateau where the Counts of Angouleme once held sway. King John of England owned it once. All that remains is the tower, beautiful in its ivy-shrouded ruination, and far beneath us, the dungeons.
At the base of the hill flows the Charente, described by King Henry IV as the "most beautiful stream in France". It was the level temperatures of this river, ideal for paper-making that made Angouleme its name. It was on Angouleme paper that so many treaties and pacts of Europe were printed, it was Angouleme paper which beheld generations of diplomas and certificates.
The liquid light flooding from the french windows lights up Campbell's shock of white hair. Tall, with piercing blue eyes, Campbell exudes the look of a semi-retired film star viewing the world with a certain aloof amusement. Angouleme is the scene of an old triumph, with From Hell winning the best prize from critics more than a decade ago. But Campbell isn't merely retreading his glory years. He is here to promote the French edition of his monumental autobiographical work Alec. The publisher hovers around anxiously. Someone has goofed up somewhere and the journalists are not present in their numbers, and the salon will shortly be taken over by another press conference.
* * *
From Hell is ostensibly an investigation into the murderous spree of Jack the Ripper over the course of several months in 1888 in the slums of London. It is more than that—it is a book of excavations and exhumations, the dead past which sometimes doesn't stay dead, the dissections of Time on both body and memory. It is an exhumation as much as an investigation into the Ripper's crimes. "Our story's written, inked in blood long dry, engraved in stone," the killer tells us.
Moore has said, "The idea was to do a documentary comic about a murder. I changed the emphasis from 'whodunit?' to 'what happened?'". In this he was inspired by Douglas Adam's Dirk Gently's Holistic Detective Agency. As Moore explained, "You wouldn't just have to solve the crime, you'd have to solve the entire world that the crime happened in. That was the twist I needed." This innovative approach means that Moore and Campbell give away right at the beginning that the murderer is Sir William Gull, physician to Queen Victoria, driven mad by apocalyptic visions from the deep.
Jack the Ripper was the world's first serial killer, capturing the public's imagination in ways that have never been equalled. A combination of factors led to it—the ultra-dense population at the city's core, tensions from contact with 'foreigners' (sailors and immigrants from the periphery of empire), the rise of a mass media desperate for sensation, and the architecture itself, all conspiring to create an uncatchable killer seemingly made of the fog and despair of London.
'From Hell' is a book of excavations and exhumations, the dead past which sometimes doesn't stay dead, the dissections of Time on both body and memory.
The Ripper was an early example of good branding. 'Leather Apron' was the police's uninspiring monicker for the killer. Let's face it, no one would be discussing a killer called Leather Apron a century later. 'Jack the Ripper' comes from a letter purportedly sent by the killer and was almost certainly the invention of a journalist. The gentlemen of the Press did what they do best: conjure up a monster.
Above all, the city's architecture was a co-conspirator in the Ripper's stomach-turning crimes. It was as if London herself was in cabal with the Ripper. You can't go around murdering people, with the same M.O. in, let's say, Munich—the streets are too wide, too orderly. But London's cramped alleys, sprawling red light areas, dense fog, recessed doorways, all meant that you could. And that is all that was needed. Perhaps you could argue that Munich, on the other hand, with her wide boulevards, monumental architecture, beer halls, where discontented ex-soldiers could meet and plot combined with an obedient populace saw the rise of an altogether different type of evil.
The high point of From Hell for me is a spectacular sequence where two characters take a drive or a "derive" through the city in which the occult architecture of London is laid bare. The Ripper discourses a theosophy in stone, memorable in its telling.
* * *
The experience of working on From Hell transformed the creators' lives. Moore delved even deeper into the occult, deciding to become a 'magician'—and not the kind who performs at kiddie parties. Campbell became a comic-book household name.
Campbell says meditatively, "The script should be published. There are amazing things; somebody should publish the From Hell scripts. I'll speak to somebody in England." "Don't look at me," says the publisher, laughing.
The Citizen Kane of graphic novels is Moore and Gibbons' Watchmen. Hollywood put together a mega-production in 2009 helmed by schlock jock Zack Snyder. Campbell says, "I thought the movie of Watchmen was ridiculous. The book was brilliant."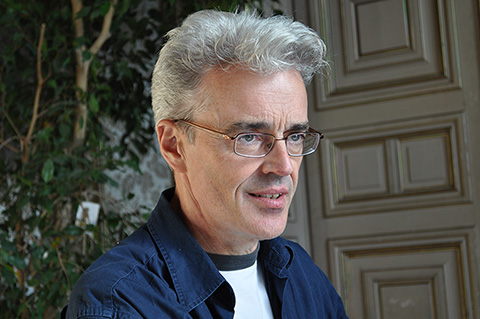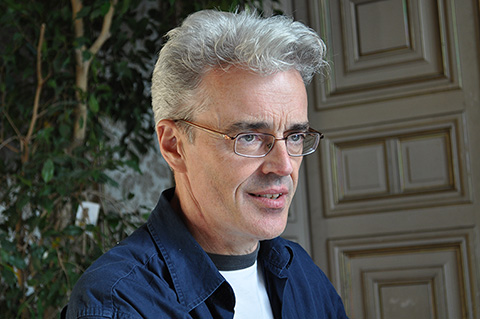 "Eddie Campbell
is
from hell."
"Why get rid of the squid? Why get rid of the giant squid?" asks Campbell angrily. He is referring to the spectacular climax of Watchmen with the appearance of a hideous tentacled alien monster in New York. Campbell explains the rationale for the scene embedded in the alternate universe that Moore and Gibbons conjure up: "It is a world where everybody is reading pirate comics and so the most horrible thing they can imagine is a deep sea monster. So the first thing they say is, well, get rid of the squid and we'll have a nuclear blast over Manhattan. What? How many brains are working on this? Why don't you stick with the one decent brain that thought the thing up in the first place?"
Going onto his own experience, he wryly comments, "With [the] From Hell [movie], they said we are going to do it just like the book except we've got a great idea, you don't know who the villain is until right at the end!
"So the first thing we said is that we don't want to do a whodunit, we want it to be much more sophisticated than that, [than a] cheap comic Agatha Christie. We don't want to turn murder into a parlour game." He goes on, "Murders are a horrendous human event. And it should be treated with greater seriousness, not reduced to the level of an after-dinner board game. There is that board game called Clue, you know, who murdered Colonel Mustard in the library. You turned the whole thing into a game. Murder is a messy, horrible thing, it's not a game."
A photographer swoops by to take shots. Campbell mugs for the camera, ad-libbing "I am Eddie Campbell and I approve of this cognac" and "Eddie Campbell is from hell".
We move onto the nuts-and-bolts of the creative process. Campbell has been praised for his "pen-and-ink style of high contrast art with deep pools of shadowy black", as a critic put it. His style works perfectly in recreating the fog-haunted delirium that was London of those times. Campell laces the work with his macabre touches. In one montage, Campbell makes a man putting on his pajamas also appear to be the Angel of Death.
I decide to ask him about the interaction between him and the writer, when he cuts me off peremptorily. "No," he says. I try to pursue the point, which earns me a glare. "No, there is no back-and-forth between the writer and the artist. The writer writes it and the artist draws it."
"No, there is no back-and-forth between the writer and the artist. The writer writes it and the artist draws it."
He explains how he works independently: "Once Alan had a carriage going over a bridge that wasn't built then, it hadn't been opened yet. I simply sent them down further along the river and they went over another bridge. I didn't talk to Alan about it, I just fixed it. I just stretched the dialogue over an extra page."
Our interview winds down. Is he tired of answering the same questions? "I have been answering questions on From Hell for 22 years," he says resignedly. Campbell is here to promote another one of his books, after all. "You should mention Alec," he says, "that is another work of genius." He smiles. "That is one of the world's works of genius that Alan Moore wasn't involved in."
* * *
Later that evening, I spot Campbell walking away in the twisting cobble-stoned streets. He could be a man disappearing into his own monomyth, a shade amidst shades, a shadow amongst shadows.