In October 2011, a bunch of young photojournalists visited the Delhi Photo Festival, the first of its kind in the country. A thorough engagement with contemporary Indian photography as well as invited bodies of work from across the globe left this lot touched and bewildered.
Detailed panel discussions seemed to have opened new pores in the thoughts and approaches these young lens wielders were employing in their daily professional and personal photographic practices. News houses in some cities, I was told, operated without photo editors. Assignments were brief and often vague, payments meagre, and the design work integrating their daily photography was poor. Photography seemed centred to the major metropolises in the country. To be able to view work in a carefully thought-out and intended environment, one found themselves travelling to Delhi, Mumbai, Bangalore, Chennai, and Calcutta.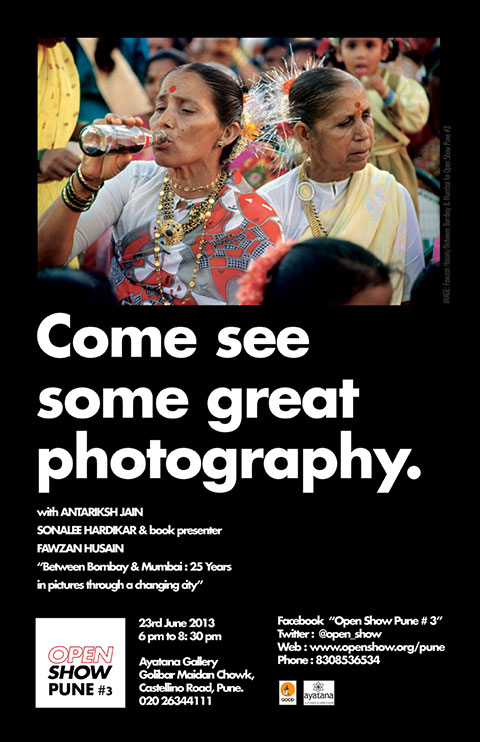 Open Show Pune #3 takes place on Sunday, June 23, at the Ayatana Gallery on Castellino Road. Details at the end of the article.
Those of us who could not travel to or be in these cities constantly were seeking a way to remain in contact with the contemporary vocabulary of image-making. We wished to engage with the medium at a community level, with thoughtful insights leading to dialogue and potentially meaningful debates. Clearly, a forum where people could be themselves and engage with work in their own capacities was required. Where practitioners could give back and receive something potentially new or seen with a fresh, different, contemporary perspective.
Here emerged the idea of acquiring or creating a space of brick and mortar where photographers could come together, hang out, shed their prejudices and insecurities, and share information and ideas without inhibition. A space that could become friendly and nurturing towards lens-based practices. A place without the baggage of seniority, regional bias and cultural elitism. An organised space—a playroom for learning, creation, experimentation, and exhibition. The group of photographers to whom this idea was appealing consisted of young people, holding demanding full-time jobs or academic responsibilities. And although they were fairly well-informed and hungry to learn more, the basic dedicated time, finances, and infrastructure that such a job or venture demanded were missing. In addition to the lack of resources, many enthusiasts who wanted to be involved with this initiative were not locals, and found it tough to navigate the local terrain.
Apart from exhibiting work from across the country, the idea was to find local as well as immigrant photographers and to exhibit and nurture their projects and ideas (not a small task by any standards). A space was required for talks and print exhibitions for various kinds of work from India and abroad circulating through the regular, more popular Indian photography circuit. This did not happen, and the itch to do something about this non-existent scene got a lot worse in the face of these odds. This was when the concept of Open Show kicked in.
Started by photographer and technologist Tim Wagner in 2008, Open Show is a "global network of local events" that lends itself out on a barter system to co-producers in cities on a pro bono basis. Open Show at its core is a show in a box—the box being the projector—through which a curated selection of lens-based projects are mounted on a screen for audiences in the presence of the authors of that work. Its objective is to remain portable, fairly flexible in the purview of the kinds of projects it would like to show and spaces it can travel to. This seemed like a viable platform—one with an international foothold—and offered a carefully crafted online palette for curators to fall back upon: where archiving, integrated design, marketing tools and strategies had already been streamlined.
That said, Open Show is founded on a set of guiding principles. It is primarily a forum for exhibiting still photography but it also lends itself out to multimedia and experimental film projects. The focus in still photography is centred around showing narrative photography or photography that is exploring a particular aesthetic or style that the photographer has been engaging with. It requires the photographer to submit a collection of 20 images (no less, no more). The Open Show global team decided that 20 was a fair and necessary number to exhibit narrative photography, to ensure a certain flow to the storytelling process.
Open Show events in India usually have four or five presenters. Each presenter gets about 15 to 20 minutes to display their work, talk about it, and address any questions or discussions with the audience. The primary objective of this particular format is to benefit the presenters with insight from an educated, curious, audience; an audience which is not necessarily full of photographers, but one that takes an active interest in photography, with insights from different mediums and perspectives. The other incentive for people to show their work at Open Show is to explore the possibility of funding and forge potentially fruitful relationships with curators, collaborators, galleries, art directors, and clients. And projects don't necessarily be need to be complete to be showcased. Works-in-progress can be showcased as well if the curators and presenters see some potential in them. This often helps to direct projects in a different direction while they are still in production, thus allowing for the unearthing of new possibilities while they are being shaped.
Vatsala is a photo practitioner from Calcutta. She produces and curates Open Show Pune.
———
The third edition of Open Show Pune takes place on June 23 (today) and features the following photographers:
Antariksh Jain, presenting Jal Jangal Zameen, has studied media communication and is making films on his own. This project developed as a preface to a documentary he was shooting with the Baiga tribe in Madhya Pradesh in 2012.
Sonalee Hardikar, presenting An Actor Prepares, is an alumnus of the National School of Drama. An actor, filmmaker, and photographer, she teaches Indian aesthetics to art and film students. In this project, she traces the movements and politics of gender, theatre, and performance through an old Tamil performance art form.
Fawzan Husain is a senior photojournalist from Mumbai. He will be presenting his first photo book which he self-published—Between Bombay and Mumbai: 25 Years Through Pictures in a Changing City. Fawzan will be talking about the journey of the book from idea to realisation and everything else in between.
Details:
Venue: Ayatana Gallery, Golibar Maidan Chowk, Castellino Road, Pune, India (Phone: +91 20 2634 4111 or +91 8308 536534)
Date: Sunday, June 23, 2013
Time: 6 p.m. to 8.30 p.m
Click here to R.S.V.P. and read more about the event.