Guitarist Bhrigu Sahni is perhaps better known as a part of Khadki Junction Blues, one of Pune's best and most popular rock bands. A year after the release of the band's acclaimed debut album Bopodi Love Affair (2006), Bhrigu moved to Boston to study at the Berklee College of Music. His stint at the esteemed institute allowed him to hone his skills and exposed him to a number of different styles of music.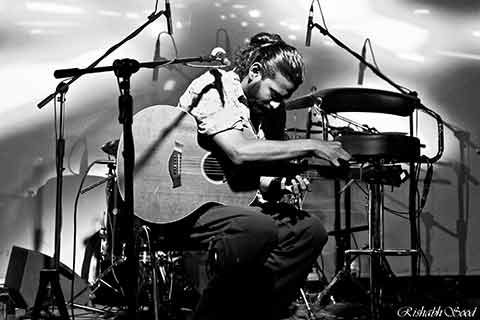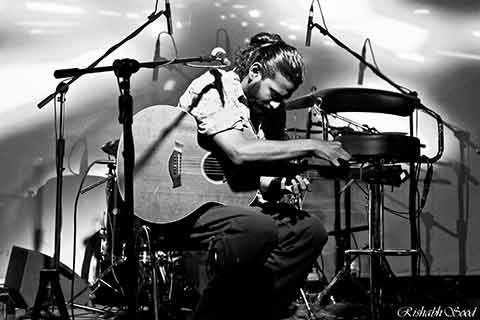 Bhrigu Sahni performing live at Blue Frog, Delhi. Photograph by Rishabh Sood.
Since then, he has performed with a number of renowned artists, including Angelique Kidjo, Anoushka Shankar, Karsh Kale, and Midival Punditz, and is now all set to record his very first solo album. As yet untitled, the album will feature talented musicians from the world over, including drummers Jorn Bielfeldt (Germany) and Luke Ptomey (U.S.A.), vocalist Sid Sriram (from India, who just recorded on A. R. Rahman's soundtrack for Kadali), DJ and MC Maurice Boyton (U.S.A.), and keyboardist Mohammad Araki (Sudan). Two tracks on the album will also be co-produced by his Khadki Junction Blues band mate, music director Karan Kulkarni (Peddlers).
"The music is diverse, and each track on the album is different with regard to instrumentation and style. As a result, I really don't know what genre to group it under. That being said, I've always felt that genres were created to sell music and not listen to it," says Bhrigu about the project.
The album will be released two tracks at a time, with each song being followed by its own music video. In order to fund this project, Bhrigu has created a campaign on crowdfunding platform Indiegogo. He needs a total of $3,500 (~ Rs.188,000) to pay for the production of the album, as well as the album artwork and music videos. As of this posting, fans have already contributed $2,701 to Bhrigu's cause, with 12 days to go.
"I first came to the States in 2007, which now feels like a lifetime ago," says Bhrigu. "My being away from home triggered a longing for wanting to learn Indian music and its derivatives. I have been secretly teaching myself how to sing everything from Nusrat's infamous qawwalis to our own Marathi powadas! I have also been playing as much as I can—everywhere from the streets/subways of Boston and New York to the Caesars Palace at Las Vegas and Carnegie Hall in Manhattan. It's been one crazy ride!"
Click here to visit the campaign page on Indiegogo and show Bhrigu your love with a contribution. Depending on how much you contribute, you can get yourself a bunch of rewards ranging from guitar lessons to private concerts.