If you've been in and around Bangalore or Pune for the past few years, you might have already heard of Gowri Jayakumar. A regular girl with a nine-to-five job, Ms Jayakumar seemingly transforms into an alternate version of herself on the weekends: Gowri, alias Kozmi Cow, a songstress with a guitar in her hand and stories in her head.
Now, sleeved with a childlike picture of a newspaper-reading girl doing her business, Gowri has given us her debut album Sad Little Shoebox. It is indeed a shoebox: rummage through these songs and you will find snippets and cut-outs of bygone youth and distant memories. Rummage carefully, though, and you'll see why it's a little sad, too.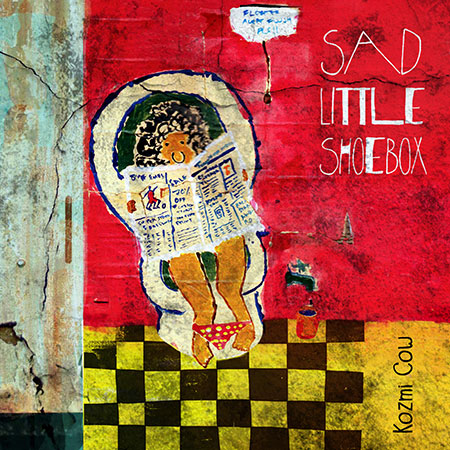 Sad Little Shoebox
album cover.
Acoustic, wordless opener 'Bangalored' is perfectly titled, because it's apt for staring listlessly out of the window, coffee or book or cigarette in hand, as the Bangalore rain drizzles on. She's tricking you, though. By putting up something so prettily plucked as an opener, you're bound to think the guitar is Gowri's forte. But it's not: there are few women singers out there with a voice so dainty, or a voice that syncs so perfectly with a warm guitar.
Of the many women singer-songwriter-instrumentalists out there, what separates the multitudes from Joanna Newsom or Mirah or Gowri Jayakumar is a god-given skill at telling good stories. As simple as that. On sepia-tinged 'Cackle', Gowri pines gently for childhood's innocence. And it's performed so beautifully that you can just feel the warmth of those carefree summer days. 'Gin and Lime', an unabashed country song, is seemingly written from the point of view of a country man pondering the women in his life as he sips on (of course) gin and lime. Gowri has nailed that authentic touch of Americana, peppering her narrative with blue jeans, cigar smoke, and beauties at country bars. On 'Hello', Gowri showcases another character, this time a heartbreaker with "a handful of lovers and a pitcher full of blues", teasing and tormenting a past lover.
But, characters aside, by the end of the album, you want to get to know Gowri herself. Well, she seems to have thought of this too, because the album closer 'Tea' is the closest she gets to baring her soul. In a melancholy-tinged creamy voice, Gowri speaks of a lover that's left the country (and her), evoking shared coffees and conversational cigarettes with a cinematic ease.
Be warned, though: while Gowri excels at hot-coffee tales over an amiable guitar, she is still to find her artistic footing. If you're expecting Fiona Apple's spiraling confessions of despair, you won't get it here. Neither will you get the spasms of melancholia that Tanvi Rao (of Sulk Station) has perfected. Gowri's music is like the butter her voice evokes. It's delectable, sunny, and everyone loves it: but it's all a bit beige, really. That said, it's still a little gem of a debut album. And if you like Norah, Mirah, Joanna, and all of those other lovely ladies, then you will love Sad Little Shoebox.
———
Listen to 'Butter Fingers':
Click here to download Sad Little Shoebox.