You're wary of T. S. Tirumurti's Chennaivaasi when you pick it up. The plot sounds like so many others: traditional south Indian couple strives to build a happier world for their children; sends son off to America, only to have him commit the biggest blasphemy a Tam-Brahm could—falling in love with a
white woman.
Even though Shashi Tharoor's praise for the book on the front cover begs you to keep an open mind, the fact that it already reminds you of R. K. Laxman's The Vendor of Sweets is not a good sign. In fact, now you're even more wary.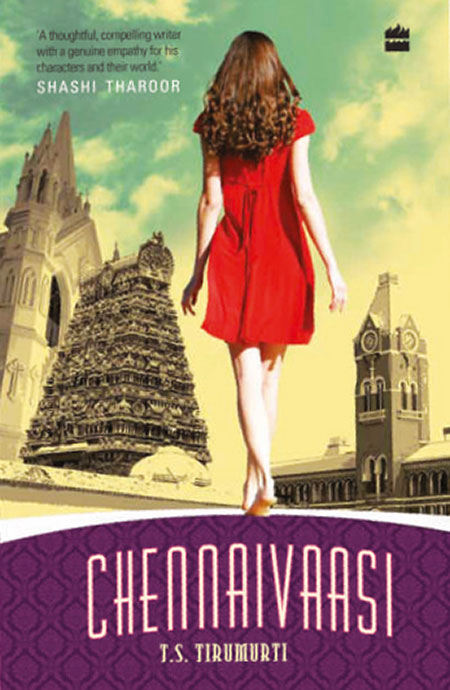 Chennaivaasi
book cover (
Buy
)
What you should do, though, is pack a suitcase for that sense of wariness and send it away on a long, long trip. Chennaivaasi is beautifully written, relentlessly paced (for a family drama), and keeps you turning pages in a frenzy for way longer than you might initially expect. Right from the crisply written prologue, Tirumurti sets the stage for a tale of duty, love, and family that spans across continents and generations.
The first part of the novel switches back and forth in time, narrating Amma and Appa's third son, Ravi's experiences in the U.S. Ravi falls in love with Deborah; there is friction from both families over religion, and a smattering of ignorant stereotypes about Hindus and Jews thrown into the mix ("Whatever," Deborah's dad says, "I hear they don't wipe their backsides but only water them like plants.").
Chennaivasi, however, falls a little short of being an 'epic' narration. Like other popular 'epic family sagas' of our time (Middlesex, Jeffrey Eugenides), it covers a myriad of issues through a menagerie of familial characters, but Tirumurti falls short in the one factor that perhaps is the stronghold of literary merit—dialogue. Despite giving us characters like 'Amma', many of the other characters aren't fully realised—we aren't really let into anyone's head for too long. Ravi's character trajectory suddenly plummets in the most bizarre manner exactly halfway through the book, when the same boy who understood why his parents might not agree to the marriage starts lashing out at his defenseless father, who, overnight, finds that he has little left in his life. His wife, his beloved house—Sundari—and his three sons are all but lost to him.
While dialogue is not Tirumurti's forte, simple story-telling is. Tirumurti takes you on a journey across Sri Lanka, India, Israel, and America, bringing in issues of caste, race, minorities, and language, both globally and in Tamil Nadu. The fact that it is a story of a Tamil Brahmin family in a state that they now have almost no cultural power in is not lost on the reader.
Tirumurti's deftness as a writer is underscored by his evocative descriptions. I think it's a brave choice on the author's part to leave Tamil words in the book without any translations or annotations. And it succeeds. You don't need a key to unlock those words—Tirumurti makes them seem like they belong. Using the white, Jewish girlfriend Deborah as the cultural outsider to the city of Chennai as a functional, literary tool to discover Chennai's cultural and socio-political history, he makes sure that the reader (the original outsider) follows in her footsteps. Her discoveries of Chennai are ours; her transformation into a Chennaivaasi, always in progress.
Read it as much for the poignant memoirs as for the delicious descriptions of filter coffee, breakfast, lunches, and dinners. It might not be a novel that will be remembered for ages after its publication. But for now, if you've been experiencing a drought of good Indian writing in English, pick it up, pick it up, pick it up. Chennaivaasi not only quenches your thirst; once down your throat, it tingles.
[HarperCollins India; ISBN 9789350291016]