In one big sweep of generalisations, North Indians are often crucified for their singularly characteristic crassness: from peeing on roads, spitting on every available surface, to mouthing colourful abuses, ill treating their women, and expediting
moral decay.
At least that's what the others say. In the 1980s, Dr. Ashish Bose, a demographics expert at the Institute of Economic Growth, New Delhi, famously coined the term 'bimaru' for the states of Bihar, Madhya Pradesh, Rajasthan, and Uttar Pradesh. He used the Hindi term beemar (sick) to allude to the systemic ailments of poverty, corruption, low productivity, and poor development that plagued these states for decades. Unfortunately, three decades after his astute observation, the areas of darkness shine much brighter than the pockets of progress that have sprouted forth in several parts. But I sense something different in rural Rajasthan.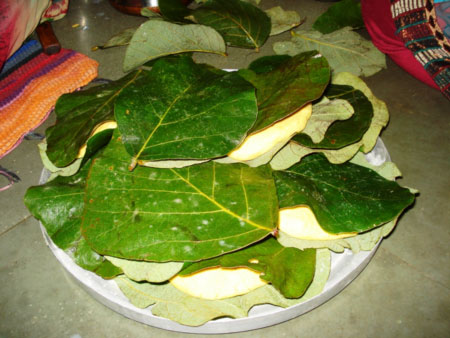 Paaniya
: Maize flour rotis covered with leaves of Palash (
Butea monosperma
) and slow roasted on a fire of dung cakes. Eaten with dal and later as a sweet dish with sweetened milk. Photograph by Chandni Singh.
Let me clarify. The towns of Rajasthan are as disappointing as in any other urban settlement of India: they are filthy and crowded, tangled electricity wires and homeless cattle are photographed by a bevy of eager tourists that flock every winter, they are eroded of identity by fast food chains and branded retail stores. They are, at best, heaving beasts of humanity, gulping in migrants and spewing out cracked dreams. But I am here to explore rural Rajasthan. And what I find is that though still a part of the Bimaru Bhaiyahood, it is engagingly different. It is here that I witness a fledgling defiance to the systemic sickness. What makes it so?
Being the largest state in the country in terms of area, Rajasthan holds less than 5% of India's total population, thus enjoying the luxury of relatively fewer people per unit area—a characteristic that immediately sets it aside from its overpopulated, rather ignominious neighbours. The rural areas are even more sparsely populated but being home to fewer people does not necessarily mean better lives. It is when I delve into Pratapgarh that I hone into another facet of this difference.
The Rajasthani people are unapologetically proud. They take pride in their culture and language, their clothes and customs. Pride here does not take on the ugly avatar of arrogance; it helps them ground themselves in a coherent identity in the face of a fast globalising landscape. The women haven't completely adopted the ubiquitous salwar kameez—most still wear their traditional ghaghra choli with colourful leheriya or baandhani dupattas. The men wear whites—the safest colour in the heat, teamed with vibrant turbans, wearing them with such aplomb, they look nothing short of regal. Rajasthani food is still largely 'local' with onions and chillies being the mainstay of every meal. My landlady dishes out daal baati and churma every Sunday, paaniya is made when guests are over, and lapsi and singhare ki barfi are regular sweets. On days when she has exhausted her tales of gossip about the neighbours, she narrates stories of Rana Pratap's valour and her eyes glow with a pride I am not privy to.
* * *
A discerning reader may shake his head—here goes another city kid romanticising rural India. I am not surprised. Bombarded by breathless travelogues (by Indians and foreigners alike) that are often dreamy accounts of India's chaos, we are wary of tales of the 'colourful bazaars', the oft-romanticised rural life and supposedly inherent 'spirituality' that everyone Indian must be infused with. These can only serve as generalisations made about a delicately nuanced people.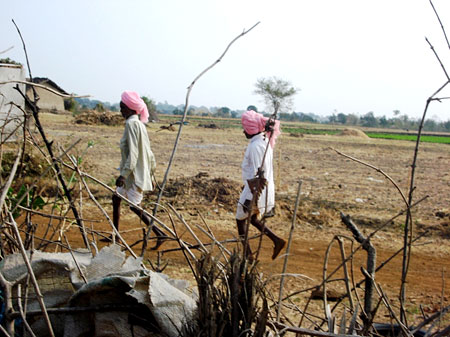 Pretty in Pink: Rajasthani turbans come in the most interesting of colours. Photograph by Chandni Singh.
I acknowledge that despite the pride and cultural identity, a farmer's life is not easy; but as I watch them live their lives, I am compelled to concede that human beings are characterised by their resilience. In a life defined by hard work and uncertain returns, the heat and dust become metaphors of misery. Dependence on the erratic monsoons becomes a seesaw of hope and despair. But as my journey ends, if nothing else, I have learnt that duality is an omnipresent companion of human life. Walking miles across Pratapgarh, talking to its people, I have learnt that the positive is a natural flipside of the negative. For all the misery I witness, there are pockets of encouraging endeavour. The roads are potholed but two youngsters have started a tempo service to ferry farm goods. Veterinary services are absent but a private doctor has begun treating animals, free of cost. I am not applauding things gone wrong, I am simply hoping to recognise the ones that have gone right. We could all do with a little good news.
As dusk yawns into an uneasy dawn, I realise it is time for me to go back. To my life of 3G Internet and overpriced coffee. My life where caste does not enter conversations and I have friends who hold degrees. My life of taking tapped water for granted and haggling with autorickshaw drivers. I walk in Pratapgarh with familiarity, an outsider masquerading as a local. I recognise some farmers and wave out salutations. My mind flips through past conversations and different seasons as this journey comes to an end.
This is the seventh and last in our '
Village Vignettes
' series of articles. Chandni hopes her writing has opened a window into the lives of farmers in India.