Ever heard the story about the boy who nonchalantly leans on the fence, drinking something alcoholic, teasing, charming and, of course, intriguing?
And about the girl who is obviously enamoured by him and how she willingly turns her world upside down just to be with him? Without, obviously, realising the gravity of the situation. Ever heard of how great they are together? And how well they operate together? And how madly they fall in love after brief encounters of high tension?
Of course you have. We all have one such friend to laugh at. One such story to narrate, with immense pride. So common is the occurrence, that even Grant Morrison's writing might fail to make you raise your eyebrow.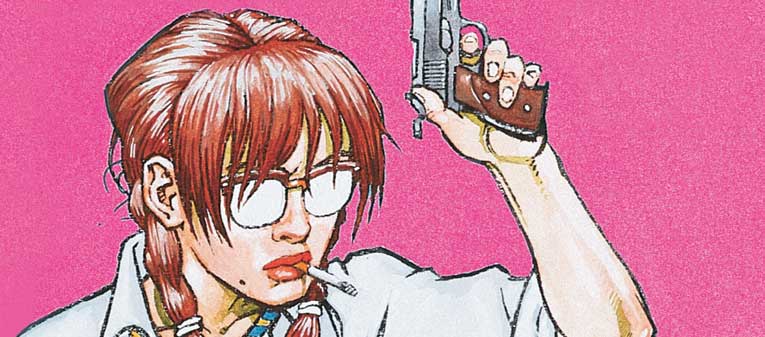 Grant Morrison's
Kill Your Boyfriend
.
The tragicomic story of a young girl: clearly dissatisfied with her life, she meets the hot, brooding rebel in the leather jacket and not much time is lost as we find her standing in front of her geeky, soon to be ex, boyfriend's house, pumping bullets into his chest. In an attempt to get away from the mundane rituals of daily middle-class British life, our Girl leaves with the first whiff of a half-baked promise and some vodka. Leaving behind a drawer full of kinky underwear and pornographic content, she sets out with the man who makes her knees turn into jelly, towards a world of orgasmic bliss.
And they have an adventure. Quite the adventure.
Drawn by Philip Bond and D'Israeli, the artwork actually makes you remember the times when you thought that everything was perfect and nothing could ever hurt you. Days of unpretentious groping, sex that was enthusiastic and often and of course, days of love, lust and laughter.
Zipping through the English countryside, this duo makes me hate them. Merely, for being so perfect together, so madly in love, so passionately in lust and so dangerously fun. Most of these stories we know of, come to an end. A boring, dusty halt that leaves almost nothing to spare much thought on. Yet Kill Your Boyfriend introduces in it the brilliance of mind-games. The flashes of the ego where you lose track of who actually is in power and who is the one being manipulated and re-read the pages, to figure things out a bit more. Or maybe, Morrison just makes you misinterpret the pages. Such love, after all, can be free of such petty mind- and ego-games. Surely.
This comic starts where all such stories start. But it goes on to achieve much, much more. Guns blazing, kinkiness aplenty, and pop culture-laden, this couple will actually evoke envy in you as you chew your nails and think of all that you thought you could do, but never had the courage to do with your boy/girl.
The comic is not brilliant because it is such a "cool" tale of love. It is brilliant because it is darkly humorous, satirical, and poetically unjust. The stroke of brilliance lies in killing the Boy. Young lust, pardon me, love, is always wonderful while it's new. Beyond that, it fails to entertain, deliver, keep the promises made. Tragic, yes, but at least she was spared the trauma of living a life far removed from what she had imagined it to be. Yet, she knew of a world where she could fondly think of love, impulses, passion, and lust, and not know about the bitter aftertaste that would have overwhelmed her otherwise.
'
Sol's Graphic Vein
' is a whirlwind, torrid introduction to exactly what your mother would not want to catch you reading. Not for the weak-hearted. Not for the judgemental. Not for moralistic hypocrites. Definitely meant for those who appreciate art. Fun, coloured, and sexed out.