Older forms of entertainment like folk theatre/jatra/natak were eventually overshadowed by cinema, but now a new kind of "theatre" is knocking on Bollywood's door. Stand-up comedy sets up an intimate dialogue with the audience, like a lot of old folk theatre, and is the most raw form of comedy because there are no rules. Diversity in comedy is essential, with a tendency to ridicule in the form of satire.
Unlike most other live performers who must wait for reviews, stand-up comics receive immediate acceptance or rejection. While a killer set can be exhilarating, the stony silence of an audience or cruel heckling can mean an evening of humiliation. For a performer who lives and breathes comedy—writing, preparing, and performing—the passion for direct, active engagement with an audience intrinsically means doing it all over again as many times as possible. Magic happens on stage and its unpredictability is a thrill—an extremely addictive one.
Being a stand-up comedian is no laughing matter. Unless, of course, you're as exceptionally gifted with a microphone in your hand as Neville Shah. There probably isn't a more honest comedian in today's stand-up circuit, and he always has that one final joke in the routine that brings the house down. Read on for an exclusive interview—
Here you are, a half-Parsi half-Gujarati man from Bombay working in Delhi as an advertising professional, and you say, "Right, I think I'll be a stand-up comedian." It's sheer chutzpah. Please connect the dots for our readers. How did you get started?
Well, I love writing. I love exploring different forms of writing. I love being on stage. I used to enjoy theatre, and thought to myself, what the hell happened? People normally laugh when I talk. Now, that's not a good thing, I thought to myself. Or is it? (grins) Dots connected?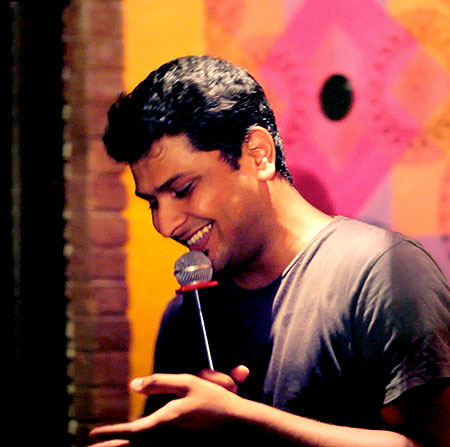 Neville Shah: Bringing the house down.
Comedy has exploded in India in the last couple of years, with loads of new acts coming up the ranks. Do you think there's any real corollary between how someone is raised and their ability to do comedy? Could you expand on what you consider your stand-up style?
I'm surprised that it's taken this long, honestly. With our frustration levels, sarcasm (which can be incredibly funny) is a good release. That being said, we've had our moments of genius. Jaane Bhi Do Yaaron. Andaaz Apna Apna. Chupke Chupke. Padosan. We've had shows like Waghle ki Duniya, Yeh Jo Hai Zindagi and the like. We even tried stuff with Hum Paanch and Dekh Bhai Dekh, but it all went downhill from there. Of course, where you live and how you live is an important facet of your take on life. That's the unique take that you offer as a comic. But you're either funny or you're not. Not necessarily clown-like. Wit. Words. Observations. These are all key when you're doing stand-up. My style isn't necessarily different. I do a lot of life and observational humour, like most comics. But it's my take. My spin. I have an advantage, say doing Parsi jokes, because I was born and raised a Parsi. I'm half-Gujju as well. So I have that unique perspective. It may work or it may not, but the key is being funny.
Stand-up comedy is all about the writing, but promoting the content is, in itself, a challenging task. What's your take on stand-up comedy in India? Is there a constant fear that someone else will steal your jokes? How does one deal with such valid concerns?
I am lazy. Fact. So I don't do a lot of promotions, etc. I use Twitter. That being said, stealing jokes… hmmm… there is an ethic involved. There is a lot of common material out there, so sometimes, we tread on each other's turfs, but it's sorted amicably. Rarely does anyone intentionally steal a joke and more so, stake claim over it. If someone else also thought of it, then it's not unique. It's not a joke that's yours. Anyone could think of it, and it's pointless fighting over it.
"There is a lot of common material out there, so sometimes, we tread on each other's turfs, but it's sorted amicably. Rarely does anyone intentionally steal a joke and more so, stake claim over it."
Do you think today's audience is more discerning and therefore more accepting of the stand-up culture?
People have started seeing stand-up comedy and accepting it for sure. Some cities are behind and some are more advanced. That does make a difference when you're performing. Not just in telling the joke, also the kind of jokes you do.
You're a stand-up comedian and a creative director with an advertising agency. Do both of your professions complement each other? Tell us about your journey.
They don't really complement each other, no. But I do get a lot of audience for open mics from there (laughs). The journey has been fun. It's only just started. So maybe when they make a movie called Craziebawa or someone writes my biography, you'll know. (You can purchase rights for my life right now, really cheap. A month's supply of food would do.)
You have a different viewpoint and approach to everything you see. Most of your jokes are based on playing with logic. Was this an intentional decision on your part?
It's not logic, really. It sometimes takes you a second to get it. That's the fun. I can't and don't do a lot of sex material (which is an easy laugh), but the sex stuff I do isn't dirty. It requires a little thought, is all. Yes, it is an intentional decision. It makes my writing challenging too.
What lies ahead for you?
Um, my agent assures me something big in February. So, fingers crossed!
———
Follow Neville Shah on Twitter @craziebawa.