I'm originally from Calcutta, a city that can legitimately lay claim to being the capital of live music in India. As a result, the thought of spending an evening at Mehboob Studio (one of Mumbai's oldest, most renowned recording studio theatres) revamped to offer a platform to young, talented performers was nothing short of music to my ears.
With television channels and most radio stations unwilling to move beyond Bollywood in their programming, Live from the Console is as gutsy an initiative as it is refreshing. With the social networking platforms of Facebook and Twitter working furiously as catalysts to figuratively—and literally—seed the independent music scene in India, I browsed through the announcements for the fifth edition of Live from the Console visibly brightening up at the 'booze at wallet-friendly prices!' notice.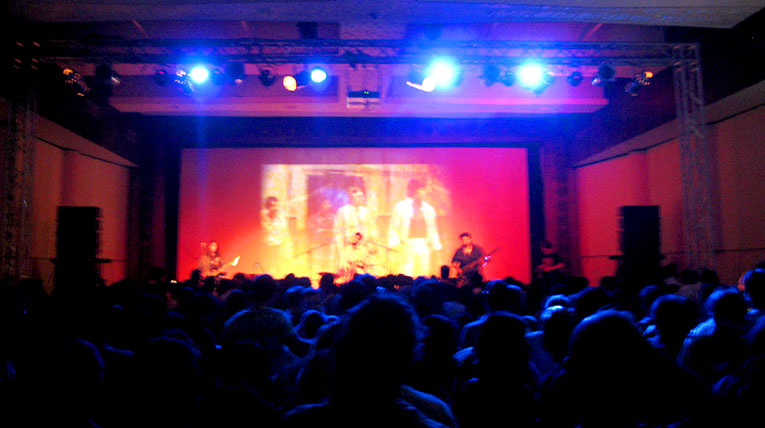 Peter Cat Recording Company performing live at Mehboob Studio. Photograph by Ujaala Chaudhuri.
Mumbai, poised as the hub of the club revolution in India, where a night out usually implies not–so-easy-on-the-pocket encounters, the chance to listen to three varied performing artists at a cut-throat entrance fee of Rs 150, with similar bar menu rates was obviously my Saturday Night winner. The fifth edition of the Live from the Console initiative brought together three sets of young, aspiring musicians to celebrate song writing and composition at an air-conditioned, soundproof venue that boasted of a crowd of 350-400 people.
The evening started bright and early at 6.30 p.m. with a screening of the Bob Dylan documentary Don't Look Back. I'd seen the film before so I decided to give it a miss and headed out in search of Jayesh Veralkar of DAY 1 (Sony Music Independent) and Owen Roncon of Oranjuice Entertainment, eager to pester them about the initiative and thoroughly enjoy myself in the process (they weren't kidding about the 'booze at wallet-friendly prices').
Here are excerpts from the interview—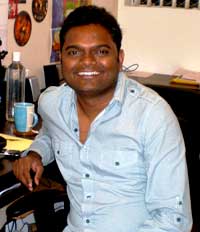 Jayesh Veralkar.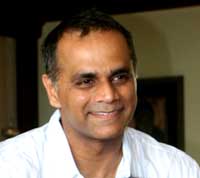 Owen Roncon.
So, you guys have put together this gutsy little initiative that gets a mixed crowd of 350-400 every month to Mehboob Studio with a very reasonable entry fee of Rs 150 and bar menu prices that give the cheapest watering hole in the city a run for its money—and it's all in the name of music. Sing us a song, please.
Jayesh: DAY 1 (Sony Music Independent) and Oranjuice Entertainment's Live from the Console initiative is a dedicated attempt at providing a healthy, refreshing, detail-oriented performance platform for young artists. We don't sign up or manage artists but we make it our business to know what's going on, especially with all the upcoming fantastic talent that there is. Live from the Console is not a money-making property at all. We pay our artists, get into their detailed tech requirements, work with a reputed, professional sound team, and we (the organisers) even pay our own Rs 150 entry fee. There hasn't been a 'guest list' at any of our previous four editions of Live from the Console. We advertise across new media platforms and depend on word of mouth. We've now slowly up scaled to getting an alcohol sponsor on board but that's been a very recent development. The programming format is very simple: we try and use the long format content that Sony has in interesting ways. A documentary or video decides the genre of that particular edition, songwriters and singers/composers become a part of this genre-based platform and we have a fantastic evening based purely on their performances. Live from the Console is an opportunity to combine strengths.
Owen: Live from the Console is really all about the music. With the Rs 150 entry and cut-throat cheap bar menu rates it's clearly not about the money, though we hope to break even (laughs). We have great talent in this country and this is a great opportunity for me to watch and listen to them perform. Music has no boundaries and there will always be a crowd for music. Live from the Console is purely focused on the artist. It is a platform created for originality. A happy artist means a great show!
"Live from the Console is a platform created for originality."
You guys really nailed it with the lower-than-usual entry fee—I actually thought that there might have been a printing error somewhere. Are you looking at expanding the property conceptually in the near future or to develop it as a business? What's next?
Jayesh: Well, this is our fifth month and we're hoping that Live from the Console becomes a twice-a-month property. We're looking at exploring new venues in other cities. There's so much talent out there and we need to get out there and listen! No fancy packaging, just the basics. Fabulous sound, great talent, and a crowd that wants music. We're definitely going to upscale, in terms of performances.
Owen: Live from the Console is about keeping it real and we hope to create a larger platform for talent to come together. We're very happy with what is happening and we hope to make it bigger and happier for everyone involved.
How does the programming and marketing of Live from the Console work?
Jayesh: We make it a point to constantly update ourselves with what's happening in the music scene. I travel a lot, checking out different acts and artists. We get in touch and keep in touch with our artists, and once the show is done, we hand over to them professionally recorded videos, photographs, and audio recordings of their performances. We hope to collaborate with several more artists across a broader platform.
* * *

Live from the Console: Vernon Noronha, Spud in the Box, and Peter Cat Recording Company. Photographs by Ujaala Chaudhuri.
Suitably impressed by the dedication and warmth of the people behind the initiative, I found my way back into the venue, now packed to capacity. It was encouraging to see motley pockets of the audience participating as they sang along with or cheered on the performers. I sneaked into the green room, hoping to talk to everyone scheduled to perform that evening. Luckily, I managed to speak to the artists about Live from the Console, and this is what they had to say about the initiative—
Vernon Noronha: "I'm excited! It's truly a great platform for upcoming artists who just want to get out there and play originals. The sound is fabulous and it's a great venue. It's just going to be me and my guitar!"
Spud in the Box: "We love the fact that this set of gigs is not happening in any restaurant. People come to listen to us and I hope they enjoy the various influences and elements that our music is about. We'd been hearing about Live from the Console for a while and then our manager surprised us by telling us that 'talks were already on' and here we are! We're not really Bob Dylan fans and nor is our music really folk rock, but we don't care! It's a fabulous platform for us to perform, to be heard, and we hope we'll be back soon."
Peter Cat Recording Company: "Everything sounds so good that we're happy to play even without an audience. We're happy to play in this empty room. Brings back memories, it does—it is where we recorded our demos. It all comes full circle. They've nailed the pricing and it's an absolute privilege to perform as part of such a well-thought-out and well-planned initiative. We were actually in Bombay for the Celebrate Bandra festival and so the dates worked out really well. And we're super glad to be here. Everyone is having such a good time outside, you can hear them! But yes, we love the sound, the setup and the cheap alcohol!"
———
Listen to an exclusive recording of 'Star Seeds' by the Mavyns, performed at the very first edition of Live from the Console (July 16, 2011):
[audio:http://helterskelter.in/media/TheMavynsStarSeedsConsole.mp3]
You can look forward to the next (sixth) edition of Live from the Console on December 17, 2011. Details can be found at this location.