Another fabulous Friday night in New York City. This night was unusually fabulous because my best friend (who is a guy, and also gay) decided to come visit me in New York. He wants to be called Tiny Tinselpan for the purpose of this article.
Staying true to our fabulousness, we decided to go visit a drag queen cabaret bar. It is simply delightful, the ease with which such an alien concept and term slips off my tongue. And so I'll say it again: Drag Queen Cabaret Bar. Sizzle!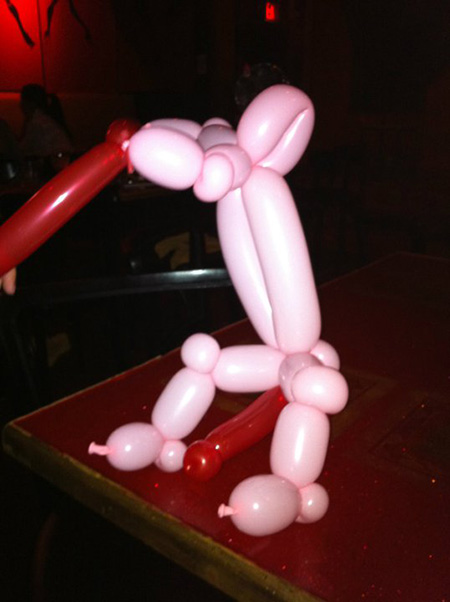 A gift from the Sex Toy Balloonman.
We enter into a dark abyss of steep stairs and climb up stealthily, only to be confronted by a room. The décor is red walls and black silhouettes, low light, chandeliers and a stage at the end of the room. We are ushered to our seats by our hostess, a woman (?), dressed in burlesque black and lace. Soon enough our menus are distributed out by a gorgeous queen (who is Asian, and has a thick Japanese accent) who raspily says, "Hi, my name is Japanese Fucking Bitch. So when you are ready to order, just call me. Say 'Hey, Bitch!' and I'll come to take your order." With wicked grins on our faces, we nod our heads and watch her strut off to another table.
The drinks menu itself is a porn-movie-and-a-half. Serving sizes range from small to large orgy bowls. There is everything your dirty mind can imagine—from 'Heidi Klum's Kum too Sewn' to 'Gretchen's Afterglow'. Hey, Bitch! We pick a large orgy bowl of Betty's Pool Boy and share it (him?). Curacao, vodka, rum, and tart lime. Yum!
While we discuss the food we're going to order, we look around and carefully study our surroundings. And one thing stands out (no pun intended): an incredibly gorgeous man walking around the restaurant. He goes from table to table and seems to be putting up a mini-show. We watch carefully only to discover that his talent lies in making questionable objects using balloons. He's our very own Sex Toy Balloonman (who is tall, dark, and handsom, and also has a lovely ass). I get a giant phallic symbol (which is not so much of a symbol) on my head, my best friend gets his own personal well-endowed man. Hey, Bitch!
Soon enough, our food is served and the show begins. The first part is banter with the audience with Ms. Fucking Bitch as the emcee. I get asked if I'm dating Mr. Tinselpan. I shake my head vigorously to which she says, "Of course not! Because you don't fuck gay boys." We giggle helplessly. Even though I'm most definitely a liberal, I find an involuntary colour creeping into my cheeks. Sometimes it's hard to fight the Indian bashfulness that we're trained to carry around on our sleeve. With flaming red cheeks, I laugh till my cocktail goes up my nose. Giggle, giggle!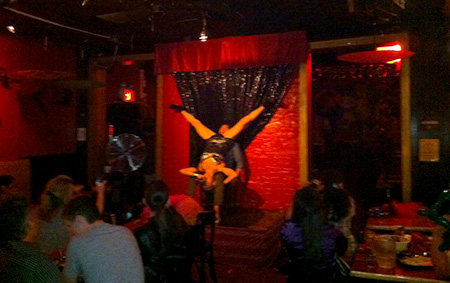 Better seen than described.
Next, she handpicks one person from each table to dress in drag and put on a runway show. Tiny gets nominated from our table (as is obvious—I lack the required tools for the job). From another, she picks a father who's brought his daughter there for her Sweet 16. God! I wish I had such cool parents!
Finally, Japanese Fucking Bitch begins performing to Gloria Gaynor. She belts 'I Will Survive' at the top of her lungs. Changing the lyrics and creating clever double entendré at every step. She calls a young guy (who is a restaurant patron, and also gorgeous) on stage and asks all of us to keep our cameras ready. What she does at that stage is better seen than described. I found the guy's reactions especially funny. In all this drama, it can be easy to forget that She is actually a He. And the guy seemed to be reminded of that at all the wrong moments, in all the wrong ways…
As we left, extremely drunk and feeling extremely laidback, Tinselpan decides that he needs to host his own show (of course!) and he needs to do it NOW! Next thing I know, he begins stopping people on the streets. He asks a tall, big African-American man why he's peeing on the streets while the man is still performing the act. He is essentially getting us in to a lot of trouble because irritated New Yorkers on the street will not hesitate to be civil. It's not like the Polite Small City where I usually live. And so one of my most risqué nights comes to a close as I drag Ms. Tinselpan, the queen, away from the street and into my apartment.
The author wishes to remain a fluid concept because she craves Indian rain. But she would love to hear your thoughts on who you are and why you use your name so freely.