Vox Populi
One of the best things about the first edition of the Bacardi NH7 Weekender was the attention to detail. The entire production was tremendous, and the event organisers made sure that every little thing—from the lighting to the sound to the arrangement of the stages and the festival schedule—was done just right. The result? Some very happy artists and even happier festival-goers. For day six of our #7DaysToNH7 countdown, we asked some of our readers who were present at the festival about their Weekender experience last year—
Vishal Gandhi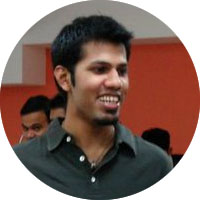 "What I remember from the NH7 Weekender last year is the curiosity and excitement of watching so many bands across stages and running into someone you know or wanted to avoid. The outdoor venues with mattresses laid out and lanterns lit up was a perfect setting to catch some relatively unknown performers on the Other Stage and feel an intimacy that often lacks at a music festival. The chilly Pune weather was another reason that made the whole vibe at NH7 better than at any other gig I and many others may have attended. And the coolest thing was the background behind the bars made up completely of cassettes. I'd be very eager to see if the NH7 team can top that."
(Vishal is a 29-year-old music hound from Bombay.)
Surabhi Mokashi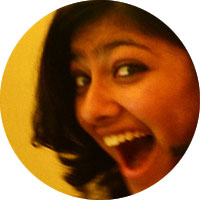 "When my friends and I first heard that the NH7 Weekender was happening, there was an immediate 'Oh, dude, we have to go' kind of reaction. The NH7 Weekender equalled three days of good music—more than 50 bands and artists spread across multiple stages playing all kinds of music, from electronica to metal, from dub to Indian fusion. Pune finally got cool. The best part about the Weekender was the running around from one stage to another. We wanted to check out a few new artists, and could not afford to miss out on older ones. Those three days were solely about the music, the pretty white lanterns, brilliant music everywhere, and happy people singing! Also, the wall of cassettes behind the bar was brilliant. Another thing I'm sure everyone remembers is the Bling Uncle at every stage. That was one of the most entertaining things to watch. His dance moves were the coolest! Getting pictures taken with Shaa'ir and Nikhil D'Souza was insane! That was a totally starstruck moment, and how!"
(Surabhi is a 19-year-old student from Pune.)
Tanvi Gandhi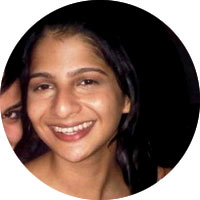 "Being at the Bacardi NH7 Weekender last year was an amazing experience and it was the first of its kind that I've had in India. The festival was unique in many ways and it was a really good way of bringing together anyone who loves music. Everyone who was at the festival was there for the music and everyone was like-minded. My favourite band at the festival was Asian Dub Foundation. I also enjoyed performances by Pentagram, Zero, Shaa'ir and Func. I'll be going this year as well."
(Tanvi is a 21-year-old student from Bombay.)
Vivan Kamath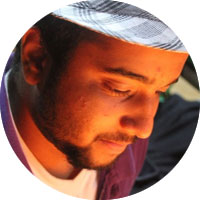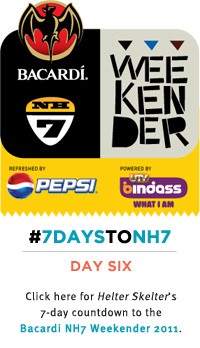 "At first I didn't know what to expect from a music festival as I had never been to one before NH7. It was the first time I was going to one and so I gathered all the money I had and bought myself a pass for the Bacardi NH7 Weekender. I was the only one from my friend circle who actually wanted to attend this festival. I didn't care about who was coming or not; I went in. I have never seen something so organised in India before, where even a small gathering is normally very chaotic. Everything from parking to buying the pass and entering the venue was as smooth as spreading butter on a slice of bread—and then eating it of course. I was impressed by the setup of the stages and there was something very appealing about everything inside the venue, from the people to even the portable loos. I have wondered since how anyone could organise such a festival on such a large scale without any major glitches. Hats off to Only Much Louder! One thing that I found very interesting at the festival was how the bar near every stage was so apt for it. I was really fascinated by the one at the Black Rock Arena, with the cool cassette wall behind. It was something you wouldn't see anywhere else in India. And as far as the performances go, I loved each and everyone one I saw. My personal favourites were Zero and Asian Dub Foundation. Since I've always been interested in the Indian music scene, I personally loved the festival and wouldn't miss it for anything in this world. Hope to enjoy it this year too!"
(Vivan is an 18-year-old student from Pune.)
Anand Viswanathan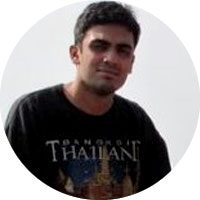 "Being an avid fan of indie music in India, I would often think what it would be like if few of my favourite Indian acts were to get together for a festival for a day or two, and pick up a few new fans along the way. The Bacardi NH7 Weekender 2010 was a realisation of those very thoughts. Over the course of three days, the Weekender managed to satiate music listeners with varied tastes. At the end of it all, Rahman die-hards swore by Raghu Dixit and Swarathma, while newer acts like the Bicycle Days had acquired a whole lot of new fans. I could go on about the quality of production, the vibe of the festival, the bars, the people and general awesomeness of it all, but what I found most endearing was the amount of thought that Only Much Louder and team had put into each minor detail of the festival—handling traffic to help folks get to stages on the opposite side of the road, for example. Too bad there wasn't enough merchandise on sale at the venue. It would have been good to carry something back from the festival other than a wristband and some wonderful memories."
(Anand is a 24-year-old business analyst from Pune.)
Shruti Nanivadekar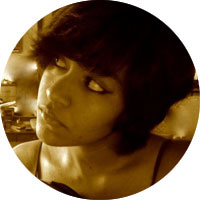 "My ears were pounding as soon as I got out of the car at the NH7 venue—partly from the excitement, partly from the music. I walked in to see Ankur Tewari singing with his guitar and I thought, thanks for letting me come, mom. (Though making that happen involved several threats including a fast unto death.) Sid Coutto was late to come up—I think I saw him trying to finish his drink—but Tough on Tobacco's opening 'Taxi Song' got me jumping and screaming out lyrics. They were followed by Junkyard Groove, but I do remember running to and fro between the stages to watch Raghu Dixit and Shaa'ir + Func as well. I almost lost my voice to Junkyard Groove, screaming, 'It's okaaay, it's alriiight!' Singer Ameeth Thomas quipped, 'Come on Pune, why aren't you applauding? I bet half of you got in for free!' I remember swaying to songs by the Raghu Dixit Project, and being left speechless by the sleek guitar solos of Blackstratblues. It was surreal. I didn't know my country had so much talent, so much spirit, until the Weekender. I was amazed. It was one of the best live experiences I ever had. Unforgettable. Unbelievable. I knew right then that I'd be coming back next year, fast or no fast, permission or no permission."
(Shruti is a 17-year-old student from Pune.)
Alina Gufran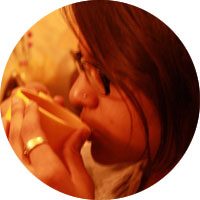 "I had a different sort of perspective of NH7 last year given how was I was covering it for a publication. So apart from just attending the festival as a part of the audience, I managed to get a bit of the backstage action. What I liked most about the fest last year was the rawness of the entire setup—there was a bit of chaos in everything that went on, from the gigs to the sound check, and that for me, personally, added to the charm. The acts were varied and the response on the first two days was minimal, although around the third day, that changed drastically. All of Raga Lawns could be seen filled with people—some there for the music, some for the novelty of it all, some to get away from the monotony of another boring weekend. The impression I went home with was that of, as an artist succinctly noted, 'a bubble'. An alternate reality, if you will, one with lights, music, laughter, and the lingering feeling of liberation."
(Alina is a 19-year-old student from Pune.)
Tanay Apte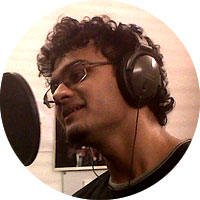 "When I heard about NH7 the first time round, it sounded like it had a nice ring to it so I thought I'd check it out—and I wasn't disappointed! It was very well organised and they'd managed to get some really good musicians together. I had hoped there would be more people for the metal show, because the Black Rock Arena was what I was looking forward to the most, but the turnout for that was quite disappointing. All in all, it was a great festival, though, and I can't wait to see what it'll turn out like this time!"
(Tanay is a 19-year-old student from Pune and the vocalist of metal band Zepheroth.)
Eshan Arif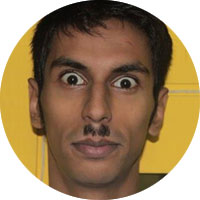 "The Weekender is one festival I did not want to miss. None of my friends could make it, so I went alone. The massive line up and Asian Dub Foundation headlining was good enough for me. I especially enjoyed Zero from Bombay and Raghu Dixit. The only disappointing thing was that the fest ended too early every night. It would be great if it could have gone on for a few more hours. I'm not too impressed with this year's line-up and expected something more spectacular. I'd also like to see something a lot more visual in the performances this year."
(Eshan is a 20-year-old student from Bangalore.)
Anindita Singhvi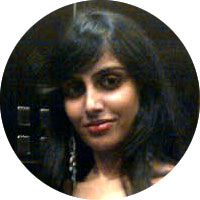 "NH7 for me was a wild trip. I had no plans of going because I had my exams going on. One fine morning I got up and logged in to Facebook and I had this message in my inbox that said 'You have won a free pass for the NH7 Weekender'. This message was from Ameeth Thomas from one of my favourite bands Junkyard Groove. I started calling up people randomly to ask if they were interested in going with me, but apparently everyone had exams. Much thanks to my roommate who agreed to come with me—she's always ready for all this. So in spite of having a paper on Monday, we left for the festival on Sunday morning, came back to Bombay early in the morning on Monday, and went directly to college. It was tiresome, but totally worth it. NH7 is one place where no one can get bored, because there are so many genres on show and so many stages that you don't get the time to be idle. We were constantly hopping from one stage to another. The best of bands played on the last day. We enjoyed Junkyard Groove, the Riot Peddlers, Barefaced Liar, Split, the Raghu Dixit Project, and Shaa'ir + Func. I still remember when the entire crowd was swaying their hands in the air during Raghu Dixit's song 'Har saans mein, har dhadkan mein ho tum'. I get goosebumps when I think of it. And how can I forget 'Say Goodbye' by Junkyard Groove? Those moments were the best part of NH7 and I'm looking forward to it this time too. NH7 has given a bright new edge to the music scene in india and I hope it stays for good."
(Anindita is a 21-year-old fashion designer from Bombay.)
Somaya Nanjapa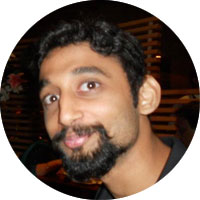 "This time last year, the sub-continent was grieving—I'm not kidding you. I was in Coorg in Karnataka, the farmer phase was happening and there was very little electricity. I heard that NH7 was happening from my friend Bhanuj, and the next thing I knew, I was hurtling through 2,000kms of very dastardly village roads to get to Koregaon Park in Pune. We got to the venue which was at the sweet-as-hell centre of town. There were stages all over the place and friendly people trawling around. It seemed like a place with potential. My favourite thing about the festival was the gigantic disco ball hanging like a an epic bookmark in the sky. Asian Dub Foundation made everything I previously knew about stage performance seem anti-aesthetic and bland."
(Somaya is a 22-year-old beautician from Bombay.)
Nariman Khambata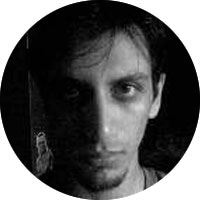 "Last year's NH7 Weekender was an enormous surprise on all fronts because basically, when everyone entered, they had no idea what they had signed themselves up for. The festival provided a great platform for original music in the country. And by the time the event was done, everyone was convinced that this was the best live music festival that India has seen in years."
(Nariman is a 29-year-old music director from Bombay.)
———
If you were at the Bacardi NH7 Weekender last year, we'd love to hear your stories from the festival. Use the handy comment form below to share your own NH7 experiences with other festival-goers!
An unintentional Symphony of Destruction, Aditi Dharmadhikari has a special love for rough roads. Look for a pretty little face, lots of curly hair, a nosering, and someone who is getting into—or barely out of—a retarded situation, and there she'll be.
Arun has an unhealthy obsession with collecting stationery, especially notebooks.
The Tap #18
What's Popular
Published on 05/07/2017

Published on 05/03/2018

Published on 11/03/2019

Published on 19/01/2016

Published on 20/02/2015