After moving into our flat last June, my flatmate and I had an A.C. unit installed in one of the bedrooms. It came with an outlet for the excess water to drip inside our room, and a small, deep, olive-green bucket sits at the side of our bed for this purpose. The A.C. whirrs and pees grippingly into it, like beads of sweat, the steady trickle acting as a sort of background score to my trepidation around the summer.
The A.C. confines us to one room for almost 22 hours a day, and we scuttle between our respective work routines, cleaning, cooking, and sleeping. We wake up exhausted on most days, our bodies weighed down by our premonitions, our conscious ripe with fatigue. I use weird things to put me to sleep: an eye mask I bought in my spoilt law school days, a comb to scour through my curls at night, a lot of Murakami, and the language of green.
As we work, iron clothes during calls, separate our washed laundry, and feel the heat seep in through our eyes, we count our blessings. We have home-delivered supplies, water to drink, a few fully functioning appliances. But on other days, the walls close in on us. The stray old fan of our master bedroom works at an enviably languorous pace that puts the oldest fans in my 62-year-old ancestral house in Kanpur to shame. We ignore it. We learn to live with it, like a lot of other things. A bulb in one of the bathrooms conks off on a Thursday morning as I prepare coffee. We pluck one out from the useless drawing room and plant it in. One wash basin starts flooding, and the tap connected to the washing machine stops working. We get a plumber to fix the former and try to move the washing machine into the smaller bathroom.
I wake up every morning with a padded, chubby face. My body isn't able to take the A.C.'s cooling through the night, and my mind instantly drifts to the memory of a friend in school. Growing up, we never had or needed air conditioning in Kanpur. The light, noisy, and often misty air of the air-cooler was enough. And in the '90s, in the landlocked plains, there was no question of any bulging humidity. Then too, my body would pad up like a healthy batch of Brussel sprouts. I'd wake up, get dressed, and leave for school with slightly fuller cheeks and smaller eyes. Taking those stairs up towards my classroom, my friend, walking with me, would chortle in her usual fruity voice: 'Why are your eyes swollen? Either you've not slept well, or you've cried at night.' I'd remain silent, thinking, what kid at the age of 12 would have worries that would keep them up at night?
---
On breathy Delhi nights when all hope seems to be lost, I read a Facebook memory from another June, four years ago, in Pune. The parchedness of my milieu melts away and feels a little less draconian when I read these words and drift back to my days in that lovely city.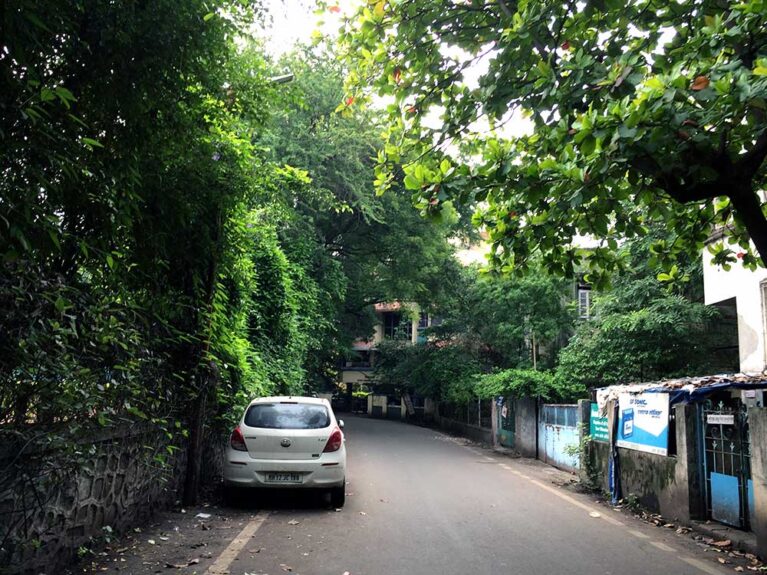 It has been raining in this city for the last fortnight and the incessant pouring has ceased, holding itself back for the last four days. The weather girl at a national daily says it's because of the lack of any systems in the Arabian Sea, but I know—for once, I am sure that I know—it's because the impregnated clouds want us to pause and awaken our senses to the growing foliage around us.
The smell of wet trees, the whiff of ferns, the sight of fallen flowers, the undergrowth on garbage, on the rusty bicycles by the forlorn bus-stand, the leafage that has accumulated on staircases of buildings, the wetness in the pages of my diaries, the sogginess in my ironed socks, the moisture-laced sides of the book that was delivered home just the day before. A living world is germinating, from all the shoots, herbs, and corners of this listless city.
I picked up the newspaper from my doorstep at noon, but chose not to read it. Instead, I sat by the window and watched movies on my laptop, one after the other, wondering if one could get recklessly high drinking endless amounts of tea while doing so.
I have confined myself to the seven walls of this beautiful rented apartment, where I've been living for the past seven months. I have drunk copious amounts of tea, watched movies, and made studious notes. How these notes will help me, I have not a clue, but the process has been beautiful.
It's close to seven now and the daylight is about to simmer away, so I will move my butt, switch on the light, and wait for a friend who has promised to visit me with samosas and bhutta. I will make some more tea and we will eat crisp lijjat papad while talking about office politics.
---
I pad through the photo storage app on my phone and swivel back to that June in 2016. Leafing through those photos, a strange sense of ennui takes a hold of me. Far from being an urban centre, Pune was, to me, a beauty spot on the terrain of Western India. Teeming with beautiful old houses called "wadas", the city was my constant lover and muse for the 12 months I spent there. That I was able to rent a flat on Prabhat Road was, of course, an added benefit.
Its boundless hills and overarching green cover were extremely conducive to my newfound pleasure of walking. On rainy, sunny, or overcast days, I'd stomp my way through the lanes behind the Chitale Bandhu on Prabhat Road. As I took in the beauty of the foliage that had grown in unassuming places, I'd try and remember what "tendril" meant from one of my junior school classes. I'd stand and stare at the curly shrubs covering broken bikes and discarded cars, hovering over unused benches and rusty gates.
As I took in the beauty of the foliage that had grown in unassuming places, I'd try and remember what "tendril" meant from one of my junior school classes.
These shades of green would unwittingly plug some small gaps in my mind and soothe my soul. I'd fancy starting a garden of my own from scratch, but the thought would recede into the background as I chanced upon the next stretch of green, the plentiful and vigorous growth filling the bare corners of my empty mindspace, quickly creating a verdant topography, lush with leaves and pregnant with flowers.
---
During this ongoing heatwave in Delhi, with temperatures touching a scorching 47 degrees Celsius, I find myself trying to think of the exact green of Pune. Was it the nimble pea-green, or the evocative olive-green? Or was it the omnipresent and bulbous bottle-green? It was a green that was always whole, complete. My senses would awaken at the sight of pregnant leaves, full and chatty, getting drenched in the rain. On some days, the greenscape around my balcony would constantly distract and threaten to envelop me as I sat there, reading a newspaper, or eating my lunch.
No one uses their balconies like that in Delhi. Here, they are used only for vacuous phone chatter or for staring at women or passers-by. I lament at the abrasive, mistrusting, boastful lives of us North Indians; I think of the housing society that I lived in in Pune; I think of the easygoing, welcoming, and trusting space that the Maharashtrians there had created for me. My landlord's mother, who lived next door, would invite me in at all hours, always offering me tea. I contrast that with the cutting, cold silences from my neighbours in Delhi. I don't even know their names.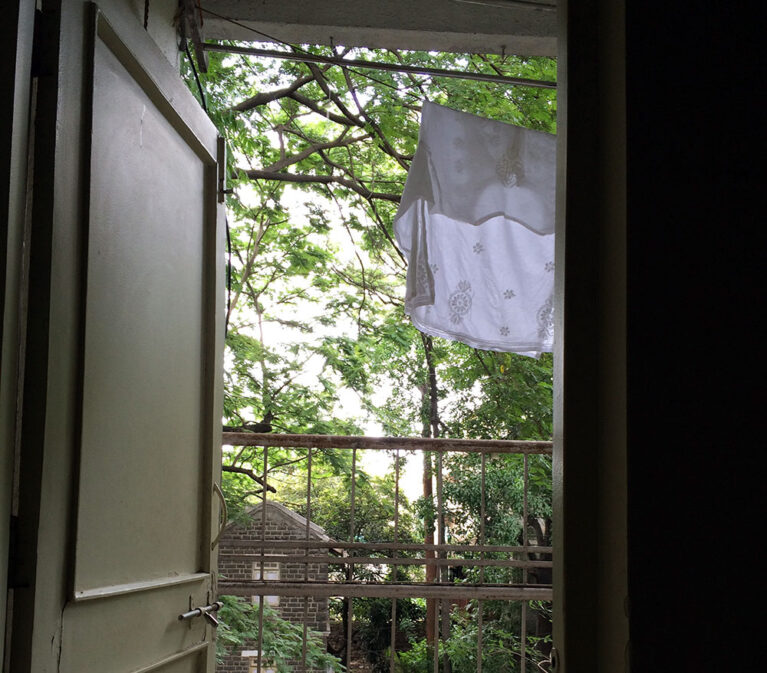 The still and oppressive dryness that runs through all of Delhi this summer reminds me of a Hazlitt essay by Helena Fitzgerald about New York City. "Nothing is greener to me than this grey barren city where I live, this flattened and rebuilt, over-farmed and over-foraged, brutalized urban place," she writes in the essay. "It's nothing like the kudzu-greens in the south, and yet when I think of New York, I think first of the colour green." The poignant absence of green from my life in a city that is known for its green cover ossifies me.
---
After I had read Maggie Nelson's Bluets, a splendid collection of 240 arguments, meditations, and incantations about the colour blue, I thought and dreamed of the colour green in the same way. Green means life to me; it implies the promise of health. It stands for the splendour of verdure, and the presence of rain. After reading the book, I entered 20 thoughts on green in my notebook, during a power cut on a rainy night. "Green completes me" was the first of them.
---
I left Pune in October 2016 and have, ever since, tried to recreate those greens in my life. In April 2017, when I moved to Delhi for an assignment (after a brief stint in Coimbatore), I looked for the perfect quiet park to live next to. After three long months, I finally found a D.D.A. in Panchsheel, adjoining the Siri Fort Forest. I'd go there all the time and the forest would entertain all my moods, swallowing me in its entirety. While inside the forest, the sultry heat and the wiry winter would be as nothing to me. For those 12 months, I once again slept calmly and full of verbiage, the forest coursing through my senses.
I started reading How I Became A Tree, a collection of essays by Sumana Roy, sitting hunched over at a sunny spot in a neighbourhood park. Roy's meditations called for slow, immersive reading. Pencil in hand, I also read her essays during auto rides to work, on the spotty benches in I.N.A., under the shade of Amaltas trees in the Panchsheel forest, and in my room. Whenever possible, I'd wear my forest-green Westside kurta, a gift from my mother, to mark the occasions of reading the book. And as I leafed through the essays, I was constantly torn between twin wills: one, of wanting to finish the book in one breath, and the other, of not wanting to reach that last page.
---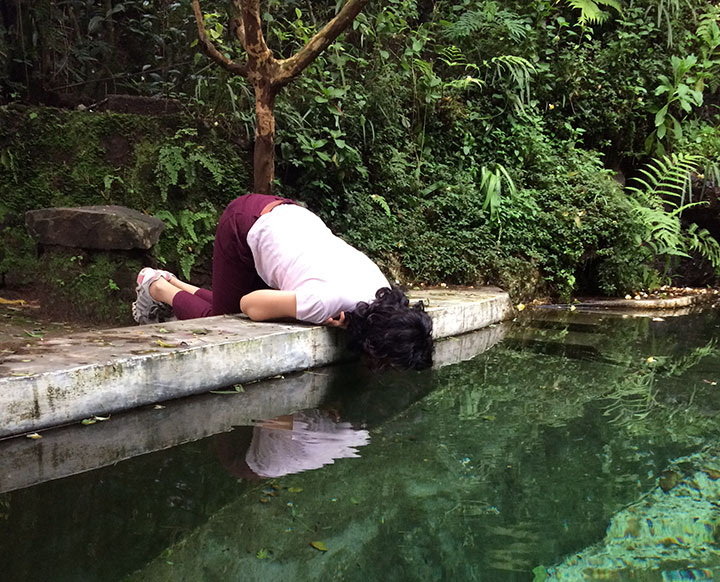 In July 2017, yearning for the green, my mad thirst took me on a wild and slightly off-kilter excursion halfway across the country to Kochi. There, the luscious green of the Kerala monsoon washed over me. I spent three bounteous days up a hill at a relatively obscure homestay. The owners, scientists, had created the hill, cultivating the greens on it for over two decades. Leeches, protruding foliage, and noisy insects warped my senses there, and the green felt different this time. Thick, dangerous, and unforgiving, I had to wade through it carefully. I'd plonk through the hilly terrain barefoot, with a friend in tow. We picked up fruits from the earth, not knowing their names, took in their smell, and left them licked. We burned leeches off our toes and the skin between them. The green of Kerala widened my palette, but didn't come close to the Pune Green I know and love.
The green of Kerala widened my palette, but didn't come close to the Pune Green I know and love.
---
"Oh, to love a city like that!" a friend of mine said recently. "You probably left Pune at the right time." I tricked myself into feeling smug for a moment, even happy, but it didn't last long.
---
Since the summer of 2018, I have been out of touch with green. There are parks nearby, trees, too, but my house is surrounded by cemented buildings on every side. The first thing you can see from my balcony is not a tree, but a big, white house. I try to make up for it by saving screenshots of all the verdant balconies and other greenery that I can from the films and shows that I watch, but the damage may be done. My psyche feels burnt, half by the top-floor heat-fatigue and the remaining scorched by the absence of green.
On a thunderous and windy morning this April, I felt unwound. The Gulmohar tree next to my house had shed all its lovely flowers. The dust storm that followed carried red flowers in its belly. Portentously streaking my balcony with a new colour, the storm slowly took over my senses, and left my bruised soul a scorching Gulmohar Red.