Perhaps it can be argued that the greatest holidays are ones not executed on a budget. But, as I recently found out, holidays on a budget can certainly still be outrageously fun.
Thailand needs no introduction in terms of its beauty and unparalleled visual treats. Popular culture should remind you that Thailand is where the confused and hapless Leonardo DiCaprio starrer The Beach was filmed. But of late, the country has been in the news for the intense political turmoil that has gripped its capital, Bangkok. Ever since a bloodless coup deposed the prime minister, Thaksin Shinawatra in 2006, Thailand has been overwrought by protests between rival political groups, the National United Front of Democracy Against Dictatorship (U.D.D.) and The People's Alliance for Democracy (P.A.D.). Amid the political and colour clash between the red shirts (U.D.D.) and yellow shirts (P.A.D.), three young Indians made their way to southern Thailand and hoped for the best. Three friends who were mindful of a tight budget, but with enormous appetites for culture and, well, let's be honest, food.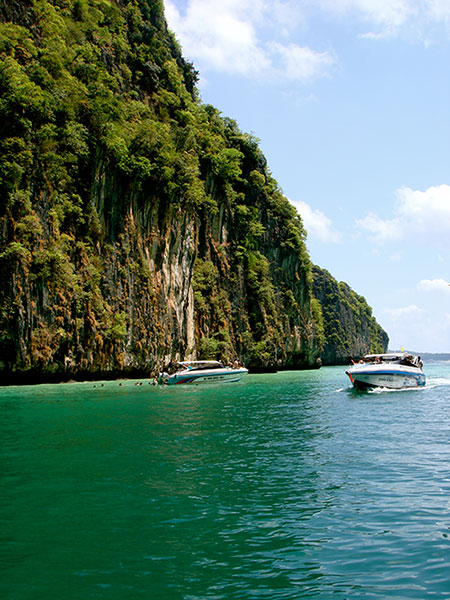 Phi Phi Islands, Thailand. Photograph by Nandini Asavari Bharadwaj.
We first flew to Krabi, which is a small town on the west coast of southern Thailand—budget airways, of course. While in Krabi, your senses are assaulted by the countless rows of shops, an alarmingly high number of Italian restaurants, and an all-encompassing complacency. Krabi is a great place to kick back and enjoy the 99 baht (Rs. 139) cocktails and take in the sights and smells of the beach. We stayed on Ao Nang beach in a quaint little bed-and-breakfast that boasted of a great bed, but the same could not be said of the breakfast.
We stayed for two nights in Krabi and took in a day-tour to Phi Phi Islands, which was a steal for 800 baht (Rs. 1131) complete with a charming tour guide named Da and a regrettable lunch. We spent our third on the "transfer" to Koh Samui and spent the next three nights there, with one evening spent at Koh Phangan. Finally, we made our way back to Krabi, where we spent our last night in Thailand, before flying back to our respective dreary lifestyles.
On a budget trip to Thailand, there are certain golden rules that must be followed. Or rather these were the following ones that worked out incredibly in our favour—
Rule #1: Stick to your budget
Do not be lured into the bottomless pit of expenditure by wooden frogs and garish-coloured harem pants. Be frugal. Once a budget has been worked out at the beginning of a trip, you must try your best to never exceed it. Don't let those boxy machines at every corner fool you; a withdrawal is never an option.
Rule #2: Be open to possibility
A budget trip means you cannot afford to be high and mighty, literally and otherwise. If one dinner is spent eating only the delightfully dangerous street food of Thailand, so be it. A quick prayer to the lord above for the sanctity of your stomach, and you should be on your way.
Furthermore, you never know what you might get in a place as unpredictable as Thailand. One night in Koh Samui, as the three of us trudged back to our hotel after a satisfying 200 baht (Rs. 282) meal, we were pleasantly surprised to hear a Thai Bob Marley tell us that "everything is gonna be alright". We stopped dead in our tracks and were amazed to see an eight-piece ensemble band play the seminal works of everyone's favourite Rastafarian. Now, I admit that this situation conflicts with rule number one, but how many times in your life do you find yourself in this situation? So we sat down for over an hour and sang along with the enthusiastic and talented band, all the while splitting a 90 baht (Rs. 127) bottle of beer between the three of us. Pride will not be useful on a budget trip.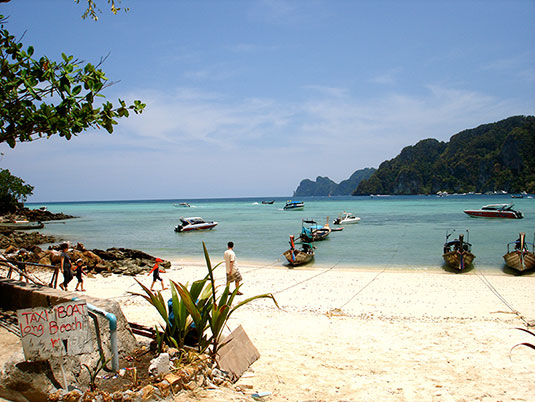 Phi Phi Leh. Photograph by Nandini Asavari Bharadwaj.
Rule #3: Off-season is the best season
Dodge the monsoon and the unbearably hot summers, and try to go to Thailand during the month of April. Fantastic rates, at places you thought you could never afford on a budget, await you. Let's be honest, there is no way three barely-out-of-college kids can afford a resort with an infinity pool without the season being a little off. So remember, a little sun and heat during off-season won't kill you, but going to Thailand during peak season certainly will prepare your bank account for it.
Rule #4: When it comes to costs, division is always better than multiplication
We split the cigarette packs, the sunblock, and even the banana splits. We visited the Big Buddha temple in Koh Samui and after looking around and offering our prayers, we saw that the temple was in need of funds and for every 50 baht (Rs. 70) donated, a tile with your desired message on it would be included in the new temple building. A trip can only be called budget when you even split the cost of a tile to be used in a temple building. Lets hope we don't pay too dearly for it in our next life.
Rule #5: When in Thailand, life must be a beach
Nature charges nothing and when on a budget vacation, one must take full advantage of that. That perfect beach with warm white sands and with a view out of an artist's dream must be enjoyed. The sky in its blue perfection and the emerald waters of the islands are yours to enjoy, and enjoy them you must. Snorkeling is a must even for the most wary. A look underneath Thailand's aquamarine waters holds many surprises and wonders. And so it is in the opinion of this budget traveller that one must ditch the market places and restaurants and spend as much time as possible at the beach in careless abandon.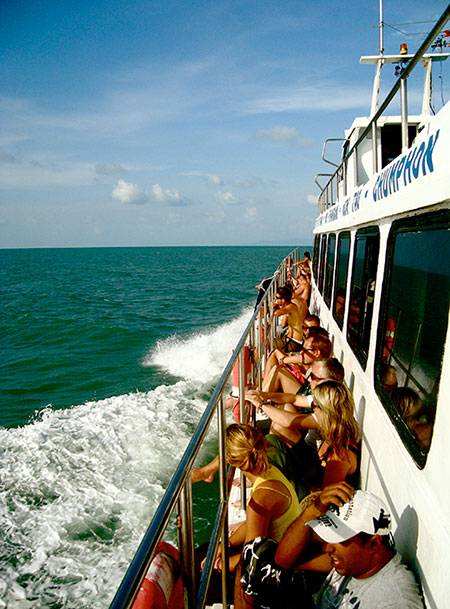 The ferry to Koh Samui. Photograph by Nandini Asavari Bharadwaj.
Rule #6: Why fly when you can "transfer"?
We had planned to stay only in Krabi and Koh Samui and visit Koh Phangan. The only problem was that Koh Samui and Koh Phagnan are islands across the mainland. Hence we decided to take advantage of Thailand's interesting and adventurous transport systems and "transfer" from the southwestern part of the country to the southeast. We nicknamed the ordeal "the transfer" for reasons not entirely known to us, but it was an exercise in patience and dedication to the budget. We started off by taking an open-air bus or songthaew to the Krabi bus terminal and were surprised to find a ticket to Koh Samui came not in the form of pieces of paper, but coloured stickers to be stuck onto your clothes. Then another bus took us to the ferry pier at Don Sak. We boarded a rusty and weathered old ferryboat whose insides resembled that of a crowded Indian bus and spent the next hour making our way to Koh Samui. Once we landed at Koh Samui, we then jumped on another songthaew and spent the next hour making our way through the busy town. Finally, we reached our hotel in Koh Samui, a good eight hours after we started in Krabi. Now, a plane ride would have gotten us there in about 30 minutes, but the thrill of having spent most of the day in travel and the fight against sea- and bus-sickness seemed to be a worthy alternative. And of course, it was about 4500 baht (Rs. 6362) cheaper.
Rule #7: High risk can lead to high returns
The truth is we had planned this trip around a party that takes place every full moon on the island at Koh Phangan. Sure, adventures and culture met us along the way, but we were determined to check out this legendary party. When on a budget trip, you must be willing to take high risks for the high returns. The party proved to be designed for the budget-conscious traveller. A quick speedboat from Koh Samui to Koh Phangan cost us about 500 baht (Rs. 706), which included a pick up at the hotel and a drop back, as per desired timing. Once at Koh Phangan, the party, which takes place on the Haad Rin Nok beach, definitely did not disappoint. A 100 baht (Rs. 141) entry ticket allows you to stay at the venue from dusk to dawn the next morning, provided you are up for the challenge. A long beach with a number of clubs awaits you, as you make your way through the winding streets. The party is designed to appeal to lovers of all types of electronic music and should you get bored of the trance selection, a hop, skip, and jump will land you in the psychedelic trance party. The party's speciality is drinks served in a bucket—yes, a tiny bucket that could double up as a storage unit. A bucket of whisky, Red Bull and Coke will only set you back about 150 baht (Rs. 212) and guarantees high rewards. Of course, risks at this party include loss of senses, bodily fluids, limbs, and money, so it is important to be vigilant and smart about your partying. Thus, with no intended puns, this party definitely delivered some high returns.
All in all, we discovered a lot about ourselves: Our innate ability as Indians to bargain, our willingness to be part of adventures even when not entirely sure of the outcome, our absolute weakness for all forms of creature comforts and indulgence, and our admirable resilience to spicy Thai food. Thailand is a fantastic country to visit as it really does offer the clichéd "something" for everyone. We chose to stay out of the more popular destinations in Thailand—Bangkok, Phuket, and Pattaya—for reasons related to budget and safety, but didn't lose out on the experience in any way. Thailand ensures friendly and charismatic locals, gorgeous locales, delicious food, and delectable bargains. Most importantly, Thailand is forgiving on your wallet.
Gallery