The first time we see him in Madhu C. Narayanan's Kumbalangi Nights, Shammy (Fahadh Faasil) is trimming his abundant moustache, looking admiringly at his own reflection in the mirror and calling himself 'the complete man'.
In this film about men and the contending representations of masculinity, facial hair understandably plays an important role. Significantly, Shammy works at a men's salon, a place set up for the upkeep of manliness and its external markers. Moreover, in one scene he gives Bobby (Shane Nigam), who he deems thoroughly unfit to marry his sister-in-law, a shave. Shammy consistently strokes his moustache throughout the film, an act that establishes not only the pride he takes in it but also the fact that he sees it as a repository of his manliness. The action of shaving Bobby's beard then is somewhat symbolic; besides rendering Bobby helpless as he glides the blade dangerously close to his throat, Shammy also strips him of a male badge he sees him as unworthy of wearing. Additionally, Shammy's introductory shot is a mirror reflection. Even before we see him, we are shown the way he sees himself. It is an early sign that perceptions will be important in this film. Long-held ones will be examined, their relationships to the truth questioned.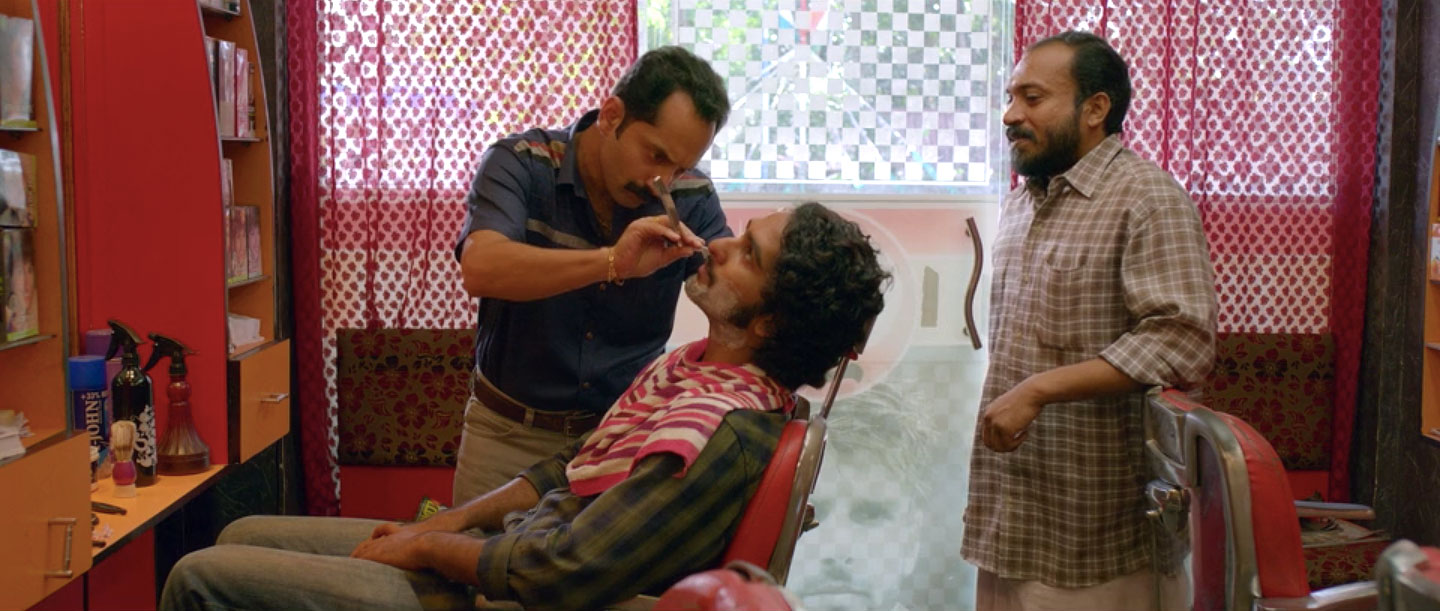 In
Kumbalangi Nights
, long-held perceptions are examined, their relationships to the truth questioned.
A telling example of this theme of differing perceptions is in the scene which immediately precedes Shammy's introduction. One of a group of local boys who can no longer play outside, as their ball has been confiscated by Shammy, states that the new neighbour "is no gentleman". Moments later we see Shammy reassuring himself that he is indeed 'the complete man'. In fact, the film is full of such segments which work in sets of two; short companion pieces which generate commentary through contrasts. For instance, at one point, a scene of maternal rejection and abandonment in one family is followed instantly by another of maternal affection (Shammy's mother-in-law lovingly serving him food) in the other to drive home the pathos of the former situation. These differences are perhaps obvious in a film which sets up its two character-groups and their respective lives as a striking study in contrasts.
On the one hand is the structured, middle-class, Hindu home of Shammy and the three women he has virtually scared into submission, while on the other is the disorderly, laidback, working-class, Christian home of half-brothers Saji (Soubin Shahir), Boney (Sreenath Bhasi), Bobby, and Franky (Mathew Thomas). In both, the original heads of the families have left or passed on, thereby requiring new members to step into their shoes. But while Shammy's hold is autocratic, the brothers' home remains democratic. Beneath the stability and comfort of one household lurks fear and the threat of violence, while the other, riddled with everyday fights, failures, and disappointments, manages to hold on to love, generosity, and compassion.
There are contrasts in tone as well. Every time Shammy is on screen, there is a sense of something bubbling just under the surface, a prowling menace about to burst forth at any moment. The scenes are tonally pushed to their limit, taut and crackling with tension. To convey Shammy's struggle for control, both of his instincts and his household, Faasil carries much of that strain. On the other hand, there is a raw vulnerability to the brothers and the scenes in which they appear, the film's emotional and tonal clenching finding its ultimate release in the poignant scene where Saji cries for the first time after his friend's death, his arms wrapping around his doctor. Soubin Shahir's marvellously tender and controlled performance is one of the highlights of Kumbalangi Nights.
Given its title, it is not surprising that the film resonates with an acute sense of place with its expansive, breathtaking shots of the backwaters, of fishermen casting nets against exquisite, half-lit skies and of dazzling night-time sightings of bioluminescent marine life. There is a dreamy languor to this idyllic setting, its sense of a deep human connection with the natural heightened by Sushin Shyam's vibrant music. This torpor permeates the days and habits of its characters, which are in turn deeply enmeshed in Kumbalangi's two mainstays, fishing and tourism. Water is central to both and dominates the lives and sensibilities of its inhabitants. It serves to both connect and separate. While the brothers use the water channels to go from one place to another on their fishing boats, it is interesting that Franky sees himself drowning in the nightmare that he has early on in the film, a manifestation of the feeling of desertion the brothers feel with regard to their mother. Water is associated as much with expectation as with pain, a force that both sustains and obliterates.
With the exception of the spirited Babymol (Anna Ben), the women in Kumbalangi Nights play a secondary role, rarely accorded their moments to shine. But it is also the women who help to uncover the differences between the men, to effect changes in them. A familiar trope, it nonetheless serves to bring to the surface the perils inherent in popular notions of masculinity.
Kumbalangi Nights is currently streaming on Amazon Prime Video.