Make a Difference (M.A.D.) is a platform that works towards improving the lives of children at risk in various orphanages across the country. It aims at providing equitable opportunities to even the most vulnerable children in our society. Moreover, its efforts are catalysed by the youth, empowering them to be "Change Leaders" so as to make a difference in the society around them and to lend a helping hand in shaping the future of the nation.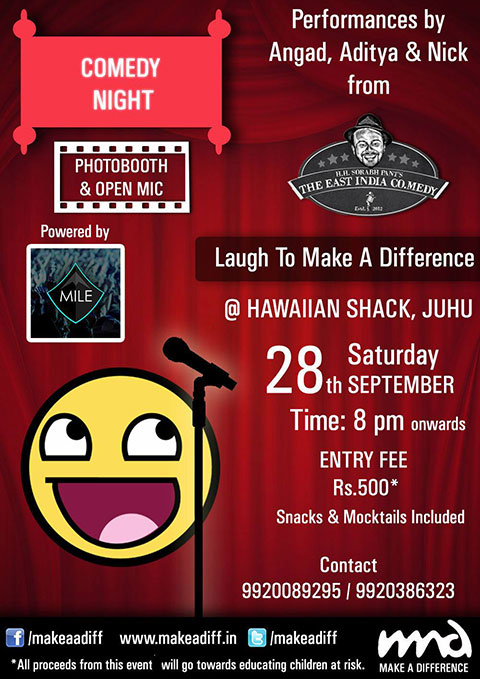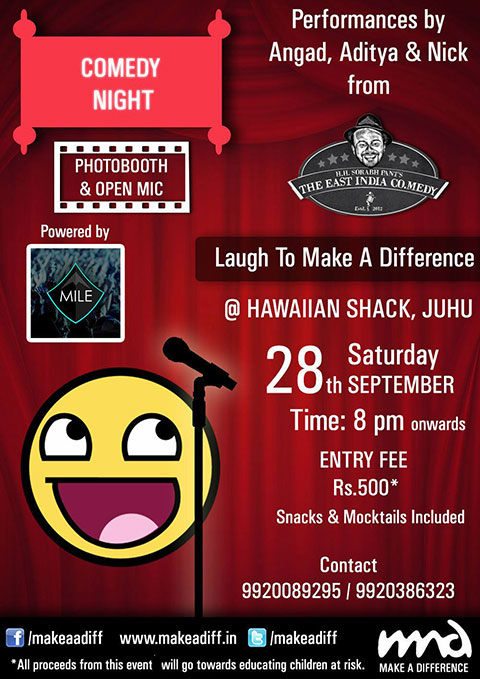 M.A.D. presents a comedy night at Hawaiian Shack, Mumbai.
Present in 23 cities in India, with 2,000 volunteers working with about 5,000 children in orphanages, M.A.D. is working to realise the dreams of every child by helping them in their academic and career-oriented aspirations. Along with the help of volunteers, it also organises various fundraiser events, the latest being a comedy night featuring the stand-up comedians of East India Comedy, in collaboration with Hawaiian Shack in Juhu, Mumbai.
The event promises to be enjoyable, with stand-up comedy performances by Angad Singh Ranyal, Aditya Desai, and Nick Pillow from East India Comedy, an open-mic session that will allow the audience to bare their inner comedic soul, as well as a photo booth (complete with props) where one can pose for some madcap photographs, taking home souvenirs from the evening. To top it all off are the food and drinks at Hawaiian Shack, with complimentary mocktails and snacks provided with the ticket purchase.
Meghna Bharat, from the events team of M.A.D., opines that "efforts taken by N.G.O.s such as ours that do their best to make a difference to the lesser fortunate would appeal to the young, open-minded community."
All proceeds from the event shall go towards educating children at risk that M.A.D. is actively working with. Entry passes are limited. To book yours, call +91 99 20 089295 or +91 99 20 386323.
Details:
Venue: Hawaiian Shack, 48, Gulmohar Road, J.V.P.D. Scheme, Near Costa Coffee, Juhu, Mumbai, India (Phone: +91 80 82 236565)
Date: Saturday, September 28, 2013
Time: 8 p.m. onwards
Entry Fee: Rs. 500 (includes complimentary mocktails and snacks)