I know Sudha Murty as the lady who wrote to Ratan Tata in 1974, bravely calling him out on the discrimination against women in a job advertisement by the company, which stated "lady candidates need not apply".
I also know of her and her husband Narayana Murthy's programs and funds for the underprivileged through various articles in the media. Right off the bat, the first hitch with The Day I Stopped Drinking Milk is that it reminds of you of either one of those facts in almost each of the 23 stories.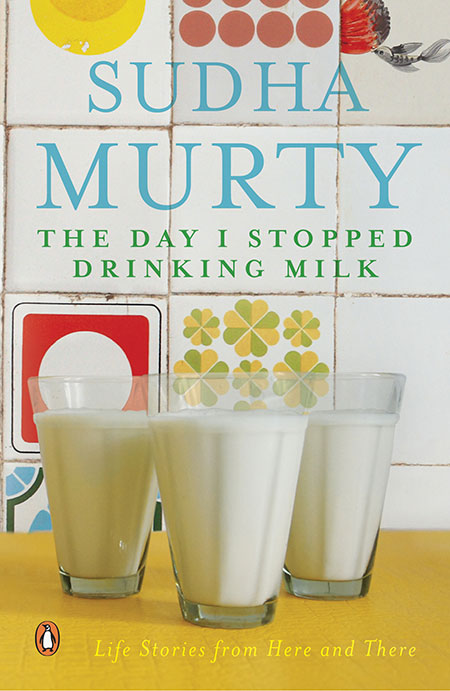 The Day I Stopped Drinking Milk
book cover (
Purchase
)
While a little self-indulgence is pardonable, and their work in providing assistance and opportunities to whoever requires it, praiseworthy, Sudha Murty's collection of "real stories" from her experiences in India is a slightly lukewarm experience. It doesn't really matter that her literary merit won't garner any artsy-fartsy literary prize or that the writing tactic almost borders on what children's authors would employ—The Day I Stopped Drinking Milk is in its best, shining moments, frugal yet effective storytelling. Once you approach the book that way, its technical and tonal drawbacks become a little easier to ignore, even though they pop up their jarring heads rather frequently.
A collection of 23 stories, The Day I Stopped Drinking Milk recollects the narratives Murty has encountered through the years and each story has a different focus. There's a heart-warming story that deals with a Muslim boy being adopted by a Hindu family who insists he be brought up in his own faith; there's a cautionary tale with a man who took a personal loan from Murty with a verbal promise to return it, and his blatant refusal to do so after running into her in the U.S.A. years later. There are stories about villagers with exemplary courage and drive to serve their own people by setting up services like providing water for baths, all for free. The emotional quotient of Murty's book aims to be rather high, and truth be told, it hits most of the top notes (whether effortlessly or not). In a book that is perhaps meant to target all age groups, Murty's writing has a way of being easily accessible and readable.
However, there are obvious glaring questions with even that simple narrative that are hard to ignore. At best the stories in the book are postcard-ish and superficial (and I mean that in the word's original sense) in both, their abject despair and happiness. This is storytelling broken down to its most rudimentary bits—a textual Amar Chitra Katha comic in some ways, but also hugely preachy and didactic. If you're looking for some reading that will fill the gaps between heavier, denser tomes and don't mind the self-indulgence on Murty's part—it is after all, her narration of her experiences—you may want to pick it up. For all other purposes, this glass of milk is neither hot nor cold.
[Penguin India; ISBN 9780143418658]