When you watch Fear and Loathing in Las Vegas for the first time, you convince yourself that the life of a gonzo journalist is perhaps one that is worth living. When you read Fear and Loathing, Hunter S. Thompson convinces you that you need to become one. But when you read Transmetropolitan, you want to give up everything and become Spider Jerusalem—or at least marry him.
Chaotic is perhaps the only way one can describe Spider. Not shying away from his love of guns, drugs, and the truth, he embarks on a journey that needs him to pay off an advance for a book he has obviously not bothered to complete. As he climbs down from The Mountain, his hermitage and retreat for almost five years, one cannot even begin to fathom the series of adventures and misadventures that are about to happen in The City.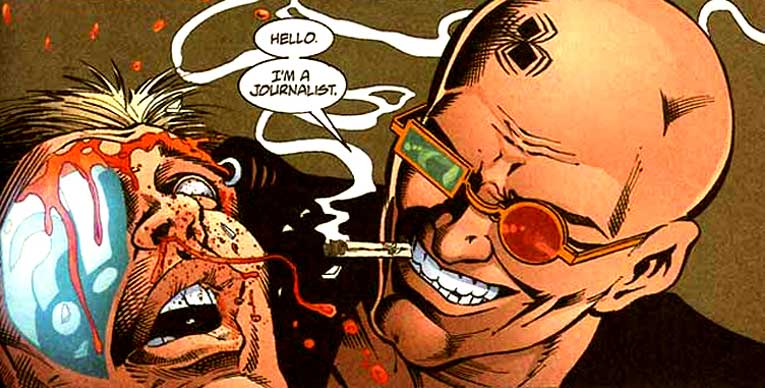 Transmetropolitan
's Spider Jerusalem.
As he travels through the streets of a place he had once left behind, Spider shows the readers how delightfully perverse a place can be. Darick Robertson's artwork is the soul of Transmetropolitan. Coupled with Warren Ellis's genius, the novels are satiric, dark, and wonderfully profane. The more you read, the more you fall in love with the alleys, nooks, and crannies of the city, and the more you fall in love with our protagonist: the bad boy with a heart of gold. Agreed, he is foul-mouthed and insincere, but at the end of the day, he cares for humanity and such streaks of good, amidst all the bad, essentially makes hearts melt.
What I really like about the series is how realistic and grim the future seems to be. When you come across a panel that depicts a cryogenically frozen head being inserted into a new body, you are actually scared, thinking of a future that might define such acts of depravity, further corruption of authorities, and the nasty face of a dystopian future.
After being out of the game of journalism for five years, when Spider comes back, he digs and he digs deep into the sewers and alleys of the city that will pay him, while he struggles to write his incomplete books. And we see him in action. Chain-smoker, junkie, sex addict, careless, and insensitive, his trusty bowel disruptor (obviously illegal) is his companion as he reduces people to a mass of quivering imbeciles who have just shat their pants.
The real surprise in the series is Spider's sense of righteousness. Very rarely do you come across someone so rotten and so righteous at the same time. His pursuit of truth borders on obsession as he steps away from the fraternity of journalists who have been intimidated into hiding the truth. Our man, Spider, knows what he wants and does not care about the devastation he might cause in the course of his journey.
This is by far one of the best graphic novels I have come across in recent times. The whole depiction of the fall of the media, the degeneration of the world in the future, and the hypocritical nonsense that is constantly defining the world is bloody brilliant. Add to it Spider Jerusalem, and you are bound to read on until you reach the very end. You will have no choice but to love this man and hate him and love him some more!
'
Sol's Graphic Vein
' is a whirlwind, torrid introduction to exactly what your mother would not want to catch you reading. Not for the weak-hearted. Not for the judgemental. Not for moralistic hypocrites. Definitely meant for those who appreciate art. Fun, coloured, and sexed out.