Having made his mark as the drummer of Zero all those years ago, Sidd Coutto moved on as the vocalist of the cult-status and, well, fun band Helga's Fun Castle. After a third project in the lauded Bombay band Tough on Tobacco, Sidd finally takes things down a notch with his much-anticipated solo album Sunny Side Up. Read on to get a piece of Mr. Coutto's mind.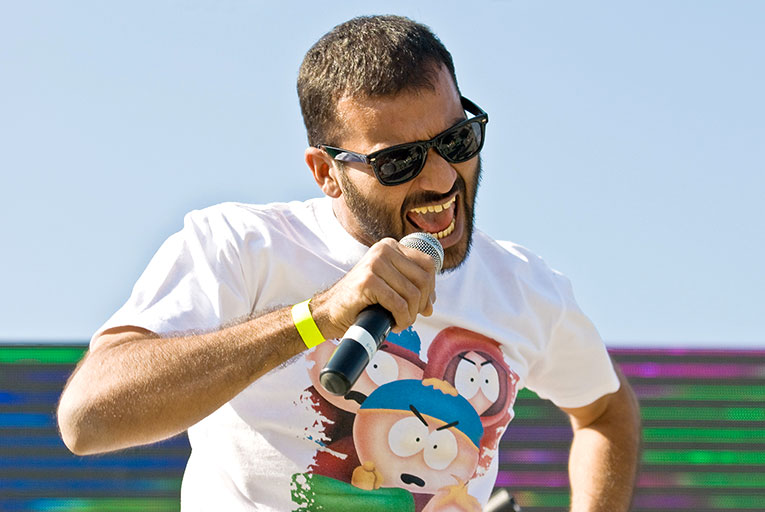 From Zero to hero. Photograph by Kunal Kakodkar.
Zero, Helga's Fun Castle, Tough on Tobacco, and now a solo album. Where does all this creative energy stem from?
I guess I'm a very driven person. I love good songs. I love songwriting. And over the years I've chanelled more and more of my energy and brainpower towards supporting my passion. It's reached a point where the songs just write themselves. All I have to do is open my mouth and later, remember them.
You've been a drummer, a vocalist, and a songwriter, amongst many other accomplishments. What do you associate yourself most with?
I'm a songwriter. No two ways about it. Everything else I do: playing drums, singing, playing guitar, bass, trumpet, percussion, programming, looping, arranging, producing, performing, acting, writing, its all there just so I can get my songs out.
Your solo album comes out in 2011, years after you first made your mark in the music scene in India. Is there a particular reason why you waited so long to release a solo album?
I've always been a part of bands and it's been all my songs since Helga's Fun Castle. A whole chunk of Zero's songwriting was mine. I had no need or desire to be a solo artist. But in the past couple of years it's really been hard getting the bands to function like bands. I figured I shouldn't sit around and wait for things to happen. I needed to be proactive. So I just did what I could on my own.
"I'm writing my second solo album on an iPad. Just for fun."
After being a part of so many bands, a solo album might be a cathartic experience: a way to completely speak your mind—lyrics-wise, music-wise, whichever way. Do you agree?
I've been pretty much doing my own thing lyrically for a long time. But yeah, it's good to be able to put down everything on my own. I am responsible to no one but myself with this record.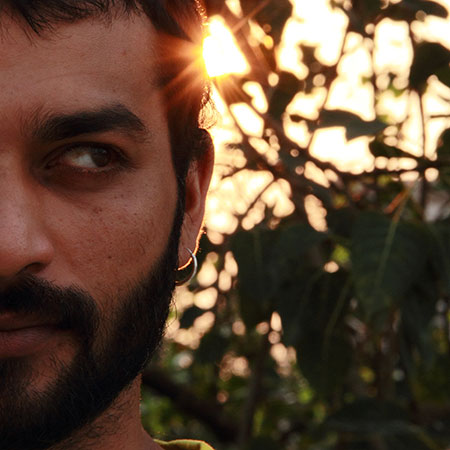 Sidd Coutto: Sunny Side Up.
You're involved with Tough on Tobacco and now you have Sunny Side Up. What other creative projects are you involved with right now?
I've been busy working on my solo act which is a one-man-act. At various points I play guitar, bass, drums, keyboards, percussion, trumpet, and sing through a looper. On stage with me is my best friend/mix engineer/album co-producer Hans Dalal. I perform songs from my solo album, earlier bands, and random covers, besides making up songs on the spot based on topics and styles sourced from the audience.
I'm really busy these days either working on jingles or gigging with Vir Das's Alien Chutney, Blackstratblues, and Ankur Tewari and the Ghalat Family. I also did some comedy gigs with Weirdass Comedy.
I'm writing my second solo album on an iPad. Just for fun. And the second Tough on Tobacco album is a work-in-progress as well. It's a double-album and is taking way too long to finish.
There's a lot of very good alternative music out there in India today, but there really aren't as many people listening to it as there should be. Where do you think we'll be in five years? Do you see the indie scene breaking into more mainstream crowds?
Indie music is getting a lot of mainstream attention these days. I don't think mainstream crowds will ever be into indie in a big way, because then it stops being indie. I have no sooth sayer abilities. In five years I'll hopefully be on a hill overlooking the sea somewhere making music everyday and uploading it to the Internet.
Sunny Side Up surprises any listener with the fluidity of genre-switching: from reggae to pop to folk to jazz to that ambiguous, beautifully genre-free space that typifies true talent. Clearly, there are a lot of musical influences at work here. What did you grow up listening to?
My mum says she played me only ABBA for the first two years of my life because those were the only LPs we had. I blame her for introducing me to catchy pop music early on in life. Thanks ma, best gift ever. At parties, my dad would get out his guitar and sing and play for two to four hours—pretty much non-stop. And that was music from the '40s-'70s. I grew up listening to him sing harmonies to pretty much everything. That was a major influence on me musically. When I was 14 I got into rock. Pearl Jam's Ten is the album that got me interested in making music. Before that I really did not care for it; I wanted to be a lawyer or a copywriter. From that point till about five or six years ago, I listened to tonnes of rock, jazz rock, pop rock, pop, and that has been my advanced music education. I'm not trained in any instrument. Everything I know has come from listening to music.
From your music, it's easy to gather that you have a particular distaste for labelling yourself as a musician of any particular genre. However, if you had to describe Sunny Side Up to someone who's never heard anything you've been a part of, what would you describe it as?
It's my most simple album and that was a conscious decision. I'd say it's an acoustic pop album.
"My mum says she played me only ABBA for the first two years of my life because those were the only LPs we had."
The music on Sunny Side Up is characterised by well-structured instrumentation but also meaningful lyrics. So here's the age-old question: what comes first to you, the music or the lyrics?
Over the past three years, songs have come to me from a higher power. I just open my mouth and the lyrics and melody pop out at the same time. It's been the best songwriting method and I hope I never lose this ability.
Tell us an Indian act that you'd really like to collaborate with.
There are so many. I'd frankly like to collaborate with everyone I can run into in the next three years or so, from Rajasthan Roots to Anoushka Shankar to Shaa'ir and Func to Raghu Dixit to (hey musician, insert your name here).
You've been making music for a very long time now. What job would you have moved towards if you weren't a musician?
I think I'd be an unhappy writer. I'd be looking around at musicians around me and going "damnit, I can do that, why didn't I?"
On a more personal note, I'd just like to gush that Helga's Fun Castle made some of the most fun music that many of us have heard. Do you have any intention of revamping the band?
Helga's remains my most fun band. It was about the four of us just having fun and not giving a damn. With [guitarist] Meghashyam Adoni gone, the band just can't exist. We played a year without [drummer] Jai Row Kavi and it wasn't the same. It's the four of us together that brought madness, spontaneity, and insane fun to our sets. If we're ever in the same place at the same time, we would not hesitate getting back together. No rehearsal required either.
Thanks for your time. Any final message to our readers at Helter Skelter?
Life is a bizarre roller coaster. Make the most of it. Be kind to your parents. Get a job. Pay your taxes and if you can, pay mine too.
———
Get your free digital copy of Sidd Coutto's Sunny Side Up at this location.