Musician Stefan Kaye loves tofu, politeness, and purring kittens. He dislikes big nylon tan-coloured knickers, meat, and car horns. Winner of a Rolling Stone Jack Daniel's Rock Award two years in a row, he is the founder member and keyboardist of the ska/punk band the Ska Vengers. He is also the producer and creative director of India's touring cabaret show Stiff Kittens's The Medicine Show. Here's a little peek into his mind hours before the Ska Vengers's debut performance at Blue Frog in Mumbai.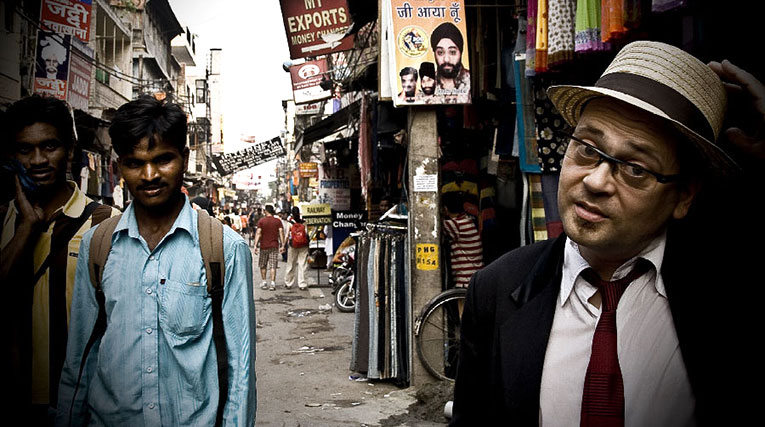 Stefan Kaye loves tofu, politeness, and purring kittens.
The Ska Vengers have emerged as one of the most popular alternative acts and certainly the most popular dance band in Delhi. What brought you guys together two years back? And why ska?
Ska originally was a style of Jamaican popular music, which emerged in the 1950s as a blend of African-Jamaican folk music, calypso, and American jazz and rhythm and blues. It is notable for its fast shuffling, scratch-like tempo, and jazz like horn riffs with a heavy accent on the offbeat. I wanted to put out the type of music that was energetic and that would hopefully make people want to dance, instead of the guys-in-a-row head bobbing and air guitar posturing that can often be found at rock gigs! Also we wanted to produce music that wasn't specific or appealing mainly to one gender only. There didn't seem to be a wealth of dance-oriented live bands in India so we decided to address this with something fun to play and heavily reliant on a strong rhythm section.
The band's look is very reminiscent of the 'Mod' tailor-made suits of the 1960s. The mod scene was associated with the Jamaican ska movement. It's obviously very fashionable and different from the usual grungy-Indian-band look, but has this look worked out for you guys?
It amuses me that bands frequently perform in the type of attire that wouldn't get them entry into many of the places they perform in. You have to admit we are easier on the eye than chappals and knee-length shorts-sporting rock musicians.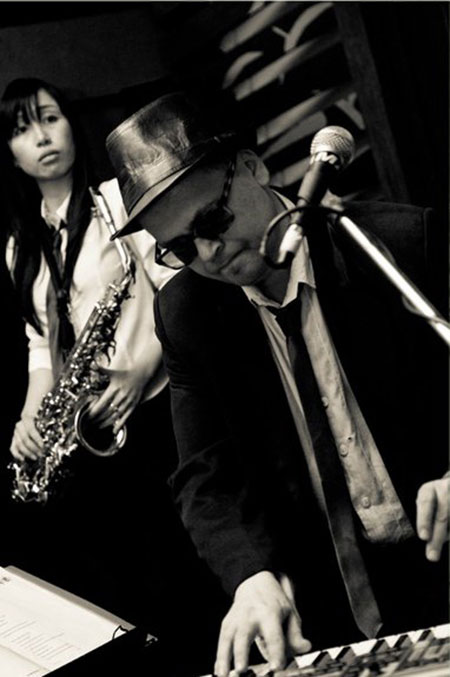 Stefan Kaye performs with the Ska Vengers.
What are your musical influences?
Music influences are drawn from several genres as mentioned earlier. Artists would include Louis Jordan (R 'n' B jive), Perez Prado (mambo), Charles Mingus, Lalo Schifrin, Brother Jack McDuff (jazz), Skatalites, Prince Buster, Lee Scratch Perry, King Tubby, The Specials (ska, rocksteady, dub), The Clash (punk), as well as R. D. Burman and various hip hop and dancehall artists.
You have an interesting mix of people in the band. There's Miss Samara C. of N.D.T.V. Good Times and Taru Dalmia of Delhi Sultanate, and a bunch of other talented musicians. Who would you say is the quirkiest band member?
I would have to say that that would be the drummer, the Late Nikhil Vasudevan. He has a rare and possibly unique condition that has left many neurological specialists thouroughly baffled. He doesn't recognise people's names or faces and even his own band mates have to reintroduce themselves to him at each meeting. Also symptomatic of his condition is his inability to stop drum-soloing once he gets started, to the point where he is often physically restrained or he has his sticks confiscated.
What has been your most memorable gig with the Ska Vengers so far?
Almost all our gigs to date as the Ska Vengers have been in Delhi. Probably the most rewarding gig though was the other day on a cliff top at Varkala Beach in Kerala at Rock 'n' Roll Cafe with a basic sound sound system and heaps of enthusiasm.
You moved to India from the U.K. several years back. What brought you here?
One reason may be a penchant for dusky-skinned maidens; another would be the tasty street food. The more agreeable climate would be another. Apart from these significant determining factors I would say that India is a very interesting place to be in right now with the balance of world power shifting eastward and renewed confidence in many of its peoples while conversely many western nations are mired in despondency and economic gloom with no end in sight. Of course, rural India and many less well-off urbanites are yet to benefit from such prosperity.
"It amuses me that bands frequently perform in the type of attire that wouldn't get them entry into many of the places they
perform in."
You seem to have your hands full. The Ska Vengers, Emperor Minge, The Jass B'stards, and The Original Jazz B✩Stars. With so much going on, what inspires you to innovate?
Many things inspire the music I make, among them perhaps would be the smell of damp cats, unsettled dust, bric-a-brac sales in small provincial towns, life forms that can be observed in rock pools in low tide at the sea, poorly translated Chinese food menus, jazz cigarettes, psychotic former lovers, and B.B.C. World Service shipping forecasts.
We heard you're vegan and are associated with P.E.T.A. You even have a dish named after you at a popular Delhi restaurant—the 'Minge Tofu'. Are you vegan as an ethical choice or for your health or both?
For my entire adult life and earlier I have lived a herbivorous existence and have avoided eating any meat or dairy products. This can make eating out challenging at times but the upside is that I have developed into something of a bon viveur and love creating culinary hybrids incorporating foodstuffs from many different nations. There is much more to veganism than eating carrot, cucumber, and bird seed. I don't wish to come across as holier-than-thou, but when looking at the bigger picture but I can more confidently go about committing morally questionable acts, safe in the knowledge that animals are being spared a life of torture and suffering in order to satiate my taste buds.
You're performing at Blue Frog tonight and have been to Bombay a few times now. What about the city keeps bringing you back?
I love the sea breeze, cab drivers who don't need to be told to go by the metre. The fact that it isn't Delhi is a bonus and people don't stand gawking at white people quite so much.