Five years after their mammoth double-disc offering Stadium Arcadium, L.A. rock veterans Red Hot Chili Peppers return with I'm with You, their tenth studio album in their twenty-eight-year-long(!) career.
Naturally, tenth albums of any band (except Radiohead, of course) are met with a certain dearth of expectation, and this one was no different. However, on I'm with You, the Red Hot Chili Peppers prove that they've still got a few tricks up their sleeves—definitely not enough to shock and awe, but just about enough for a pleasant surprise.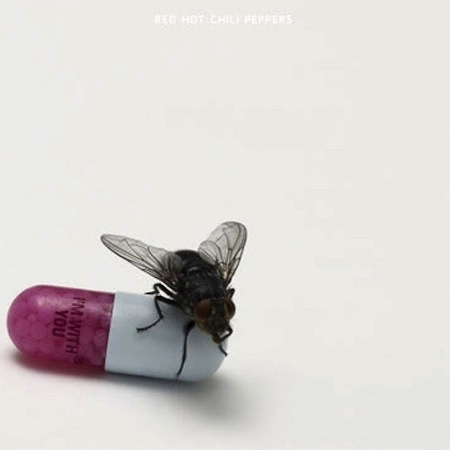 I'm with You
album cover.
The Red Hot Chili Peppers have had more than their fair share of lineup changes between albums, and this time, it's a big one: Josh Klinghoffer, the band's back-up guitarist on tour, replaces longtime lead guitarist John Frusciante. Instead of trying to fill his shoes, Klinghoffer wisely uses subtle restrain instead, creating space for vocalist Kiedis and bassist Flea to come to the fore. However, this restraint proves to be a double-edged sword. While Klinghoffer doesn't forcefully steer the band towards a whole new direction (like Dave Navarro did on One Hot Minute), the songs on I'm with You display an evident lack of sonic texture and innovation that Frusciante brought to the table in previous albums.
If you made a compilation of approximately the first minute of each of the songs on I'm with You, you'd end up with the most musically intriguing funk-punk-hip-hop fifteen-minute album of the year. In its entirety, however, I'm with You is not nearly as good. It's as if the entrance to a sleepy suburban town was lit up with Las Vegas's neon lights. For example, 'Ethiopia' features Flea's trademark dexterous bass lines and Kiedis's funk-infused staccato singing, but somehow flattens out into a vague chorus, almost like a different song. Similarly, 'Look Around' is peppered with Kiedis's trademark rap-funk singing layered on top of Chad Smith's masterful drumming, but plateaus into a somewhat disappointing chorus, accompanied by Klinghoffer's meandering guitar.
Of course, that's not to say there aren't notable songs on the album. 'Did I Let You Know' is a particularly upbeat number, with Smith's frenetic drumming leading into pretty, melodic work by Klinghoffer, and surprisingly, even Kiedis. 'Brendan's Death Song', a surprisingly joyous tribute to the band's late friend, is a mellow acoustic song that showcases Kiedis's vocals. It's easily one of the best songs on the album.
'Factory of Faith' sounds like something off of Blood Sugar Sex Magik, with Kiedis channeling the same ostentatious rock star vibe that he had back in the day. The album's first single 'The Adventures of Rain Dance Maggie' is a spiritual follow-up to 'Dani California', detailing glimpses and snatches of the stories of different women that the band members know, and is perhaps the most coherent and strongest song on the album. 'Even You Brutus?' starts off like it could be on Jay-Z's The Blueprint 3, but unfortunately tapers off into U2-like arena rock.
Overall, I'm with You has plenty of moments, but really doesn't capitalise on any of them. Perhaps it can be put down as shoddy editing: songs that show great promise that you can really jam to, turn out to be over-indulgent duds that are just a little too long. The Red Hot Chili Peppers are certainly not dead, but do need some resuscitation to get back to their rock star days. Recommended, but only for a few listens.