'Culture' is a word flippantly used by many of us without ever assessing the impact of such a loaded word. India is characterised by syncretism, which basically involves the mingling of a plethora of cultures and subcultures, resulting in a sweet mixture of diverse origins, or even, mayhem. Identity crisis is often associated with such a chaotic cult-shake.
It does not have to be such a disappointing feature, though. In the movie Namastey London, there was a very tacky monologue by Akshay Kumar, in which he says something that conveys the diversity of religion, not necessarily culture, in our country: an Italian woman gives her seat to a Sikh man, who is appointed as the Prime Minister of the country by a Muslim chap. Though slightly cheesy and clichéd, he isn't factually wrong. However, one must appreciate that the prism of religion is just one measure of understanding the flanks of culture.
Kerala has been under much scrutiny when it comes to the syncretism of religion, culture, and geography. Keralites are Keralites first, Hindu/Muslim/Christian later. It is an amazing phenomenon, that. When Onam dawns upon God's Own Country, people across the spectrum of all religions celebrate it together—even if the Keralites are in Hawaii! It is a brilliant example of how culture is not necessarily defined by religion. Samuel Huntington, in his book The Clash of Civilizations and the Remaking of World Order, should probably take Kerala as one example where culture scores over religion. Recent incidents are slowly proving otherwise, but the wave of communalism is yet to touch the shores of Kerala. One wonders if the reign of the Left Democratic Front has something to do with this, but that might be too premature and too simplistic a correlation to make.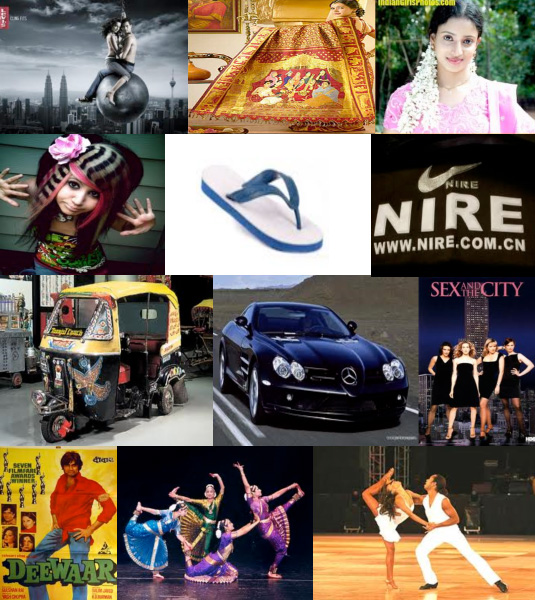 India has always been the crucible of the mingling of several cultures owing to the integration of manifold civilisations.
Coming back to our focus: alternative culture. Helter Skelter is a magazine that brings out the hues of an 'alternative' culture. But what is an alternative culture? Is it deliberate, or a blend of effortless and natural phenomena around us manifesting into a 'way of life'? Speaking from personal experience in this regard, I live in Chennai, and this place is characterised by a culture that confuses me thoroughly! On the one hand, you have places like Rutland Gate, Nungambakkam, which transport you into a world which is reminiscent of an unknown European town, and then you have Thyagaraya Nagar with its plethora of silk-saree stores and jasmine flowers! Syncretism in this place is perhaps best characterised by the fact that no matter how 'modern' facilities become, the rejection of 'westernisation' by the pillars of Tamil Nadu—the shrewd auto-rickshaw drivers—reigns supreme.
On a more serious note (or not), Indian (not Hindu) tradition thrives here, even if the devotee is clad in a pair of jeans. Nalli Stores and Sundari Silks are more prized than Mango or even Giovanni; a pair of skinny jeans and a t-shirt is worn with a bindi on the forehead and a braided long plait with a string of jasmine flowers; and boy, we speak Tamil, screw you!
This does not mean that 'foreign' is rejected. Not at all. French, Russian, German, Japanese, Chinese study centers are places that native Tamilians flock to, although it is considered to be slightly elitist. Chennai is gaining a more cosmopolitan outlook with the burgeoning of the I.T. and Manufacturing sectors giving an impetus to the influx of non-Tamilians here. I often hear complaints by non-Chennaiites of how there are hardly any malls here. But that's alternative culture for you: street shopping, T-Nagar silk sarees, small cottage-like stores with brilliant collections, and a couple of malls, here and there, at your service.
'Alternative culture' does not have to be far removed from reality, or even an effort being made to reinforce our identity. It is just an effortless, sweeping, natural result of the interaction of various groups in society. Pretense, on the other hand, would be placing emphasis on any one such culture—be it 'pub' culture, 'mall' culture, or any of those crass epithets. The more we focus on trying to be different, the more we reinforce artificiality in culture.
Culture is not stagnant, it can never be. You cannot place such dynamism in a glass cage and observe it from a vantage point. Culture is ever-changing. India has always been the crucible of the mingling of several cultures owing to the integration of manifold civilisations. It is only natural that what contemporary Indian culture has developed into would be a cross-breed of these various exchanges. So, scoffing at a faux pas with regard to any particular culture would be an irrevocable error since such there is no such classification possible. Every way of life thriving in India today is justified—be it the nude digambaras or the Page Three urbane socialites. Nothing is more valuable than originality, be it No Nasties or Nalli's.