Of the array of restaurants packed into the slice of land we call Carter Road, Asian Wok is somewhat of an oddity. An unassuming little place (sandwiched between two larger restaurants), it offers up a mouthwatering variety of Thai, Chinese, and Malay dishes. Though it has only been in existence for a few short months, it has already become a somewhat endearing location to regulars and newcomers alike. The utilisation of the relatively small and homely space, coupled with an outdoor seating area, allows this quiescent little eatery to attract a steady stream of customers.
Food
Asian Wok offers its guests an extensive range of delectable starters, of which the Crispy Spinach Chicken (fried chicken served with fried spinach leaves) and Chicken Satay (served with peanut sauce) really stand out, while for the herbivorous few, the appetising Stir Fried Vegetables is a definite must. People watching their waist lines might dine on a variety of Thai salads and soups that tickle the palate, especially the understated, yet scrumptious, Malaysian Laksa.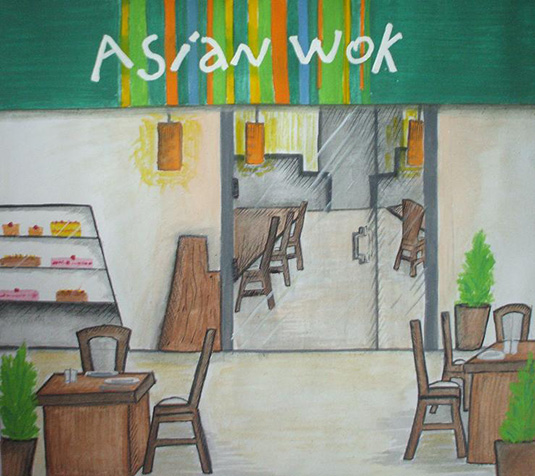 Asian Wok, Bandra. Illustration by Roma Kunde.
For the main course, look no further than the lip-smacking in-house specialty of Burmese Khowsuey, a wok which is intended to be a reach-for-your-water spicy treat. Those looking for a Thai or Chinese course should try the Thai Green Curry and basil-flavoured rice to go with it. The chicken or vegetable Pot Rice is subtly flavoursome and does not require a side dish to enhance its palatability.
Complementing the food is the Kiwi Mango drink. Its unusual combination of flavours makes it the perfect companion to a spicy, yet satisfying, meal.
The only segment where Asian Wok might be considered a letdown is the hackneyed dessert menu, offering up time-honoured treats of Honey Noodles along with ice cream, and Sizzling Hot Brownies. The conventionality does take away from what could have been an extremely enjoyable dining experience.
Verdict
For Asian food enthusiasts who are bored of the usual outlets, Asian Wok is definitely an eatery worthy of your Saturday night. The assortment of dishes and quality of food is impressive, and your wallet can rest easy. If the dessert menu lets you down as it did me, however, there's always Mad Over Doughnuts next door!
Essentials
Budget for four: Rs. 2,000
Address: Shop No. 8A, Gagangiri Commercial Complex, Off Carter Road, Union Park, Next to Open Affair, Bandra (West), Mumbai
Phone: +91-22-6525-5447 / +91-983-377-5263 / +91-981-906-0111