Having won the Global Metal Award at the recently concluded Metal Hammer Golden Gods 2010 Awards, Demonic Resurrection, one of India's most popular metal bands, is finally getting some well-deserved recognition worldwide. Frontman Sahil Makhija, a.k.a. The Demonstealer, has been toiling relentlessly to promote Indian metal for over a decade. The man is no stranger to metalheads in the country, but most people may not be aware of his considerable talents in the kitchen. Here are five things he loves to cook for friends and family—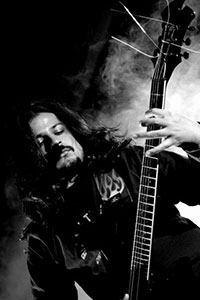 The Demonstealer.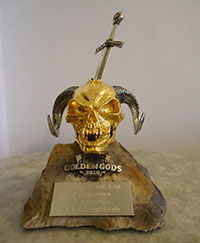 Demonic Resurrection's Global Metal Award (Metal Hammer Golden Gods, June 2010).
Demonic Omelettes
What started out as a good omelette I made got christened the 'Demonic Omelette'. I used to cook for [metal bands] Kryptos and MyndSnare whenever they came down for Resurrection gigs and stayed at my house. Now, any omelette I make is a Demonic Omelette, and I make many variants of it with different meats and seasoning. It's a brand now (smiles). I even wrote a Workshop song called 'How To Make A Demonic Omelette'.
Beef Burgers
This was just a mission to create the ultimate beef burger, because I've been eating it at Hard Rock Café, Indigo Café, etc. Beef burgers are great. I decided to make them at home, and ended up putting together a mean beef burger. There's an aunt of mine who ate it and said, and I quote—"This is the best beef burger I've eaten in India. It's second only to a beef burger I had in New York."
Cheesy Potatoes
It's something I always used to cook for my girlfriend Deepti when we had just started dating, so this was basically my take on baked potatoes. I'd boil the potatoes, scoop out the centre, stuff it with cheese, and then grill it until it turned a nice golden brown. I have a feeling this dish won her heart (smiles).
McCain's Potato Things
This really isn't cooking at all—I just buy their pre-made stuff, especially the potato wedges and potato triangles. The thing is, I never fry the stuff. I always bake them, using some olive oil to grease the pan, and then just pop 'em in the oven for a bit. Fucking killer.
Italian Buttered Rice
This dish was actually born from some leftover jeera rice. I just sautéed it in butter with some olives, herbs, onions, garlic, etc., along with some light Parmesan cheese, and it was the perfect accompaniment for any dish.